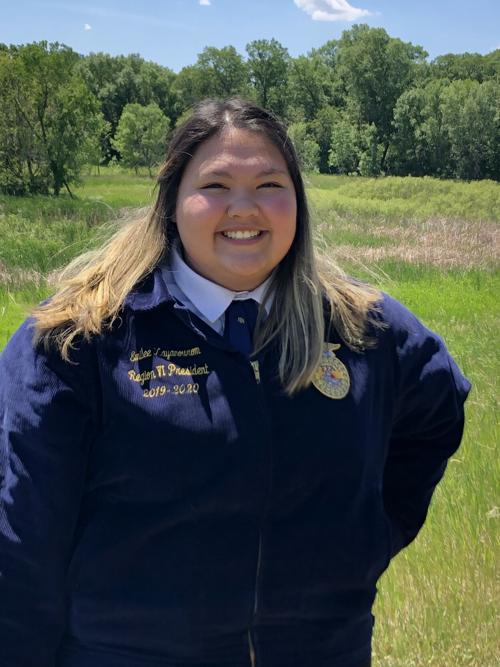 Not everyone gets the opportunity join FFA, but Minnesota State FFA Vice President Emilee Xavanourom did and it changed her life.
Now she is working with others to make FFA more welcoming to all races, cultures, and communities.
Born and raised in Mountain Lake, Minn., Emilee learned early in life that her father, One Xavanourom, is Asian. One and his father immigrated from Laos to the United States when One was 19 years old.
Emilee's mother, Angela Braun, is Caucasian, born and raised in Mountain Lake, and a 1992 graduate from Mountain Lake High School.
"I think for me, because I'm biracial, it was hard to find my place," Emilee said. "I would be in basketball with mostly Caucasian people, and then on the weekends, I would hang out with people who identified as Asian and Lao.
"It was hard to find my place, where I actually, truly belonged because I was both of them, and never fully one or the other."
Then she found a place for herself in FFA – a place where she could become the leader she was meant to be. Through agriculture courses in high school, she fell in love with the many aspects of food, fiber, fuel, and feed production. Through FFA, she developed her leadership skills that have so far led to her serving as her chapter president and Minnesota FFA Vice President.
With a goal of becoming an ag teacher, Emilee is completing an internship with University of Minnesota Extension this summer. She also attends University of Minnesota, St. Paul.
Her work with FFA continues.
"FFA is not just for traditional farming kids, and traditional ag kids, but it is developing the next generation of leaders that will lead this country," she said.
A quiet start
After living in a refugee camp for 15 years, One and his father were sponsored to come to the United States. They spent some time in Phoenix before moving to Mountain Lake where One's sister and brother-in-law had settled.
"At the time, there was a good Asian community in Mountain Lake – a few families here and there, so they saw it as a place where they could settle down," Emilee said. There were challenges adopting to the new culture.
It helped her dad to have a distinct Asian community where he found friends that connected with him.
Emilee's older brother, Samuel, had a difficult time fitting in at school, but in FFA he found friends and a place where he belonged.
It was the same for Emilee.
"In elementary school, middle school, I was the quiet kid who sat in the back and tried to keep to herself," she said. "I had an average class size of 40. In sixth or seventh grade, half of them didn't know my name, because I was the one that would just show up and do my work in the back and go home."
Observant and good at listening, Emilee had a best friend, Jasmine Vongsy, who she admired for her social skills.
"She just had such a bubbly personality, and was always outgoing and was the one who would talk to anyone, no matter who they were," Emilee remembered.
For Jasmine, and for others, too, Emilee helped them develop great friendships.
Then something happened when she was a seventh grader. Emilee decided it was time to start reaching out to others. Her dad told her about the idea of "collectivism," which puts the needs of the community before the needs of the individual.
It requires each person to show up to help others for a successful community.
"I was like, 'Okay Emilee, you can really use high school to your advantage and set up for your future, or you can keep on doing this thing where you sit in the back and go through the motions,'" she said.
She decided to use high school to her advantage.
Emilee officially joined FFA in ninth grade, but when she was a seventh grader, her brother was on the FFA officer team in high school. They created a "Seventh and Eighth Grade Recruit" program, and Samuel invited Emilee to it.
The idea behind the program was to help junior high students think about what they liked to do, so once they joined FFA, they could jump right into various projects and contests.
Emilee really liked floriculture when she was in junior high, but when she got to ninth grade, she decided she mostly liked to look at flowers. Surprisingly, she didn't initially find a place where she belonged.
"I paid my dues and sold the fruit, but that was about it," she said, "until one of my best friends came running up to me and said I was going to be on the ag sales team."
Through the ag sales contest, Emilee began to get to know her advisors, Ms. Lindsey Brockberg and Ms. Haley Sowieja. They encouraged her to run for a chapter office, and she was elected historian.
Attending the 2019 Minnesota State FFA Convention that year, Emilee had a surprise when the 1993 Minnesota State FFA team was introduced to celebrate 25 years. Among the officers was an Asian American woman, Kimberly Kamolz, of Jackson, Minn.
In that moment, Emilee realized she too could be a Minnesota State FFA officer. There was someone who looked like her standing on the stage.
"I was instantly inspired," she said. "I knew nothing about this woman, but just seeing someone who looked like me on the stage made me feel inspired."
Completely motivated, Emilee ran for and was elected her chapter president, and the following spring, she was selected as the Minnesota State FFA Vice President.
The opportunities have been endless since then. From serving as her class president, to playing on sports teams, to teaching children through the Minnesota Ag in the Classroom program, to learning how to use many types of social media, to communicating with Minnesota's FFA members, Emilee has done all of this and more.
Now, she's reaching out to others of many ethnic groups and races to help them feel more welcomed by FFA.
"I think we haven't been the most inclusive, but now we are taking steps to become more inclusive and welcoming for all different types of cultures and communities," she said.
"FFA is a place where you can find belonging, and it's where I found my belonging – where I found I could push myself and grow myself and make those relationships."
FFA still has room to grow, to become more inclusive, more welcoming.
"We still have growing to do, to become more inclusive, but I think once you find your spot in FFA, you truly do feel like you belong," Emilee concluded.
0604 Emilee Xavanourom.jpg Emilee Xavanourom is the 2020-21 Minnesota State FFA Vice President