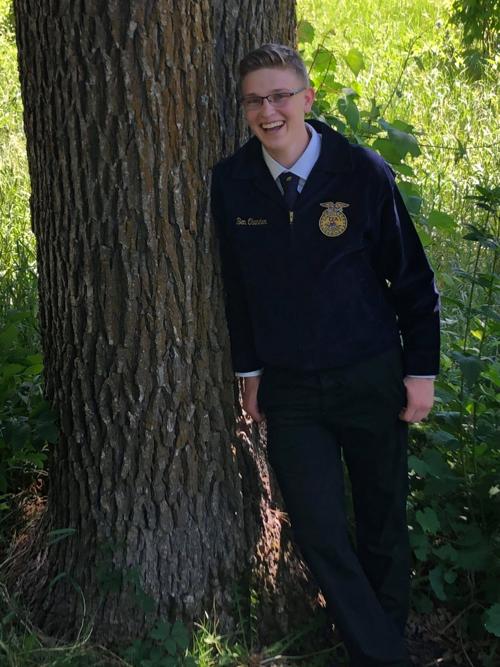 Modeled after the ever-changing ag industry, FFA has always developed leaders that know how to adapt.
The 93-year-old FFA has faced many challenging experiences in the past – from the Dust Bowl, to serving as essential workers during WWII, to the 1980s Farm Crisis.
The 2020-21 school year with COVID-19 ranks high among these challenging experiences. The 10,000 members of Minnesota FFA (700,000 members in the National FFA) rarely met in person because of the pandemic's social distancing requirements.
FFA had to bend, but it didn't break.
Instead, the youth group embraced technology plus good old hard work. They problem solved to help students complete their career development and individual goals.
In this interview with Minnesota Farm Guide, Minnesota FFA President Ben Olander talks about ways the state organization has changed and adapted through this past year.
Q: Ben Olander, thanks for talking with me. Where are you located?
A: I'm from Staples, but right now I am studying at the University of Minnesota Crookston, majoring in ag business and agronomy with a minor in finance.
I'm on campus in my dorm room right now. It's a little bit cold, but I'm on campus (outside temperature was about -20 degrees). This semester I am taking two in-person classes and I have four classes online.
Q: What was it like a year ago to be running for president of the Minnesota FFA and facing the unknowns of COVID-19?
A: Normally our convention is one of the last weeks of April, but because of what happened with COVID-19, it was moved back to come up with some virtual content.
In late May – May 22 – we were elected.
At first, we were optimistic that we would be able to go back into a lot of the classroom settings by the fall, but we got to fall and it kept lingering on, so we just kept adapting.
Q: So many of the things that bring FFA'ers together – the State Leadership Conference for Chapter Leaders, Ag Policy Leadership Conference, Washington Leadership Conference, State Greenhand Leadership Conference, Minnesota and National Conventions…these are important events that shape FFA students. You've had to scale back and find ways to conduct these virtually…how did you do it?
A: As state officers, we were able to have an impact by providing an online source. We've been providing Zooms with a state officer, or hangouts where students are able to come in for an hour to an hour and a half and have a resource where they are able to learn various topics, such as communications and building leadership qualities, different skills like that.
A year ago, I didn't know anything about Zoom. Now, we've created an FFA symposium and videos. We probably never would have had the opportunity to create this if this hadn't been the year of COVID.
Q: With statewide membership, have you noticed broadband challenges in regions of the state?
A: I know there is quite a big impact with broadband within members of our organization. I speak from personal experience, as someone who lived in central Minnesota where our internet was quite slow.
Because most high schoolers have cellular devices, we tried to promote and post most of our things throughout the middle of the day, so that as students were in school, or they had contact with better service, they were able to seize some of those opportunities.
Q: What have been the challenges you've seen through this year?
A: A lot of students are a little bit worn-out, and they need that personal interaction. I think that the relationship side of things has been lacking. We just had a Superbowl watch party, so we played some games and were able to interact with members. The reason for doing that is to build those relationships.
Q: As president of Minnesota FFA, what have been the lessons you have learned?
A: Just to stay optimistic. Think positive.
Generally this year has come with a lot of hardships, a lot of adaptation to things.
We have worknights where students can get their questions answered. For example, I was able to have an opportunity to speak with students, and we just kept talking about life for about a half hour. That's what FFA is all about.
Really, it hits home on a lot of the values that all of our members come back to, and what is important to everyone.
My advisor calls these virtual meetings "coffee talk," because it's almost like we were in person. Just having those different connections and having those opportunities to provide those activities online – I think it is so important this year.
Thank you Ben Olander for talking with us, and leading Minnesota FFA through a very difficult year! Minnesota and National FFA resources are available online at their websites, as well as on various social media platforms including Facebook.