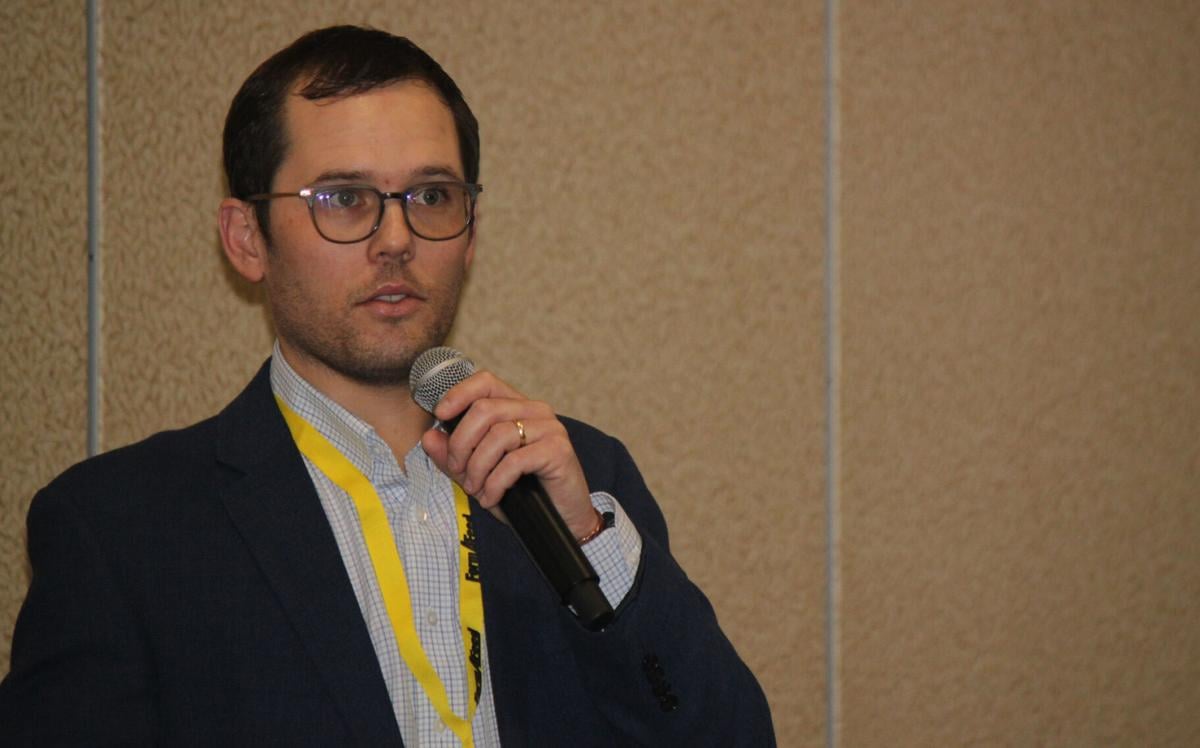 HINCKLEY, Minn. – A little bedding can go a long way in improving cattle feed efficiency by reducing maintenance energy requirements.
Northern calves that are weaned in early winter will do much better if they can lay in cornstalks, wheat straw, or other bedding, said Zach Smith, Ph.D., speaking at the Minnesota Cattle Industry Convention in early December.
Smith is an assistant professor in the South Dakota State University Department of Animal Science. He's also the faculty supervisor of the Ruminant Nutrition Center of the South Dakota Agricultural Experiment Station in Brookings, S.D., since July of 2018.
From Jan. 15, 2019, to July 17, 2019, 240 English and Continental beef steers were involved in the study. The steers weighed an average of 805 pounds each.
The steers were allotted 30 concrete open pens with 8 steers per pen. The only difference in the pens was bedding or no bedding.
Bedding was defined as enough material so that all eight steers could lay down out of the manure. Bedding times varied from daily to every few days depending on weather conditions.
The temperature for the first 36 days of the study averaged 5 degrees, with a wind chill of just under 0 degrees.
Anecdotally, the steers that didn't receive bedding in cold or wet conditions didn't lay down or huddle together like the steers that received bedding, Smith said.
"The cattle that weren't bedded just spent time standing," he said. "They weren't going to lay in the manure."
At the end of the first 36 days, there was a 36-pound weight advantage for the bedded steers vs. the non-bedded steers, given the same amount of feed and water.
Smith added that due to the cold conditions, all the Brookings, S.D., steers received about 30 percent more feed than what would be required in a warmer location like Texas.
On top of that, the non-bedded steers needed 33 percent more calories to meet their basal metabolic requirements. The study ran until mid-July, and it took an extra 35 days for the steers that were not bedded to reach harvesting rate vs. the bedded steers.
"The non-bedded cattle had a slightly higher dressing percentage. They had a bit more carcass transfer that we didn't get on the cattle we shipped earlier," he said. "But that was an extra 35 days in the yard, plus the opportunity to get a foot issue or be a late-term dead."
Average daily gain was vastly better for the bedded steers, as was feed conversion.
Cattle that are stressed by cold or wind will haunch up to minimize their skin surface area. Blood supply is diverted to the hide.
Areas like North Dakota, South Dakota, and Minnesota also get hot in the summer, and then cattle will maximize their area of skin surface to cool down. Air movement and moisture is needed in the summer too, to help cattle cool off. At the Ruminant Nutrition Center, a nice scraped concrete pen works great for the cattle in the summer.
But that doesn't work in winter – even older cows need some bedding or shelter throughout the winter if they are exposed to cold conditions and wind, he said.
Smith has also studied various types of bedding as well as the costs associated with cornstalk bedding vs. low-cost or high-cost wheat straw bedding. Bedding is not free, and it also takes labor to spread bedding.
But he thinks the investment in bedding is worth it in cattle comfort.
"My thought process is that bedding is a breakeven proposition, but it is certainly something that we don't consider going into winter without," Smith said. "I'm an economic researcher and I feed cattle, but sometimes I do think we do things that we don't make money on, but it's just the right thing to do."