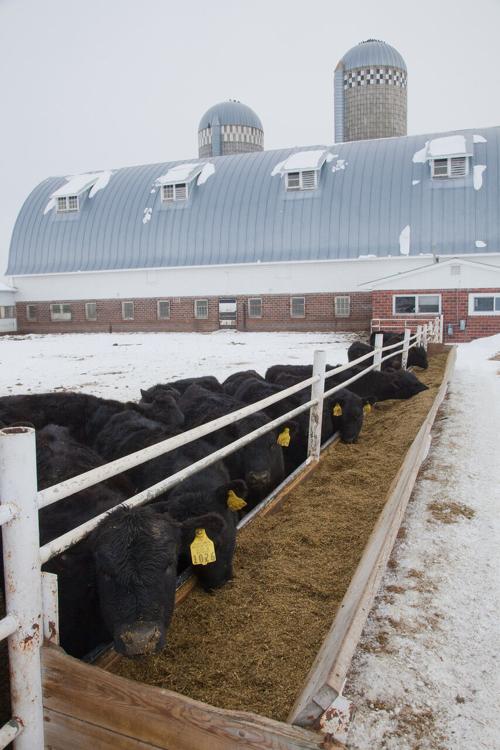 It came as a surprise when corn prices began moving higher after the Iowa Derecho event in August.
Nearby corn futures following the Aug. 10-11 event included – Aug. 13: $3.22; Sept. 13: $3.69; Oct. 13: $3.90; Nov. 12: $4.14; and Dec. 11: $4.20 per bushel.
A dollar increase per bushel of corn has been helpful to many corn producers, and beef feedlots should be okay too with the higher grain prices.
Live cattle futures on Dec. 22 traded at December: $110.50; February: $114.025; April: $118.20; and June: $113.85 per hundredweight.
"As we move to 2021, the fed cattle price will likely continue to be challenged, and yet the aggressiveness of the cattle feedlots buying feeder calves is pressing feeder prices up – which is a good thing for cow/calf operators, but for the cattle feeder or even the yard grower, it is a little bumpy," said Alfredo DiCostanzo, University of Minnesota beef cattle nutrition and management professor.
Cattle operators will use their own breakeven worksheets to figure out if they can make a finished cattle profit at those prices, but DiCostanzo entered recent prices and figured a minimum of $1.10-$1.12 to breakeven at $4.20 per bushel of corn.
He figured a breakeven for feeders weighing 750 pounds each and purchased for $1.38 per pound. The steers would be fed for 200 days with a finishing weight of 1,450 pounds.
"I think our biggest chance to get to $1.10-$1.15 will be early in the year through April," he said. "We need easily $1.10 or more to breakeven with some of these feeders."
When figuring the costs of feeding out cattle, DiCostanzo used a yardage of 70 cents to $1 per head per day. This would include 35 cents to cover expenses, 20 cents for bedding and the balance for a take-home check.
He added that distillers grains are currently trading at full value, but there could be some opportunities to use cracked corn or grain screenings as a cheaper feed source.
"I keep hearing from the field that grain screenings are selling at maybe the 80 percent price of corn, and the nutritional values are going to be the same as the value of corn," he said. "At a grow yard in North Dakota or northwest Minnesota, maybe there is not as much access to grain, but perhaps you are better off buying screenings than corn, if you can get a decent shipping cost."
He also uses a feed conversion ratio of 7:1 (seven pounds of feed for one pound of weight gain).
"That means we must try to be efficient on the farm, whether it is a grower yard or a finisher yard," he said. "We need to manage our day-to-day activities to keep that feed conversion under 7:1."
Big picture
The Derecho event was something no one could have planned on. There is drought across most of the western half of the U.S., and cattle operations can plan somewhat for that scenario.
From a political viewpoint, DiCostanzo recommends following along with the first 100 days of the new administration to get a direction for cattle futures. COVID-19 headlined the 2020 year, but vaccines were getting out to the public late in 2020.
With the "socially-distanced" pandemic, many consumers returned to home cooking. The menu has often included beef.
"We still have to go through plenty of beef, but we have learned to prepare high quality cuts at home," he said. "We keep producing very high quality Prime and Choice beef. Consumers with less access to restaurants are consuming it at home."
It's too soon to tell if society can open back up in the second half of 2021, and whether or not that will lead toward more beef consumption.
If the U.S. can return to a pre-COVID-19 lifestyle, DiCostanzo thinks consumers will return to restaurants – but that could mean less beef is consumed at home.
"Whatever we set up in the early part of the year will probably continue for the second half," he said. "I'm going to assume it's business as usual, but not like business before the pandemic. We are going to trend mostly laterally on fed cattle prices and inventory."
He encourages operators to keep an eye on export markets, too. Another item to watch is retirement of cow herds by Baby Boomers.
"I propose there will be a correction in the fed cattle price, and it will come back up – not sure in 2021, but perhaps in 2022," he said. "That will depend on the cow inventory – all of the heifers entering the feedlot, which I believe have continued to be a fairly high number."
DiCostanzo encourages older cattle operators to think about ways to successfully set up younger generations to continue operating beef herds of all sizes.
"More important than anything is to be able to say, 'Yes, Junior…you'll be fine in five or ten years with this property,'" he said. "We can set them up or we can ruin them. It's so important to help the young people."
0101 feed costs.jpg -- By David L. Hansen, University of Minnesota, Minnesota Agricultural Experiment Station.