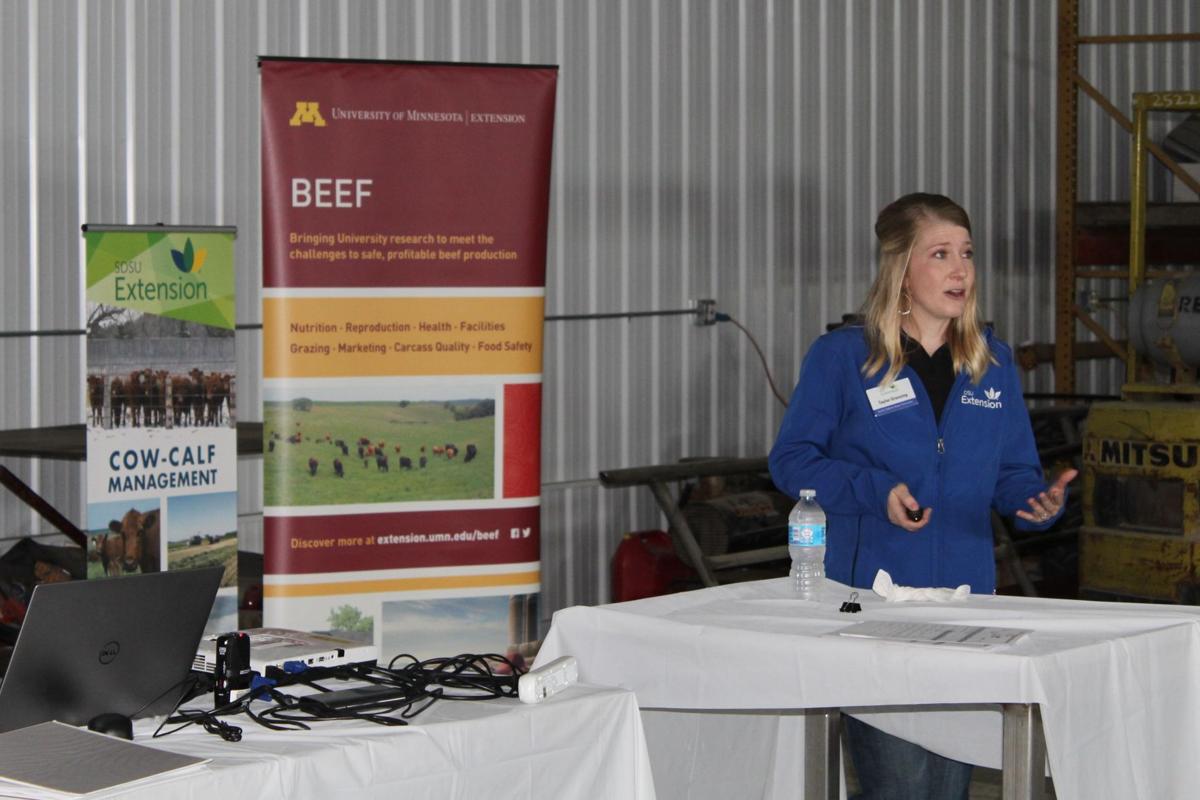 ORONOCO, Minn. – In the beef industry, each cow only gives one calf per year. Sometimes there will be twins, but really the goal is to get one. That is why ensuring those cows are set up for a successful pregnancy is so important. What is done pre-breeding, during gestation and post calving can impact whether or not that cow provides a calf each year.
"Our goal is to hopefully have them bred early, we'd like to have at least 60 percent of the herd bred in the first 35 days of the breeding season," said Taylor Grussing, cow/calf field specialist with South Dakota State University Extension, during a presentation at the Extension's Cattle Reproduction Management Workshop in Oronoco, Minn.
The workshop was a collaboration of Extension beef teams from the University of Minnesota, South Dakota State University, North Dakota State University and Iowa State University. It was hosted by Rossman Farms.
Every producer is looking to have that cow breed early, calve on their own and raise that calf to weaning while getting ready for the next calf. This does not always happen though.
"Reproductive failure does account for about $1 billion annually lost in the industry," Grussing said. "So it is our number one economic driver on the beef operation, because an open cow is definitely not worth as much as a bred cow."
Open cows or cows not breeding is the main reason cattle are culled out of a beef herd. Grussing explains that a cow needs to have at least five calves in order to pay for herself, pay for her development from a calf to a heifer and all the feed she consumes in her lifetime. In order to be a profitable member of a herd, a cow needs to be productive past six years of age.
"We are barely keeping them in the herd long enough for them to of pay themselves off," she said. "On average, 15 percent are culled before the age of five."
There are four parts to the equation for reproduction: heifer development, nutrition, environment, and fertility are areas where a producer needs to be successful in order for a successful breeding and calving season.
In the Midwest, most heifers are developed in a dry lot setting, where they are fed a perfectly balanced ration. Then, when they reach breeding age, around this time of year, late spring/early summer, they are turned out to pasture.
"Do you think what we put in the bunk is the same as what they're going to find out on pasture?" she asked. "Pasture might be better, but if they've never seen it before, they may not eat as much."
A study out of SDSU indicates heifers raised in dry lot and then turned out to pasture lost three pounds a day for the first week on pasture. Not only did their consumption decrease, their activity increased dramatically as they were exploring the pasture and running the fence lines.
If those heifers are not eating, not gaining and losing weight, their embryo quality goes down.
Supplementing corn, distillers or other feedstuff that those naive grazers are familiar with when they are first turned out to pasture can help replenish the energy they lose while not eating and running the pasture. This will also help improve their breeding success.
"We would recommend supplementing them for about two weeks, or in an ideal situation, I'd have you turn them out to graze a month before breeding and then you don't have to worry about it," she said.
Body condition scoring is a great way to determine if cattle are where they should be nutritionally at breeding. Cows should be at a body condition score of five at breeding and heifers a little heavier at a six.
"We can feed them to breed them. I guess you can feed them really good and they'll all breed, but they might not breed back as well," she said.
It is important that the animal's body weight and condition is stable and that it is not fluctuating dramatically through their life stages. It is expected they will lose some weight after calving and gain more during gestation, but it needs to be controlled.
Heifers should weigh about 60 percent of what the herds average mature cow weight is going into the breeding season for a stable and reliable breeding female.
A producer has about an 80-day window post calving to get cows rebred. Cows might start showing signs of heat 40-50 days post calving, but to keep cows on an annual calving cycle, they need to be bred by that 80-day mark.
Heifers tend to take longer than cows to recover from calving and be ready to breed again.
"This often is why we will calve our heifers prior to our mature cow herd," she said. "This gives them a longer period to recover from pregnancy, longer postpartum intervals, so we can get more of them cycling potentially by the beginning of the breeding season."