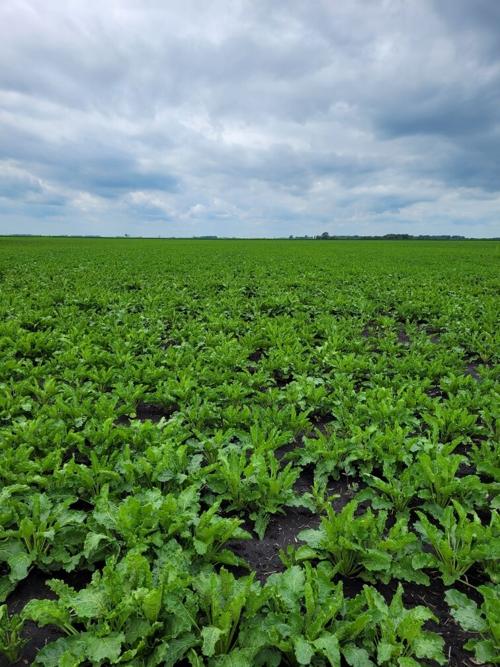 HERMAN, Minn. – The temperature was about 90 degrees when Dana Blume gave his July 19 Producer Progress Report.
Conditions were forecast to stay hot, with 6-19 percent chance of rain through the final 10 days of July.
There was nothing to be done for it, except pray and make smart decisions.
Like other farmers, Dana widened his view of the radar map hoping that something would make it to west central Minnesota.
"The humidity usually brews something up," he said, hopefully. "There's been a couple mornings when it's been dewy, but even that hasn't been great. It's just been dry. This year, you just have to be under the right cloud to get some rain. It varies by the quarter this year."
The sugarbeets looked remarkably good, Dana said. With taproots that can go down 2 feet, the plants were finding some moisture. Minn-Dak Farmers Cooperative agronomists estimated the crop in mid-July at about 10-ton per acre. If rain does fall in August, the crop still has potential for more yield.
Fungicide treatments on sugarbeets had slowed down, but if there is any rain, the treatments will begin again.
"We've got the Cercospora leafspot resistant variety, so we are hoping to eliminate two sprayings the way it is, but we'll see here," he said. "So far it looks like it's working."
The soybeans have a lot of blossoms. Some of the soybean fields were sprayed with a fungicide in July for white mold, in case there is a passing rain shower.
"Our soybeans look pretty well, except for the past few days they have curled up a little," he said. "We've got knee-high to waist-high beans, so the rows are filled. We had white mold in a couple of fields last time, so that's why we sprayed."
The potential remained for pod development if it rains. Any signs of iron deficiency chlorosis were gone.
The corn was pollinating.
"Crop wise, I'm pretty happy with how things look considering what we had for weather, but we've got some corn that we've definitely lost some yield," he said. "It's just been dry too long. It's hanging in there better than I thought for where we are at with water. We got that rain this spring, which has saved us so far.
"We really haven't had more than 4.5 inches of rain since it's been planted," Dana added.
Crops that are on the old Agassiz Lake bottom are holding out all right on the heavy black soil. Crops on the top of the "old beach" are burned up.
"The other crops are surviving, but we could really use a shot of rain soon," he said. "We've been saying that for a month. We're going to test the genetics. It's going to be 95 degrees, so it is going to be a test."
Dana and Katy's family just enjoyed the Grant County Fair in Herman and had a lot of fun. The kids showed their crossbred market barrows, as well as a Holstein heifer calf. Addison won a Minnesota State Fair trip with her dairy heifer, and she's planning to take the trip. Addison and Charlie also won champion and reserve champion with their market barrows. The pigs were taken to the locker plant for processing. The meat will be appreciated.
The kids were involved with the youth state softball and baseball tourneys, too. Kilee was nannying this summer and picked up the younger Blume kids to go swimming somedays.
"It's been so hot, it's hard to do anything else outside," Dana said.
The days were becoming noticeably shorter, and the small grains were maturing. Smoke from wildfires had traveled south to block some of the sun's rays, and wildfires and smoke remained a threat.
Drought conditions persisted across Minnesota and the northern states to the west, all the way to the Pacific Ocean. The summer of 2021 is proving to be a hot and dry one.