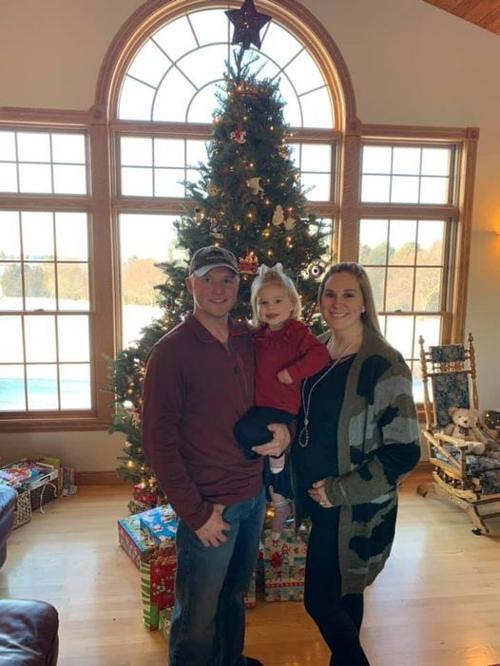 MABEL, Minn. – An exciting time is just ahead for Nelson Family Farms (NFF).
There's a baby coming soon for Kayla and Gabe Chase, and big sister, Claire.
"Kayla is counting down the days on the calendar, and we had another good checkup this week," Gabe said during his report on March 17. "We're very much looking forward to it. Kayla's been washing bottles and baby clothes and making sure everything is ready to go."
With the extra time and care that a new baby requires, the Chases are glad that calving time is almost over.
There are "just" 27 gestating cows left to go.
At their busiest time in late January, 7-10 cows/heifers were calving daily. Now, just a few are calving each day.
"These tail-enders are going to have to do a little more on their own, without quite as much supervision – for better or worse," he said.
Southeast Minnesota received 6 inches of snow in mid-March, so a couple cows responded to the low barometric pressure. They calved in the storm, but Gabe said everything went okay.
Calves that are over 50 days old, plus their mothers, stay on a 30-acre pasture/woodland area. Designated for this purpose, the pasture isn't grazed after early July. A lot of biomass grows up to produce a heavy mat for the pairs to graze and "nest."
The pasture supports about 100 cow/calf pairs.
It's about as nice a spot as a cow/calf pair could use – the calves are old enough for their mothers to protect them from predators. The thick grass mat plus natural drainage keeps the ground from getting chewed up or muddy. The hills, gullies and trees block the wind, but there is plenty of room for the cows and calves to spread apart.
"That pasture gets dried off and is comfortable for those baby calves faster and better than just about anything else I can do for them," he said. "Lots of space for them to spread out, and they stay healthier and safer."
With the cows displaying heat, there can be trampling concerns for the calves. Plenty of pasture helps the calves stay out of the way.
Even as thoughts for the next breeding season begin, Gabe appreciates the current group of calves. He feels it is the farm's best crop yet.
"Toward the end of every calving season, I look back at how things went and sure try to make some notes on things I want to do different," he said.
The main difference for the 2021-22 calves will be moving the starting calving date about two weeks later.
"We're backing off the breeding season just a little bit to allow us to enjoy the holidays more – and not have to calve until after," he said.
Along with the baby coming and calving wrapping up, planting season is quickly arriving. Most of the frost had melted.
Gabe upgraded to a Case IH Steiger 350 HD articulated wheel tractor with a Kinze 4900 24-row/30-inch front-fold planter.
"We're ready to turn those pieces of equipment loose when the fields are ready," he said. "This planter will give us some more options as far as insecticide and fertilizer applications to hopefully improve the corn crop a little bit and offer a little more flexibility."
NFF grows corn-on-corn in many different soil types and management practices. One field might get a lot of manure, another is strictly conventional tillage with commercial fertilizer, and another might be no-till into an existing cover crop. With fields at opposite ends of the spectrum when it comes to agronomic conditions, upgrading to a planter that allows them to vary their liquid fertilizer and insecticides should give them a uniform high-yielding crop.
"It's my biggest equipment purchase to date, so it's a plunge. I found the right pieces of used equipment to make it work, and I think it's really going to open some doors and allow us to do things a little bit differently," Gabe said. "I think we can add some value to our crop."