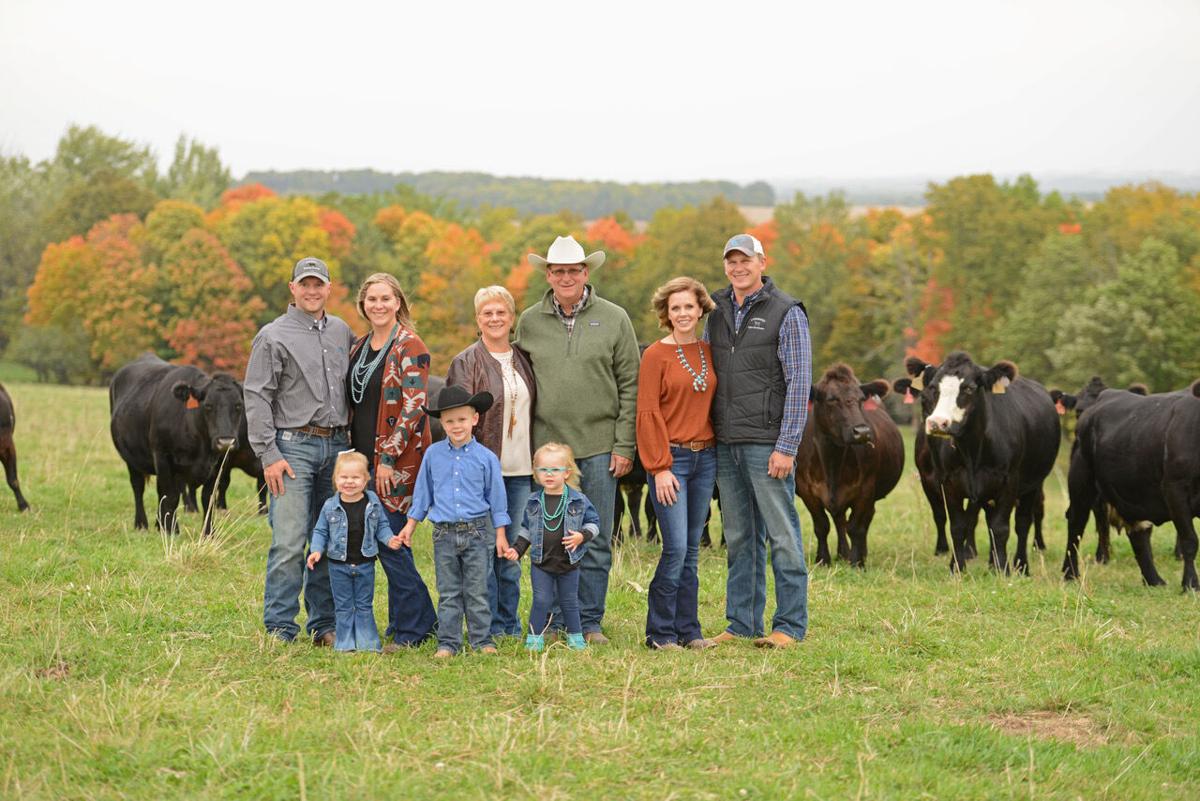 MABEL, Minn. – Three generations make their home at Nelson Family Farms (NFF) of Fillmore County. Located just a few miles from the Iowa and Wisconsin borders, the Nelsons have a diversified operation that stays busy year-round.
Serving as the spokesperson for NFF is Gabe Chase, who married Kayla Nelson, an owner in NFF. They have a daughter, Claire.
Gabe, 33, grew up in nearby Chatfield where he owns pasture, farmland, Simmental and Angus cattle, and cattle-working facilities.
When he and Kayla married, he joined NFF. Gabe added his property into the Nelson operation, and he works primarily with the registered cow/calf herd.
NFF was begun by Kayla's parents, Barb and Joe Nelson. They purchased their first farm in 1985 and rapidly expanded their cattle herd and farmland.
Barb and Joe's son, Matt, and his wife, Jordan, are also owners in NFF. They have two children, Maverick and Quinn. In addition, Matt and Jordan own and operate Iowa Corn Beef, just across the border in Iowa.
NFF specializes in Simmental and Angus seedstock. AI and embryo transfer are important enterprises that take advantage of Gabe's skills.
The largest marketing event for the herd, the Nelson Family Dream Works 2020 Sale, occurs the first Friday of December – this year on Dec. 4, 2020 – at the Decorah Sales Commission sale barn in Decorah, Iowa.
They will sell 30 open coming-yearling heifer calves that are all halter broke for show and fair projects. There are also 35 bred heifers that will be two years old in January 2021.
"This gives folks the opportunity to get their hands on some of our genetics," Gabe said. "We're counting the days until Dec. 4 and our big event of the year."
All of the cattle are run through the sales barn ring, and videos/photos are also available online. Folks join live, via the internet, or on the phone. The 2019 sale had cattle purchases from Texas and South Carolina, but the majority of the cattle are sold in the Upper Midwest.
Holding the sale at Decorah Sales Commission works well for the well-respected Nelson family. Along with a large registered cow/calf herd, seedstock, backgrounding operations and finishing feed lot, Barb and Joe also purchased two sales barns – the Lanesboro Sales Commission as well as the Decorah Sales Commission in the early 2000s.
Gabe said the quality of beef cattle in the region just keep improving.
"It's fascinating to see the quality (at the sale barns) of the commercial cattle coming through and how much better those animals are, and how much better producers are at managing these cattle," he said. "We're getting into feeder calf season here, and the health protocols that folks are using on the calves – the two rounds of vaccines while on the cow, and then these calves are generally weaned a good long time.
"Every year, folks are doing a better job at getting calves ready to perform well – whether it's in the feedlot setting or at Iowa Corn Beef, as well as the breeding cattle and the show cattle throughout the region," he added.
The Nelson/Chase family traveled to the American Royal in Kansas City, Mo., and Gabe was amazed at the quality in this very tough year of COVID with limited shows.
"It's an absolute dog fight – if you get toward the top end of your class, you better be darn happy because there are no easy classes," he said. "It's just incredible the quality out there."
Crop production
NFF raises the majority of their cattle feed.
Near Chatfield, Gabe raises sweet corn for Lakeside Foods of Plainview. Following sweet corn harvest, he drills in a winter rye cover crop mix, and in the spring, he turns out cow/calf pairs on the cover crop.
The Nelsons raise corn and alfalfa for feed. They chop silage and bag up earlage, and the corn for grain goes to Iowa Corn Beef.
"When I go through the calves here at the farm – the bull calves that aren't worthy of being breeding bulls and any females that don't make the cut to be part of the herd down the road, they all go to Matt's facilities and get finished out there," Gabe said. "Everything runs hand in hand and it works out great that we can use all that grain as feed at one place or another.
"Then we can retain ownership in those calves we have raised and get them finished out the right way," he concluded.
Special thank you to Gabe Chase of Nelson Family Farms for sharing his story during the winter of 2020-21. We wish you the best of success!