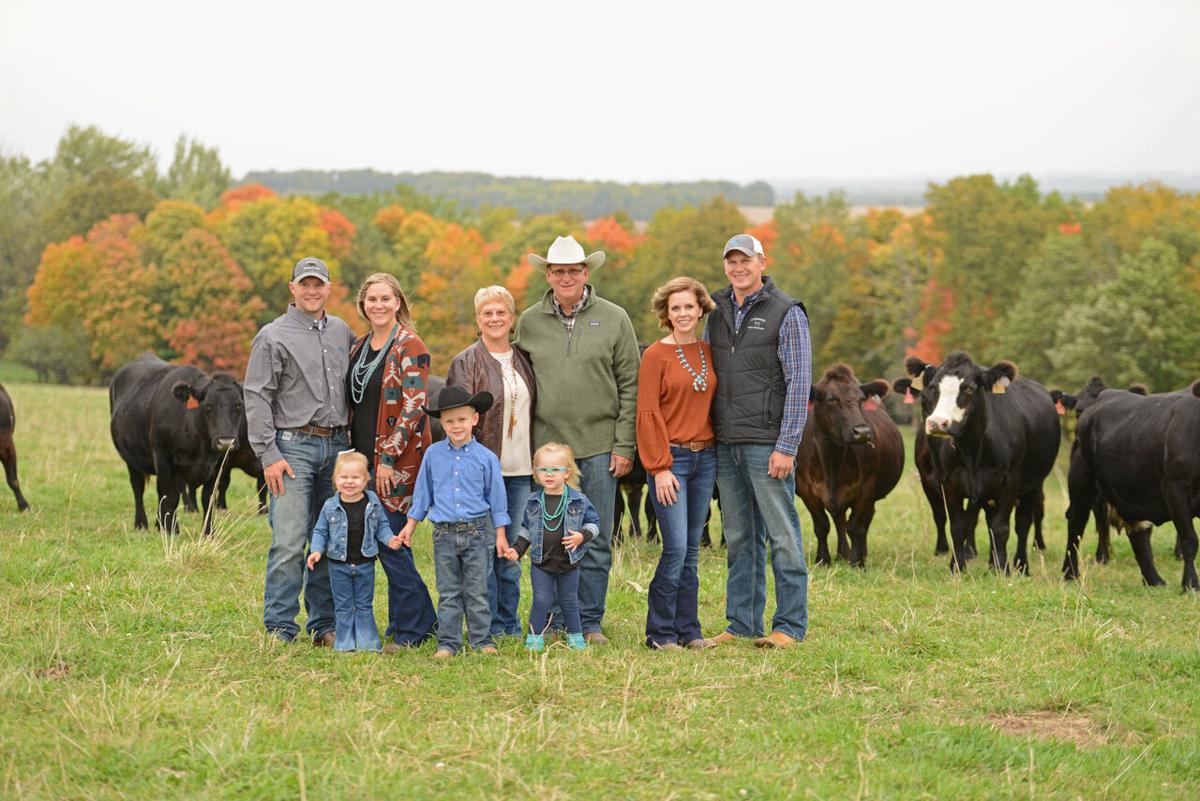 MABEL, Minn. – Gabe Chase was gearing up for the 2021 calving season slated to start Jan. 1, 2021.
One heifer was already on the ground when he gave a report from Nelson Family Farms on Dec. 21. Three weeks early, the 35-pound embryo transfer calf was born to a recipient cow. Despite its small size, the heifer was lively and doing well.
"It doesn't matter how ready you think you are, you're just never quite ready for that first one to be born," Gabe said. "I don't care if you have all of the pens set up and got things ready for the newborns and the equipment just the way you want it. Mentally when that first calf of the season hits the grounds, there's really no feeling quite like it."
With 300 cows and heifers calving over the next few months, he put together the supplies needed to process each newborn calf.
"Every time a new calf is born, I go out with my little tray of syringes and products, and I get them squared around," he said. "An ounce of prevention goes a long way with these baby calves, so we try to make sure they get all that important stuff right during the first few hours of life."
Each calf gets a tag and a tattoo.
Then, the new calf gets a First Defense tube of gel that goes right into their mouth. It has some beneficial bacteria and provides the calf with a little bit of immunity, plus some energy.
"It just is a variety of basic things that are going to help that calf's digestive and immune system get off to a really good start," he said.
A killed clostridial vaccine is given to prevent blackleg or overeating disease. Each calf also gets 1 cc of MultiMin 90, which is a trace mineral product that is injected.
What sold Gabe on the product was the concept that each calf's bodyweight doubles in 45 days following birth. That's the only time in their life their body mass is going to double in that short of time. So by providing some of those trace minerals in an injectable form, the calf can keep up with that high rate of growth.
"We think it's a really good product that way," he said.
The calves also get three intranasal vaccines – INFORCE 3 (BRSV), Once PMH (Pasteurella multocida and Mannheimia haemolytica) and BOVILIS Coronavirus. They want to achieve a mucosal reaction in the nasal cavity, throat and mouth.
"It gives those calves valuable immunity in a matter of hours or days, versus an injectable vaccine that takes many, many days," he said. "It gets in faster and there is less conflict with the antibodies in the colostrum that they are taking in as well (versus an injection that may be slower to develop antibodies)."
Each night, about 40 cows are moved into a couple of bedded buildings that have cameras for viewing from the house. There are eight individual pens for heifers or cows in labor or cow/calf pairs.
"If you can get that cow and calf penned together for 24 hours, it does seem to cut down on issues of cows not knowing which one is hers," he said.
Once the calf knows how to nurse and has a dry coat, and the dam has bonded with her calf, the pair is let into a small group pen. Eventually the cow/calf pairs are placed in outside pens with more pairs.
"I get my assembly line going, where we move the cow/calf pairs around depending on how fast the calves are coming and working them up to bigger and bigger groups," he said. "We make sure everything is going just the way it supposed to, with the calf nursing on all four quarters and everyone understands their responsibilities in the deal."
The cows and heifers are all given plenty of bedding and feed, but they remain on a maintenance TMR (57 pounds per head of dry ground hay, haylage and corn silage) until there are about 40 cow/calf pairs.
"That's what the cow needs for maintenance, so we keep her where we want her and not getting over-conditioned and increasing birthweights," he said. "Once we have enough calved out so it makes sense to make a separate TMR batch, then we go to a lactating ration that has a little extra energy for those cows and will have a mature cow lactating ration, and then we'll have a first calf heifer lactating ration – just trying to keep those two-year-olds in the condition we want to get them to breed back on time."
A group of recipient cows with embryo calves are due on Jan. 1, followed by two-year-heifers settled by AI due on Jan. 15. The first group of AI'd cows are due on Jan. 21.
"Our goal is to maintain a steady pace throughout calving season," he said. "On occasion, it can get frustrating if we hit a lull and don't get any new calves for a couple days and find ourselves wondering what to do.
"The way we see it, if you're going to go through the trouble of waking up to an alarm clock every couple hours to check cows throughout the night, there had better be some action to make it worthwhile!" he added.
Happy New Year from everyone at Nelson Family Farms!