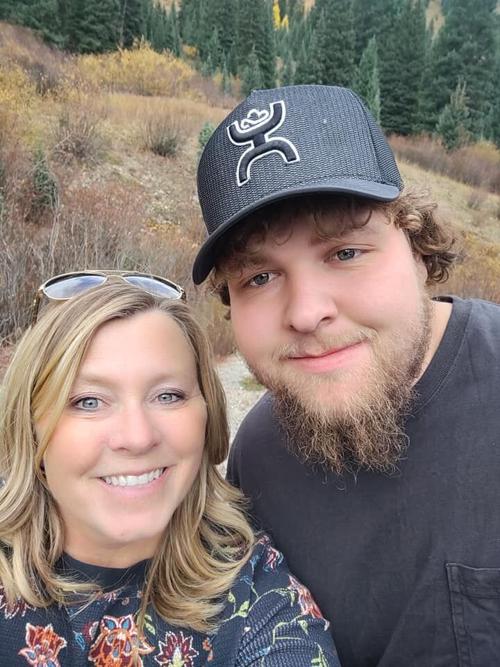 BLACKDUCK, Minn. – Welcome to Little Timber Farms of Beltrami County!
Rachel Gray, Minnesota State Cattlemen's Cow-Calf Council Chair, will be sharing her multi-generation ranch with readers during the winter of 2021-22.
Specializing in bred heifer development, Little Timber Farms purchases high quality replacement 600-pound heifers in October.
The heifers are fed a simple ration – good grass mix, home grown hay, alfalfa and 2.5 pounds per head of barley daily.
Heifers are synchronized and then bred in May for an end-of-February calving date.
The farm delivers consistent, well-developed 20-month-old bred heifers in October and then begins the process again with new 600-pound heifers.
Little Timber Farms is owned and operated by Rachel Gray, along with Rachel's children, Nickolas and Drew Grundmeier, and Rachel's dad, Murl Nord. Her uncle, Albert Krueger, helps at the ranch, too. Her brother, Dr. Christopher Nord, DVM, of Milaca, Minn., provides most of the veterinary care at the ranch.
Rachel's husband, Al Gray, as well as son, Drew, are miners at Ouray Silver Mines in Colorado. Last year, Rachel asked Nick to return to the farm full-time. He's joined by his wife, Mackenzie, who is a registered nurse, and their two children, Audrey and Jaxon.
Each of the families live within a mile of each other at the ranch.
"Dad still lives in the main house on the farm, and Albert lives in what was my grandparents' home," Rachel said. "Nick and his family are in my great-grandparents' home, and I'm in my house."
It was important for Nick to join the operation because Rachel's mom, Sue Krueger Nord, needed hospice care. Sue passed away after a long battle with cancer on Dec. 11, 2020. She and Murl started the farm in 1972, and she also worked full-time as an elementary schoolteacher.
In 2018, Rachel and Murl decided to make a change to the cattle operation. They sold off their bred cow herd and started a bred heifer development program.
This winter, the ranch will manage nearly 500 heifers for development.
"It has been a whirlwind," Rachel said. "We have enjoyed it so much, much to the credit of the people I've chosen to work with and where I've gotten cattle from."
The F1 heifers are sourced through Topp Herefords (Ryan Topp) and bred to Ellingson Angus (Chad Ellingson) bulls or Ressler Angus Ranch (Ryan Ressler) bulls.
They also customize heifer development to each customer's needs.
"We've decided the way to go is, 'Whatever the customer needs, that we feel we can make work, we are willing to try,'" Rachel said. That included helping a customer from Georgia, who asked for Black Baldies bred to a Brangus bull.
"We've developed some great relationships down in Georgia and Tennessee, and we've been real fortunate to work with those producers, too," she said.
The challenges came in 2021 with the severe drought. June temperatures from 90-105 degrees, plus hot and dry wind, desiccated the crops. Grass went into dormancy. The sloughs, waterholes, and creeks dried up.
What really kept things going was the thoughtful and quick work of Blackduck Farmers Co-op. The manager found a company to make cake/cubes from wheat middlings (15 percent protein), and she kept ordering it in to feed the area's livestock.
Recognizing how dire conditions were, Rachel asked around and ended up shipping some bred heifers to PJ Boyum Farms, near Chatfield, Minn. The feed yard crew took great care of her cattle that have now been shipped to their new owners for calving. They were even pastured.
"When I started looking, he had an open pen," she said. "He was in the right direction, and I sent him AI-bred cattle that were going to Iowa and Tennessee. It took 6 hours off their destination truck ride."
This fall, she acquired 430 head of backgrounded Black Baldies. With only one-third of the normal feedstuffs stored up for winter, those heifers are at a feedlot near Jamestown, Minn.
"Because of the drought and the feed, it was cost-prohibitive to bring them back here," she said.
It was more economical to bring the cattle to the feed, than the feed to the cattle. The cattle were already out there anyway, she said.
Rachel has about 80 head of cattle at home.
One group of 48 bred Black Baldies are sold but still being housed at Little Timber Farms. They will soon be shipped to their owner in South Dakota.
There are another 50 open heifers that didn't pass the breeding soundness exam that are being fed out and will be sold as custom-feeder beef.
She also took a custom job with the Zehnder-Waage Partnership, a seedstock group with Charolais operations in Stanchfield, Minn., and Greenbush, Minn. The partnership asked Gray to breed a group of 30 Black Baldies to Charolais and calve them out. The cow/calf pairs will be featured on the Zehnder-Waage Partnership sale that is held each March in Roseau, Minn.
With most of the heifers staying near Jamestown, the Little Timber Farms crew will be going out to Jamestown to give health care and more.
"The feedlot is very accommodating," she said.
The primarily Topp Hereford/Angus cross heifers will be yearlings in February/March and will be bred in May to Ellingson Angus bulls. They will ship to Blackduck on April 1. The developed bred heifers will be shipped to their new owners in October.
"That's what our niche is, offering that consistency, because we've been able to deal with the same ranchers, time and time again," she said.
In the meantime, with fewer cattle than normal at the ranch, the crew is taking care of "10-year" jobs – jobs that have been waiting such a long time that they must get done.
Rachel and Nick have walked through the old tie-stall barn used for dairying. They are looking for ways to make the building more cow-friendly and improve flow.
Rachel has also written a children's book about a grandma and her five-year-old granddaughter who is finally old enough to stay in the calving shack to check on the cows overnight. The book will be published hopefully early next year, and pre-order sales will begin soon.
Family and ranching are everything to this cattlewoman, and she's proud to share her story this winter.
Special thanks to Rachel Gray for agreeing to share Little Timber Ranch through the winter.