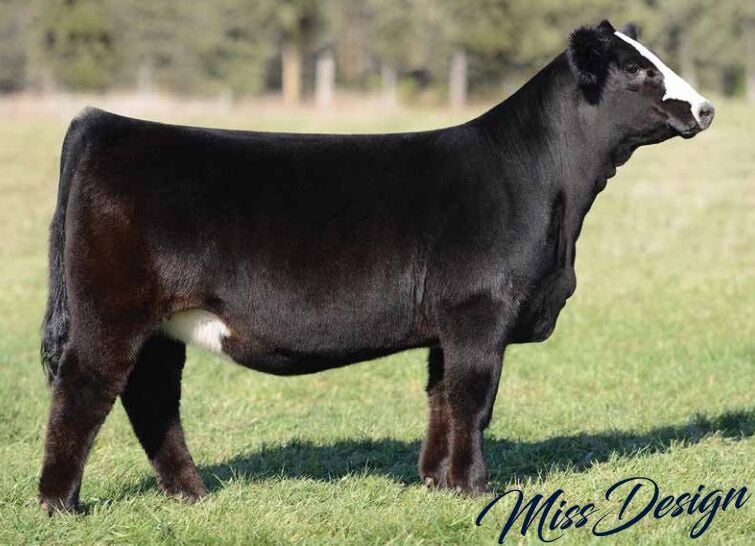 MABEL, Minn. – The last decade has brought rapid advancements to the Nelson Family Farms (NFF) cow herd through in vitro fertilization technology.
Gabe Chase and the entire family work with Dr. Kory Bigalk, DVM, owner of Diamond K Genetics, Plainview, Minn. Bigalk has offered dairy and beef cattle embryo transfer (ET) and in vitro fertilization (IVF) since 2010.
As a Trans Ova Genetics Partner, Bigalk collects and processes genetic material and also implants embryos. Trans Ova performs the lab work needed for ET, IVF, sexed semen, genetic preservation and cloning.
For NFF, collecting high quality oocytes from top donor cows, matching that to elite sires, and developing embryos for implanting into their recipient cows has been a success.
The process of making these top quality calves begins with oocyte collection. All oocyte collections are done at the Diamond K Genetics haul-in facility near Rochester.
After giving the cow an epidural, and sometimes a mild sedative, Bigalk works through the rectum and vagina to manipulate an ovary into place.
He inserts a 14-inch ultrasound wand that allows him to see the follicles on the ovary. Ripened oocytes appear as tiny blisters. Attached to the wand is a needle that can vacuum up each unfertilized oocyte and its liquid. This process is called ultrasound-guided follicular aspiration.
The material is sucked through the tube and caught in a special petri dish with a filter. The filter catches the oocytes and allows some of the fluid to pass by.
Eighteen is the average number of oocytes collected on a beef cow, and oocytes can be collected every other week from an elite cow, as long as the veterinarian believes it is healthy for the donor.
Working in the lab, Bigalk or his technician use a microscope and tools to package each egg.
The eggs are stored in a mobile incubator and shipped – along with semen – to Trans Ova in Sioux Center, Iowa. There, the eggs are matured in a Petri dish and fertilized one day later to achieve an embryo. The incubated embryos are sent back to Diamond K Genetics at one week of development.
Bigalk has an enclosed mobile lab in the back of a pickup truck that is used for processing embryos in preparation for transfer.
At the correct time, each recipient cow is implanted with an embryo. The embryo successfully attaches and begins development about 50 percent of the time.
Trans Ova materials suggest on average 30 percent of oocytes per collection will result in pregnancies.
"We implant those embryos fresh, just like we try to do with a conventional embryo flush," Gabe said. "The other big advantage is it is easier to use sexed semen (to produce females) with the IVF cycle vs. the embryo flush. That is something we like doing, where we feel like we have an excellent market for these females."
Good-quality IVF embryos can be frozen and thawed, although the pregnancy rate is not as high as with fresh embryos.
Bigalk implants about 150 embryos per year at NFF, with about 50 percent winding up as calves.
"Of the 300 cows that we calf each year, about 75 are commercial recip cows, nice cows and good milkers," Gabe said. "Their job is to hopefully accept that embryo and raise the calf and do it year after year."
Many of the recipient cows had calved by mid-February. Embryos were implanted so that a smaller group of recip cows calved every two weeks beginning Jan. 1.
Gabe appreciates the ability to collect oocytes while a top quality cow is gestating her own calf. In general, oocytes can be collected when the cow is 40-100 days pregnant.
"I just very much prefer to keep those donor cows raising a calf – having a calf in January or February like the rest of the cows," he said.
Bigalk added that the biggest threat of collecting eggs during pregnancy is the corpus luteum (endocrine gland) is located in the ovary and produces hormones to maintain the pregnancy. If the corpus luteum is injured during oocyte collection, the pregnancy could stop. A veterinarian specialist like Bigalk has done the procedures so many times that injuring the corpus luteum isn't very likely.
Using these advanced reproduction technologies, Gabe has built a high quality herd.
At the most recent DreamWorks sale, he successfully sold a high quality NFF female for $20,750 to a family in Illinois. The female will be shown by a younger daughter at various livestock competitions in 2021.
"This family has had a lot of show success in Illinois, so it will be exciting to see what they can get done with that heifer," Gabe said. "Hopefully, this generates more interest and more business from people who get to see our cattle."