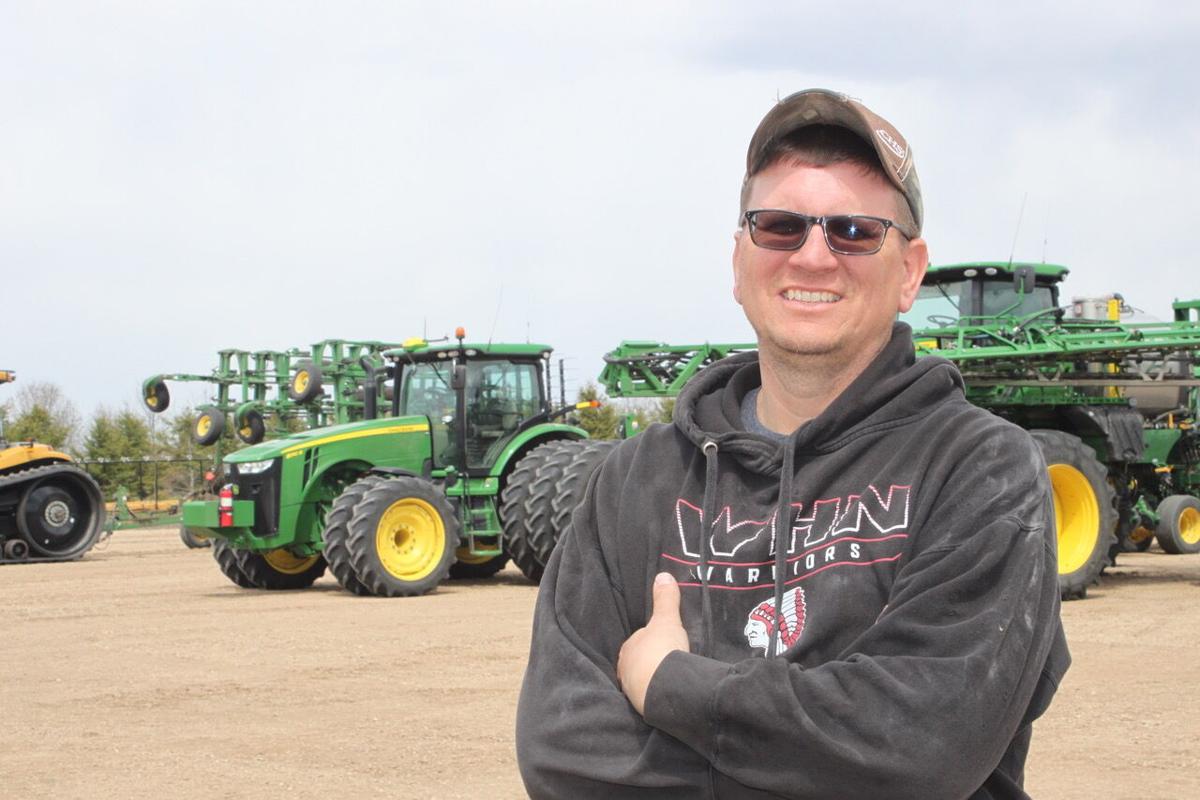 HERMAN, Minn. – Heavy rain fell Monday, Sept. 13, stopping the harvesting crew at Blume Farms for the evening. They'd been taking shifts hauling silage for Riverview Dairy for three weeks – 24 hours a day.
"It's our whole crew plus I hired two guys," said Dana Blume. Even his son, Cole Blume, 16, spent many hours in early September packing the huge silage piles at the dairy.
"It's been a circus, but we've kept everything moving. It was a little muddy to start after rain (in late August), but it's gone pretty good now," Dana said.
The crew needed to rest and work on two semi-trucks and trailers. They had to work on the tires and the brakes, change the oil, and fix a muffler and exhaust that had seen better days.
"Most all of our trucks have 800,000-1 million miles on them. We buy them all fairly used, and then fix them back and destroy them again," he said. "What our semis are doing in the field – they weren't designed and built to do that. They are meant to be driving down a highway, not tearing through a sugarbeet field."
Considering the drought of 2021, it was amazing to see the large dairies put up enough corn silage to feed the cows until the 2022 growing season.
Along with corn silage harvest, Dana saw a lot of edible beans harvested in Stevens County.
The Blumes started their own harvest in Grant County, too.
They took out one field of 0.6-maturity soybeans on Sept. 12. The moisture varied from 10-12 percent, and yields were good considering the drought. The soybeans were hauled to the elevator.
They'll continue to harvest soybean fields when they reach the correct moisture. They have 0.6-maturity seed soybeans, as well as 1.0 maturity soybeans, as well as later-maturing beans.
"I think things are going to start drying down pretty well around here," he said, "depending on how much rain we receive."
The Blumes had three days of pre-pile sugarbeet deliveries planned with a goal of digging 3 tons per acre.
"The sugarbeets started growing when we got all of that rain. I'm not sure where we're at with sugar percentage," he said. "I know the sugar percentage went down when we finally got some rain, but tons are going up.
"Hopefully we get three good days to get pre-pile done and open up the fields," he continued. "These last 10 days, the weather has been perfect for making sugar." Temperatures were 75 with sunshine in the day and a cool 55 degrees with plenty of darkness at night.
Field corn harvest started with moisture levels of 28-30 percent, he said. The ethanol plants offered a very good basis for September. Soon the main corn crop will come in, and the basis will widen again.
The kids participated in fall sports, and the cool nights made it feel like fall. Lawns remained green with enough moisture, so mowing continued as a chore.
"The corn that didn't run short of moisture is staying green, too," Blume added.
It looks like the 2021 harvest is likely to stretch out over a longer timeframe than expected earlier this summer.