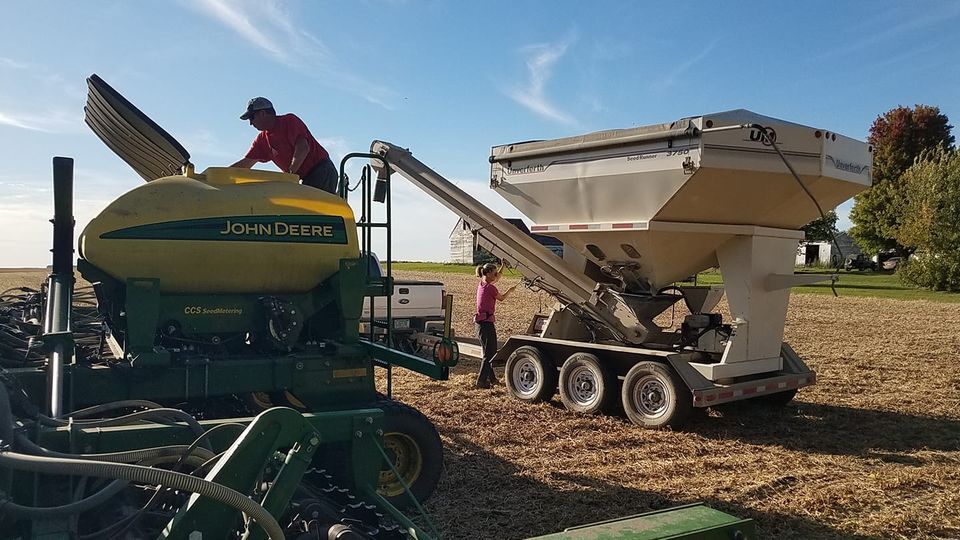 SHERBURN, Minn. – With soybeans and corn drying down quickly, combines have been rolling through the fields of southern Minnesota.
Rochelle Krusemark estimated about 50 percent of soybeans were harvested in Martin County and the surrounding counties, as of Sept. 28.
"Farmers are harvesting as fast as we can," she said. "Most of us are harvesting soybeans."
There had been no killing frost. The soybean stems remained yellow, but the soybean seed in the fields measured 10.3-12.4 percent moisture.
"Moisture drops fast when ambient air temperature is 80-90 degrees, and faster if it is windy" she said. "We do appreciate a light breeze to keep the dust away from the combine and improve visibility from the cab."
Unlike the last few years, the earlier maturity soybeans did not yield as well in 2021 as the full-season soybeans. This was a result of the later stage of production when rain arrived in August.
"Later-maturing varieties put on more nodes and pods filled nicely," she said. "That is why we plant indeterminant soybeans!"
There were a few farmers combining corn in late September. Some corn was harvested in mid-September when the local feed mill and ethanol plant were short of corn.
The Krusemarks harvested some 94-day corn that was 15-15.5 percent moisture; as well as 104-day maturity corn that was 18-19 percent moisture.
"Yields varied greatly across the fields dependent on soil types," she said. "The yields were better than they would have been without the August rain, so we are thankful. The checkoff investments that developed drought-tolerant hybrids are paying off this year."
The Krusemark crew tried seeding some fields to cover crops, with Rochelle's son, AJ, and her daughter-in-law, Maria Krusemark, helping fill the drill with cover crop seed.
Unfortunately, the needle valve in the hydraulic block for the drill needed replacing, so Rochelle had no down pressure. The seed was spreading on the ground instead of in the furrow, but there was no part available locally.
"COVID parts disruption tests patience," she said. "It would be nice to seed cover crops before it rains."
Still, she remained thankful for the local service and the local parts departments for trying their best to keep Krusemark Farms and many other farms rolling along.
Rochelle also worked on some crop insurance claims.
In addition to harvest/seeding work, Rochelle maintained her meeting responsibilities. She participated in the Women in Ag (WIA) Summit on Sept. 21-23. The WIA Summit was a terrific event, she said. Speakers engaged the 350 in-person and 300 virtual attendees.
"The event offers networking among women across the entire food supply chain," Rochelle said. "I'm always enlightened by the speakers and conversation."
She served on a four-woman panel on Wednesday, and then led a roundtable discussion on Thursday of the event.
"I wish this event was held much earlier in September, but it is definitely worth attending," Rochelle concluded.