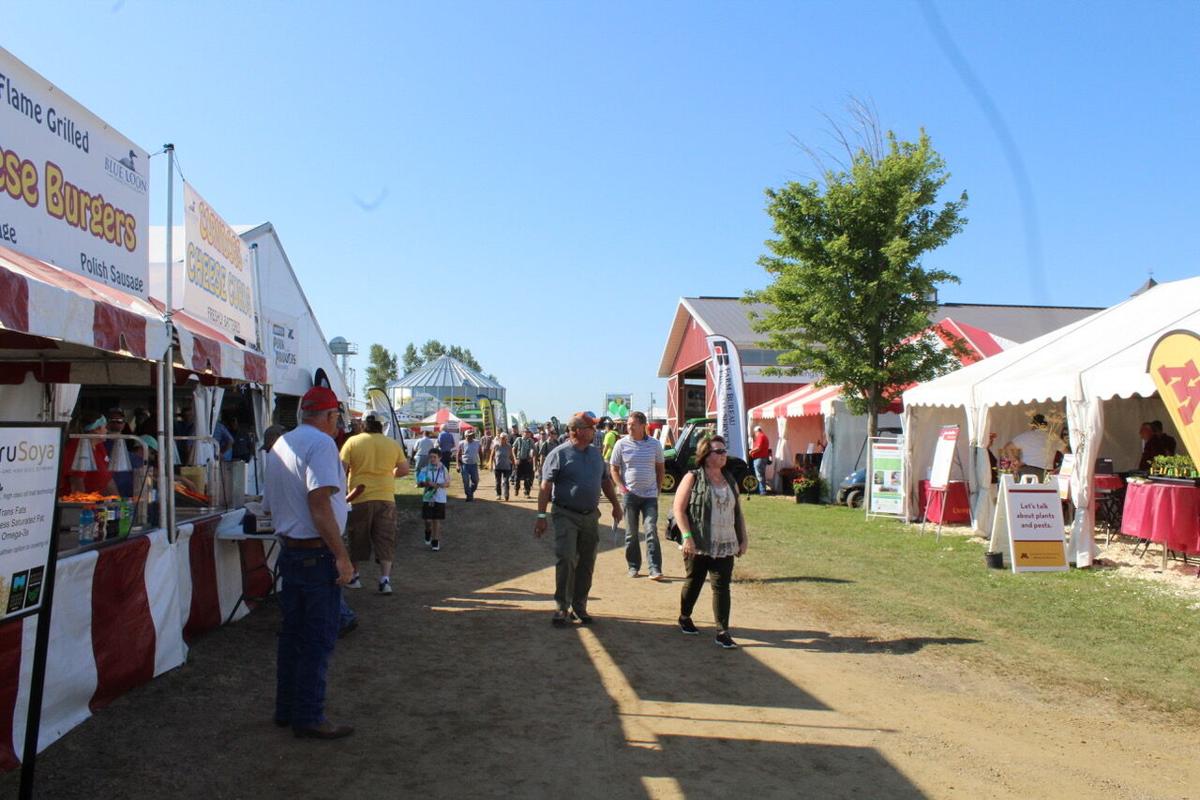 MORGAN, Minn. – Farm forums plus the latest in technology and farm machinery are waiting for you at Farmfest 2021!
In its 40th year, Farmfest offers 50 acres of non-stop farming and country exhibits that range from the practical to the fun; from the tried-and-true to the futuristic; from the low-cost to the well-into-the-six-figures equipment.
"We're seeing interest from farmers in categories across the board – equipment, farm machinery, livestock equipment, buildings, and services. They are going to be bringing the latest equipment," said Niki Jones, event marketing director. "We weren't all together in 2020, but now they are going to see the top-of-the-line technology and the newest equipment that's out there."
Farmfest 2021 will take place in person on Tuesday, Aug. 3 through Thursday, Aug. 5. Gates are open each day from 8 a.m. to 4 p.m.
The agricultural exhibition event is held at the historic Gilfillan Estate, 28366 County Highway 13, Morgan, Minn., at the Junction of Minnesota Highway 67 and Redwood County Highway 13. As always, parking is free.
Farmfest is the largest outdoor farm show in Minnesota, hosting over 400 ag exhibitors on 50 acres. Gilfillan Estates is just next door to offer acres of "back then" activities.
Admission to Farmfest is $10 per person at the gate, and 17 years and younger are free. Discounts are available by ordering tickets online.
Organizers of the 40th annual farm show have planned activities and sights for individuals, friends, farm crews and families.
First, logistics
Want a golf cart? Contact Toby Bertsch of NB Golf Cars at 605-275-4653. Golf carts are available at Gate 2 on a first-come, first-served basis, so call ahead to reserve your cart.
Handicapped scooters are allowed in, but golf carts that are not part of NB Golf Cars will not be permissible. Parents are more than welcome to bring wagons or strollers for their babies and kids.
Parking lot tractors with wagons are available to bring everyone from the huge southeast parking lot to the entrance gates. Once inside, courtesy shuttles drive around the perimeter of the show – just look for the shuttle stop signs and climb aboard.
About 27,000 farmers and livestock producers are expected to attend the 2021 Farmfest, according to IDEAg materials, and Jones encourages producers to ask vendors about show specials or discounts.
Forty-eight percent of Farmfest attendees farm over 500 acres, making the show a magnet for all types of farm-related businesses.
"Especially if you're someone that is considering all different models, makes, brands – you get to see that live," Jones said. "Plus, Ziegler CAT is going to have tractors out there that are Ride & Drive – you can drive them in the field."
New and returning this year
New for 2021 are product showcase areas and demonstrations; the live on-stage Women in Ag Event and Woman Farmer of the Year Award, and a Hay Bale Art Auction for FFA and 4-H.
Returning favorite events include 400-plus exhibitor displays, Ride and Drive events, Cattle Chute demonstrations, Farm Safety Demonstrations, Farm Family of the Year recognition, education, policy and political forums, and the Kid's pedal pull.
In addition, Farmfest has enhanced their Livestock Demo tent and Hemp tent.
Exciting items include 7,200 square feet dedicated to hemp production.
"Along with viewing the actual crop, there will be hemp experts and exhibitors there, people that are very well-versed in the hemp crop that we have planted," Jones said. "We encourage people that might be interested in a hemp crop to come out and talk to those experts."
The hops yard is in its third year. Hops are used in craft beer, and brewers want to use local ingredient sources. It is not easy to grow hops, but the yield can be high, Jones said. It only takes a small area to grow hops because they grow high up on large frames.
The Farmfest hops yard includes two varieties – Cascade and Centennial.
"The plot will showcase optimal growing practices according to the most recent studies," Jones said. "People can visit Farmfest to check out the varieties and ask questions of the hops experts that will be at the plot all three days of the show."
Another great place to visit is the Upper Midwest Agricultural Safety and Health Center (UMASH) Farm Safety Pavilion. This tent will showcase health and safety exhibits and demonstrations three times daily – 9 a.m., 11 a.m., and 2 p.m.
Farmfest attendees may be interesting in visiting the area a couple of times to see all the activities.
"I think you'll see different things each time you stop by," Jones said.
This year's seminars/activities include:
• PTO Safety Demonstration, Mike Wojahn, demonstrator
• ATV and UTV Safety, Ellen Duysen, Central States Center for Ag Safety and Health; Bernard Geschke, Progressive Ag Foundation; and Brian Kuhl, Progressive Ag Foundation, demonstrators
• Grain Handling Safety, Jim Zwaschka, South Central College Ag and North Mankato Fire Department, demonstrator
• Tractor Rollover Rescue, Max Radil, Forada, Minn., farmer and firefighter, demonstrator
Farmfest 2021 continues with both cropping and livestock focuses. There will also be livestock chute demos twice daily, along with livestock exhibitors who can answer questions.
"We've carved out an area of the show floor dedicated to exhibits, education, and demonstrations of livestock-related products," Jones said. "You'll see cattle chute demonstrations and be able to talk with experts about swine, cattle, dairy and much more."
Wick Buildings Farmfest Center
A full lineup of activities and programs are held throughout Farmfest. IDEAg coordinators have organized another great slate of seminars that will provide information to help farmers and the ag community all year long.
On Tuesday, Aug. 3, at 10:30 a.m., please attend "U.S. Ag Policy at the Crossroads – Where Do We Go from Here?" Then enjoy the Linder Farm Network Noon Show, followed at 1:15 p.m. by "Agriculture's Role in Carbon Sequestration."
The Linder crew has organized a great lineup of speakers for their Tuesday show that include Zippy Duvall, president of the American Farm Bureau Federation; Kevin Papp, Minnesota Farm Bureau president; Orion Samuelson, This Week in Agribusiness host; and more.
On Wednesday, Aug. 4, at 8 a.m., enjoy the Minnesota Farm Bureau's pancake breakfast at the Wick building along with the Ag Outlook. The 10:30 a.m. forum is titled, "Designing the Ideal Farm Bill," followed by the Linder Farm Network Noon Show.
Wednesday's 1:15 p.m. forum is "Rural Resiliency – Redesigning the U.S. Energy System." At 3 p.m., a seminar titled, "What's going on in the Farm Estate and Business Planning World: Information on Current Issues," is presented by AgCountry Farm Credit Services.
On Thursday, Aug. 5, at 10 a.m., the "Women in Ag Event and Presentation of the Farmfest Woman Farmer of the Year Award" takes the forum stage. Following the Linder Farm Network Noon Show, the University of Minnesota Farm Family of the Year Recognition program will be held at 1 p.m.
While these are the official forums, you can also find presentations throughout the grounds offered by various exhibitors.
This year's food vendors include: B Concessions Gates 1 and 2; Bernick's Pepsi Beverages; Blue Loon Concessions Ag Tents & Booth C616 and C810; Minnesota Farm Bureau Booth C8; Minnesota State Cattlemen's Association Booth C513N; Minnesota Farmers Union Big River Pizza C509; Miss Becky's BBQ Booth C127; Redwood County American Dairy Association Booth C101S; and Schwan's Home Service Booth C6.
"Now is a great time to attend Farmfest because we haven't been able to get out and see equipment," Jones said. "There's every opportunity to climb up in the driver's seat of this equipment and check out all of the technology onsite."
Minnesota Farmfest is owned by IDEAg Group, LLC, and operates as a subsidiary of the American Farm Bureau Federation.
Jones encourages everyone to look for Minnesota Farmfest on Twitter, Facebook, and Instagram for more details, as well as on their website, https://www.ideagroup.com/farmfest.