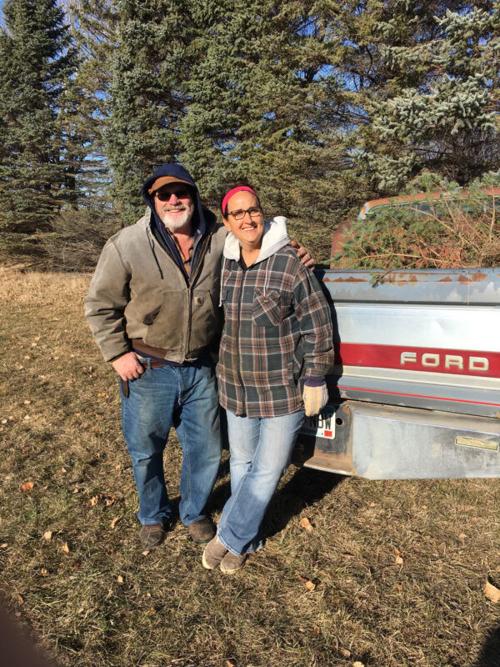 GILFILLAN, Minn. – Jane Goplen of Canby, Minn., has been selected as Farmfest Farm Woman of the Year 2021. She becomes the second woman to receive the honor.
Goplen, who was selected from a field of five finalists, was presented with the honor on Aug. 5.
"I want to thank Farmfest and all of the sponsors for this award, for this platform to recognize women's roles in agriculture," she said.
Goplen farms with her husband, Kent, at Prairie Lane Farms in western Yellow Medicine County. They raise corn and soybeans. Kent focuses on the bigger jobs with Jane supporting the operation through driving tractor, hauling fuel, delivering seed, picking rocks, helping with repairs, bringing meals, completing farm accounting, and doing innumerable other jobs.
She is involved in her church activities, teaching Sunday school, bible study and arranging church events.
She is a great promoter of agriculture and advocates extensively for those that choose farming as their profession.
"My wife pretty much keeps it all together," Kent said. "She is amazing and the Farm Woman of the Year every year to me."
As Farmfest Farm Woman of the Year, Goplen received a cash prize, as well as gifts.
She had high praise for the other four finalists: Jessica Blair, Starbuck; Wanda Patsche, Welcome; Erica Sawatzke, Farwell; and Pam Weiers, Henderson.
"I want to say congratulations to the others on this stage," Goplen said, "and congratulations to all women in farming gathered here today. All of you out there and each role you play is a vital role in your farming operation. We celebrate you!"
With a natural positive attitude, Goplen credits her mom, Dorothy Weber, who has passed away, with modeling "such graciousness in her dedication to her family and farm."
Goplen was raised as the seventh of nine children born to Dorothy and the late Marvin Weber, of St. Leo, Minn. After graduating from Canby High School in 1979, Goplen attended college for one year pursuing a degree in Home Economics/Fashion Design before marrying Kent. She later earned a two-year degree in Production Agriculture from Minnesota West Community and Technical College, Canby, Minn.
"Kent and I jointly made the decision for me to be home full-time," she said. "I've remained full-time on the farm, juggling the duties like farm women do. We've had some lean years financially, but we have weathered the storm."
The Goplens raised their children, Grant, Hattie, and Hayden, and chose homeschooling for most of their education. The Goplens were also active in 4-H when their children were growing up.
Grant works in Canby and comes out to the farm to help with fieldwork, as does Kent's dad, Marvin Goplen, who drives the grain cart.
Goplen likes to say that although she drives tractors, understanding the relationship between tractor numbers and horsepower remains a bit of a mystery…Her favorite numbers are actually "9x13," the size of a cake pan that can bring so much joy when food is shared with others.
"I do like a lot of things in the kitchen and believe in the ministry of food," she said. "It brings people together in a basic, tangible way. That is gratifying to me, hence my love of the 9x13 cake pan."
She encourages all farmwomen to recognize that self-worth can't be measured by a paycheck or prestige or attention. A role on the farm as someone who is there to help with "whatever comes up that day" is honorable. Attending to the details required to care for a family and farm can have a great effect on the operation's success.
"We can feel ordinary, because what we do for the most part is rather ordinary, but when we stack up the ordinary, it becomes extraordinary," she said.
"I am so proud to represent one of the greatest sectors of people – the American farmer," she continued. "Stand tall, stand confident, appreciate each other, keep the humor, enjoy the beauty of growing things, give credit and praise to the Lord, and pass it on. You are extraordinary!"
Sponsors for the Farmfest 2021 Woman Farmer of the Year include IDEAg Group, LLC; Ziegler Ag Equipment; AgCountry Farm Credit Services; CHS, Inc.; EarthScout; and the Minnesota Agricultural Water Quality Certification Program.