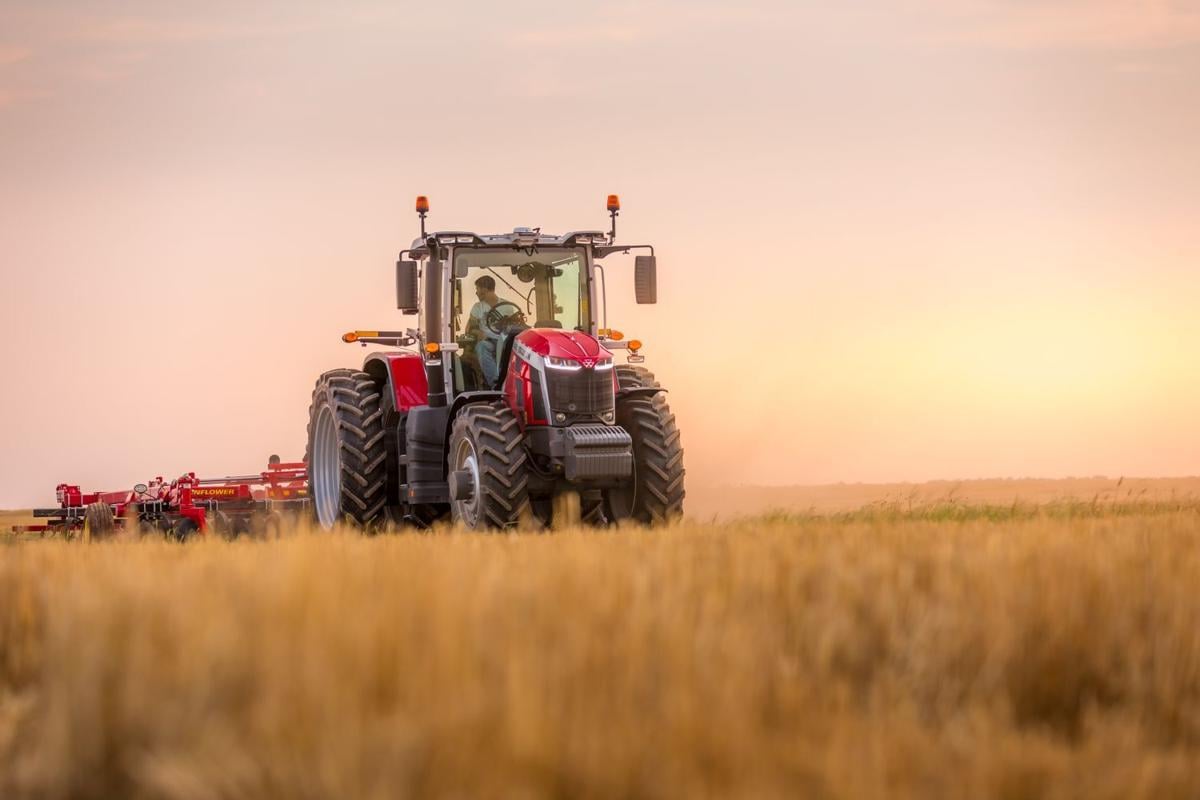 For people who have been dreaming of a new Massey Ferguson tractor, it's finally here.
The MF 8S is available in six models: MF 8S.205, MF 8S.225, MF 8S.245, MF 8S.265, MF 8S.285 and MF 8S.305. Model numbers correspond to the maximum horsepower.
"The MF 8S Series tractors offer straightforward and dependable customer experiences for all types of operations, from feedlots to row crops," said Derek Reusser, Massey Ferguson tactical marketing manager for high horsepower tractors at AGCO North America.
The new MF 8S series may look like what you expect in a tractor, but AGCO took the approach of building something new. They took direct input from customers and designed this tractor series from the ground up. This is perhaps most noticeable in the straight 4 post cab that is part of the new "Protect-U" design. With this design, the cab is separated by a 9.4-inch gap between the hood and engine. This gap reduces cab vibration and engine noise and increases operator comfort.
The MF 8S Series features AGCO's 7.4-liter Tier 4 AGCO Power engine. The tractor is designed to intake air from the rear of the hood to provide the engine with clean and cool air.
Two transmission options are available. The Dyna E-Power is a new Dual-Clutch transmission that provides smooth shifting and speed changes with no torque interruption. The Dyna-VT is Massey Ferguson's popular CVT transmission that allows farmers to select their speed and engine RPM as needed.
Reusser said the MF 8S series fits well into the full lineup of Massey Ferguson products – like Hesston by Massey Ferguson hay equipment, Massey Ferguson planters, and Sunflower Tillage and Seeding lines – and works equally well with farm equipment from other manufacturers, too.
"The next generation MF 8S Series tractors make it possible for any competitive technology products to be used," he said. "We know our farmers are highly invested in some technologies; we want to make sure that those farmers still have a choice of tractor."
Other notable features include an integrated loader joystick that allows loader tractor farmers to change direction while operating the loader.
For customers who need great hydraulics, the MF 8S Series offers a 54-gallon-per-minute ECO pump that operates at full capacity around 1650 engine RPM with up to five rear remotes. The hydraulic system is efficient and adds to the durability of the engine components.
The MF 8S Series comes factory loaded with MF Guide and MF Connect apps.
MF Guide is a complete guidance system for hands-free steering. MF Connect is a fleet management tool that allows remote and near real-time monitoring and decision making.
"The MF 8S Series provides an option for any customer looking to increase uptime while still offering a simple and straightforward operating experience," Reusser said.
The MF 8S Series is manufactured in Beauvais, France, at Massey Ferguson's state-of-the-art engineering and manufacturing facility. Units are currently available for pre-order in the United States with delivery in early 2022.
For more information, farmers can contact their local Massey Ferguson dealer or reach out the Massey Ferguson team directly at www.masseyferguson.us/.