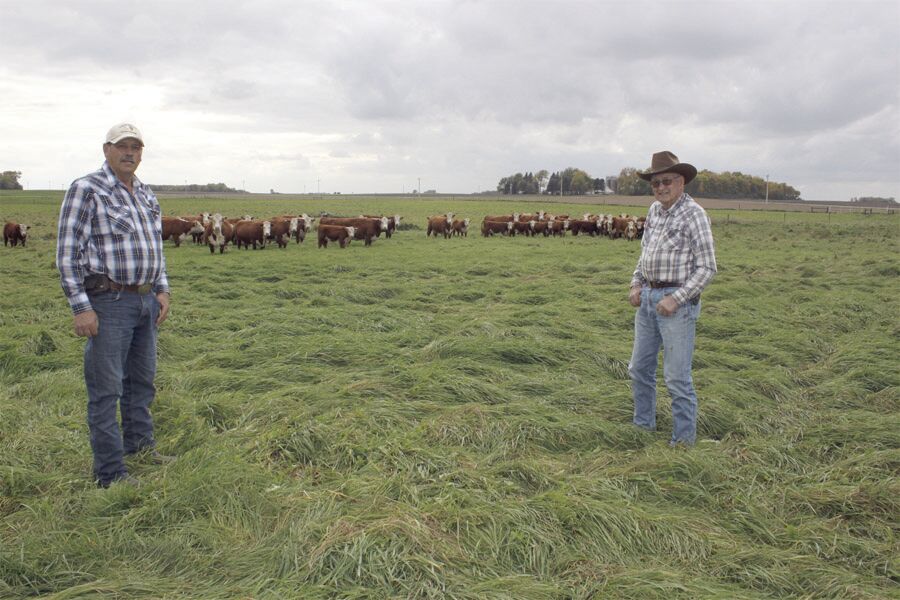 BUFFALO LAKE, Minn. – Lester Schafer has lived and worked on the same farm for most of his 94 years. His wife, Kathleen, and son, John, live with him and are never far away.
If you look to the west of the farmstead, you see cropland for miles. The big open sky usually tells Lester what the weather is going to do.
It was a different sky that he saw back in 1946. Seventy-five years ago, he was serving in Allied-occupied Germany. He may have looked west toward home and wondered about the folks of Buffalo Lake.
After graduating from high school in 1944, the now-well-known Hereford cattleman worked on the farm until he was drafted into the U.S. Army in 1945.
"A lot of people didn't like that I was drafted, but you just accepted what was and it all worked out," he said during an early October interview at the farm.
There were some special reasons why Lester's family might not have been keen on him leaving the farm.
His dad, Henry Schafer, passed away when Lester was just 7 years old. Henry and Lester's mother, Frances Klucas Schafer, married in 1925, and Lester was born in December 1926. Henry was diagnosed with tuberculosis when Lester was just 1-year-old.
Needing long-term care, Henry was moved to the Riverside Sanitorium near Granite Falls, Minn. When nearly healed from tuberculosis, Henry passed away in 1933 from a ruptured appendix.
Frances and her son, Lester, moved to her parents' farm – the Klucas Farm. In the 1930s, the Klucas household included Grandparents John and Mary, Uncle Emmet, Frances, Lester, and Lester's little brother, Robert.
"My aunts and uncles and grandparents and a wonderful mother saw me through," Lester said.
Growing up on the farm was hard work, but also fun. Back in 1917, Grandpa John purchased four registered Hereford heifers. High quality registered Herefords have been at the farm ever since. Lester has always thought Herefords are the most beautiful cattle.
He liked horses, too, so he took an interest when the hired man tried to ride a Mustang back in the early 1930s. The Mustang bucked off the hired man, went over two fences, and eventually that horse even bucked off the saddle. As a young boy of maybe 10 years of age, Lester started to tame the Mustang in the barn. Eventually, he was able to ride the horse, and control teams of horses, too – at a young age.
A quick study in high school, Lester took typing, which turned out to be an advantage when he joined the Army.
He was assigned to the Engineer General Service Regiment 346. His job was "dispatcher" in the motor pool and required typing.
Italy surrendered on May 2, 1945, Germany surrendered on May 8, 1945, and Japan surrendered on Aug. 14, 1945.
While millions of soldiers were streaming back to the U.S. following the victory, Lester was taking basic training at Fort Leonard Wood in the Missouri Ozarks.
Then he was shipped to California.
"From there, they hauled a trainload of us in boxcars to Camp Kilmer, N.J.," he said. "From there, we took a Liberty Ship to Bremerhaven, Germany."
Liberty Ships hauled 500-600 soldiers in the hold, and the hold was locked, he said. Lester heard over the loudspeaker that someone was needed to run the 8 MM movie projector on the ship, and he volunteered. Along with the job came a cabin where he stayed.
The cabin gave him access to the salty outdoors, but he didn't wander far. Waves taller than the ship rose and sank, putting the ship often at a 45-degree angle.
Lester arrived in Germany in April 1946 and returned home in January 1947.
Stationed outside of Stuttgart and working primarily in one area near the Rhine River, Lester sent out trucks to repair bridges and more.
"With the war over, we could communicate with the Germans, if we could understand them," he said. "I got to know a gal about my age, and she could speak pretty good English. So, I learned a lot more about the country and so on. That was a long time ago."
Lester was assigned a driver's license and could tour the area when the company commander didn't need the jeep. His aunts sent some clothes and things to relatives in Germany, and he and the German girl were able to deliver those.
WWII photos from 1946 shows destruction across Europe. Torched earth and bombed buildings remained in the aftermath of the war.
Lester remembered staying in German barracks that were pock-marked with bullet holes. Soldiers would have kept their heads down when Allied airplanes flew low.
"You don't know if you are going to make it through the day or not, the bombings and the strafing," he said.
A few of the U.S. combat soldiers re-enlisted, and he saw them. They didn't say much. He added that Germans who were in contact with the soldiers were respectful and satisfied with how things were going.
"There had to be an element somewhere that had been fighting in the German Army, but we didn't mingle with or see any of them," he said. "I think that was probably a wise choice."
When it was time to leave Germany, the unit took a Victory ship home. The ship was a little better made than the Liberty ship, and there were a few more comforts – instead of the hammocks on the Liberty ship, the Victory ship had bunkbeds.
Lester was honorably discharged in February 1947 from the U.S. Army with a rank of Technician Fifth Grade. He qualified for the new G.I. Bill at age 21, allowing an important dream to come true. He was accepted at the University of Minnesota, St. Paul, and received a small stipend to cover tuition and expenses.
It turned out that Fall quarter 1947 on the St. Paul campus was a little slower paced compared to what he had been doing. He asked his advisor if there were any jobs.
There was a job hauling manure from the animal barns to the compost pile, using a team of horses pulling a rack. Lester told his advisor about his work with the Mustang many years earlier, and he got the job.
Later he worked in the beef cattle barn, the hog barn, and one spring during lambing, he slept in the sheep barn to help any lambing ewes having trouble.
Before Lester graduated, his brother, Robert, was accepted at the University of Minnesota. Robert took over most of Lester's jobs on campus, and soon, Lester was the first Schafer or Klucas to attend and graduate from college. He earned a degree in Animal Husbandry in 1951.
It was time to come home and farm full-time.
While some people gain discipline and structure from joining the U.S. Armed Forces, Lester felt that he already had those traits and skills before joining. These skills learned early in life helped him through his time of active duty.
The Army taught him how to live with people from all walks of life. He also witnessed mistreatment, prejudice, and hardship, and he disagreed with that.
From these lessons, Lester is determined to be as honest as he can.
"Honesty always is a priority," he said. "You don't try to hide the things that are wrong, or as an example, in our cattle business, if a bull or heifer shouldn't be used for breeding, and you know it, you admit it and explain it to anyone who's interested."
At 94, Lester continues to work every day on the farm. He loves evaluating the Registered Herefords on pasture, and he looks for ways to improve the herd all the time.
"I am one of the luckiest people alive," he said, on a recent October day – looking out to the west of the farmstead. "A lot of ups and downs, but I've had so many people that have had faith in me and my abilities. I'm one of the blessed people of the world."