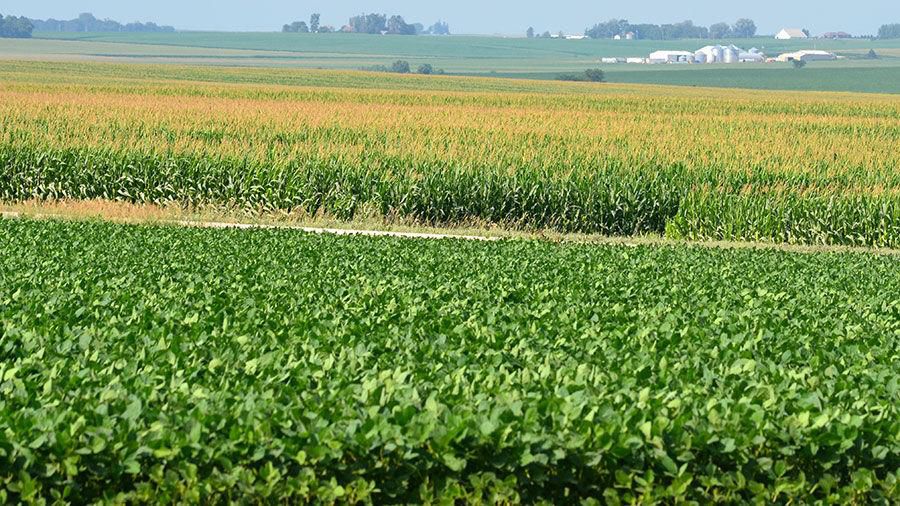 A setback in the trade negotiations between the U.S. and China, coupled with a bearish USDA report, is putting a damper on the soybean market.
After weeks of rumors that a trade deal with China was close, those hopes were dashed as the two countries last week raised the stakes by increasing the tariffs imposed on each other's goods. The U.S.'s existing 10 percent tariff on $200 billion in goods rose to 25 percent, on top of the original $50 billion, with another $325 billion in imports in the line of fire.
China in turn is expected to take necessary countermeasures against the U.S. These latest developments dimmed the hopes of farmers and left many wondering how issues critical to both sides can be resolved.
Coupled with that news was USDA's somewhat bearish supply and demand outlook for corn, wheat and soybeans. The burdensome supply situation for soybeans continues to swell with each monthly forecast. USDA increased U.S. 2018-19 soybean ending stocks by 100 million bushels, pushing the total to 995 million bushels from its previous estimate of 895 million and the trade's estimate of 920 million bushels. The increase was largely due to a downward revision in exports.
USDA pegged 2018-19 world soybean ending stocks at 113.1 million metric tons compared to the trade's average estimate of 111.6 MMT.
The two factors have combined to keep soybean prices down. In southwestern Minnesota, cash prices for soybeans on May 13 were around $7.10-$7.25 a bushel, which would be the lowest prices in that area in 12 years, according to Ed Usset, professor emeritus and grain marketing economist with the University of Minnesota.
"You have to go back to 2007 to find prices that low. We're just not that far away from sub-$7 soybeans," he said, adding that prices were $7.15 as of the morning of May 13.
"It's tough. It's a bitter pill to swallow," he continued. "They say the markets are always right. I would add to that that they are often frustrating and sometimes cruel, and right now we're in the cruel territory."
At one local elevator in west central Minnesota regularly followed in this column, as of May 14 the cash price for soybeans was $7.17 and basis was $1.03 under. December 2019 cash price was listed at $7.49 and basis was $1.10 under.
Regarding the trade war, progress toward an agreement with China seemed close just weeks ago but nearly collapsed altogether in mid-May with both sides hardening their bargaining positions. Usset is not so sure the two sides were as close to a resolution as was being reported.
"Why did it seem that way? Well, I feel that over the last year a handful of times I have read that administration insiders or pundits and pros that are watching this thought that we're just a few weeks away from settling this," he said. "We keep reading that, and yet we haven't settled it.
"It was explained to me and all of us that trade wars were 'easy to win'," he continued. "I don't know because we've never been in a trade war before. Maybe this is what we consider a win … but it sure doesn't feel very good right now."
The situation with China is even more complex than just the trade issue. Even if an agreement is reached soon, China's hog industry will likely not need as much soybean meal because African swine fever is taking a toll on hog numbers.
"I'm not an expert on all things, but I know that dead hogs do not eat much protein," Usset said, adding that China's Ministry of Agriculture has indicated the hog herd in China has declined by 20 percent since African swine fever was first reported in August 2018. That's 20 percent in nine months.
"Dead hogs do not eat meal, so you've got that demand kicker on top of the fact that we're not even trading, or we're trying hard not to trade," he said. "It's very, very difficult in the world of soybeans to find the bullish nub in this market."
It's a tough situation for farmers right now, according to Usset, who hoped that they were able to make some sales this winter when prices were much better at over $8 per bushel.
"I don't have a strategy from today's market … it's quite disheartening," he said. "(Farmers) are more worried about planting right now. So if you haven't gotten anything done yet I sure the heck (wouldn't) chase it lower. Prospects for a big rally in the world of soybeans are not good."