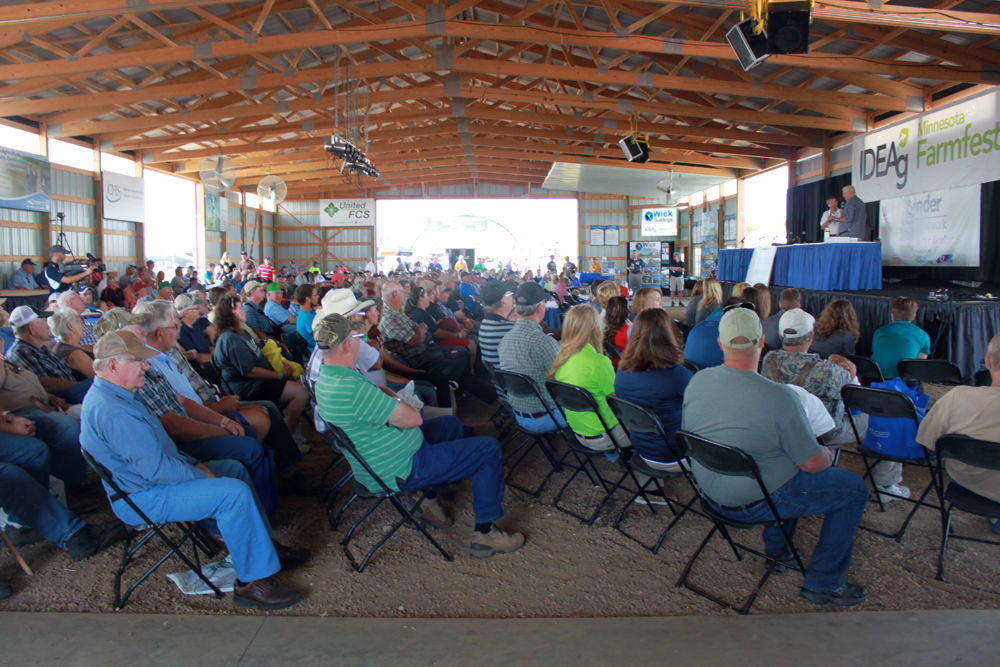 Organizers are hoping for three great days of weather during Minnesota Farmfest Aug. 2-4, but in case the weather doesn't cooperate, the Farmfest Forums will still go on.
Since the forums were moved out of a large tent and into the Wick Buildings Farmfest Center in 2013, Farmfest attendees have enjoyed a comfortable environment despite rain or heat. The building measures 60-feet wide by 144-feet long and is located in the center of the Farmfest grounds.
Look for the large red and white barn with three cupolas to find the Farmfest Forums in 2016.
The program begins at 8 a.m. on Wednesday, Aug. 3 in the Wick Buildings Farmfest Center with the Minnesota Farm Bureau breakfast.
This is a great opportunity to talk with fellow farmers and families while enjoying a free pancake breakfast.
Minnesota Farm Bureau President Kevin Paap will introduce special Farmfest guests at 8:30 a.m. Local Farm Bureau leaders from 78 counties and regional offices are looking forward to you joining them.
At 9-10 a.m., Mark Schultz, chief market analyst at Northstar Commodity, will present a grain and livestock marketing update, said Kent Thiesse, Farmfest Forum coordinator.
"Given what has been happening in the grain markets, I'm sure there will be a lot of interest in that topic," Thiesse said.
The Congressional Candidates Forum on Agriculture and Rural Issues – First, Second and Third Districts – will be held Wednesday, Aug. 3, 10:30-11:45 a.m. in the Wick Buildings Farmfest Center.
Invited candidates include: Rep. Tim Walz, D-Mankato, from the First District; and Rep. Erik Paulsen, R-Eden Prairie, from the Third District.
Joining Walz is Republican challenger Jim Hagedorn, and joining Paulsen is Democrat Terri Bonoff.
Perhaps the most watched race is the Second District, as Rep. John Kline, R-Burnsville, is not seeking re-election after 14 years.
Challengers in the Second District include Democrat Angie Craig, Independent Paula Overby, and Republicans Jason Lewis, Darlene Miller, John Howe and Matt Erickson. The primary elections will take place Aug. 9, 2016.
In the past, Farmfest has drawn state and national media attention following various races. While no national political candidates are expected to attend Farmfest in 2016, the Second District race is considered a key race in the country.
The district covers the southern Twin Cities, plus all of Scott, Dakota, Goodhue and Wabasha counties. It also includes a portion of Rice County, and the city of Northfield, as well as southern Washington County.
"The focus of these congressional candidate forums is on agriculture and rural issues," said Thiesse. "There is certainly some potential there for a lot of interest in these congressional forums."
Wednesday's Forums include the Linder Farm Network "Ag Information Hour," featuring Lynn Ketelsen, farm director, and Max Armstrong from the Penton Agriculture broadcast group, and the Minnesota Pork Ambassador program.
The afternoon program will begin with a keynote address by Gov. Mark Dayton, who has confirmed his plans to attend. One of his primary objectives in his second term is improving water quality.
He's expected to talk about water quality issues ahead of the afternoon forum entitled, "Buffers, Waters of the United States, and Other Ag Water Quality Issues."
The panel includes Don Parrish, American Farm Bureau senior policy analyst; Roger Johnson, National Farmers Union president; Minnesota Rep. Paul Torkelson, R-16B; Lawrence Sukalski, American Soybean Growers Association board member; Kirby Hettver, Minnesota Corn Growers Association secretary; Warren Formo, Minnesota Ag Water Resource Center executive director; and Dave Weirens, Minnesota Board of Water and Soil Resources assistant director for programs and policy.
"Farmfest continues to be a very strong event," said Thiesse, who encourages everyone to attend the 2016 show, Aug. 2-4 at Gilfillan Estates.
The Wick Buildings Farmfest Center is home to Farmfest Forums held Aug. 2-4, 2016. Photo by Andrea Johnson.