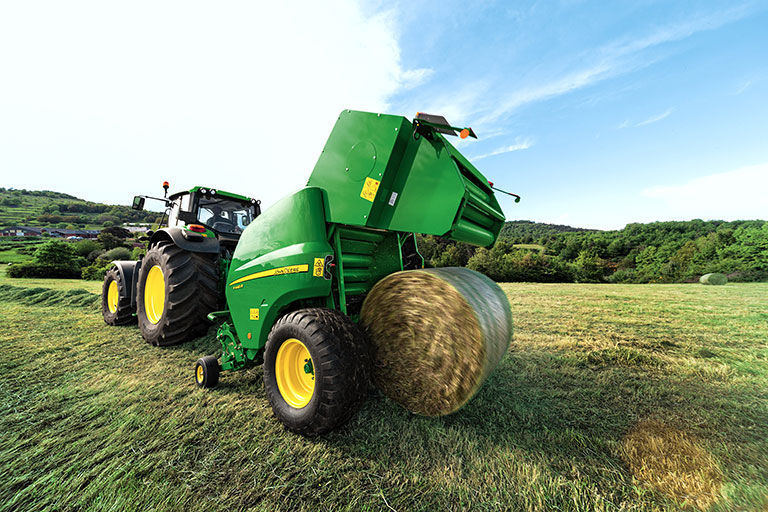 Every time haying season rolls around, I'm reminded of the first real job I had: working on a hay crew. I recall stacking small square bales all day under a blazing sun and dealing with humidity so high you could almost swim in it.
I was, and frankly still am, amazed at the intricacies of the small square baler knotter operation. I've watched it in action. I've reviewed a slow-motion film that details the operation. I've read the step-by-step actions of each knotter component. Yet the engineering remains a bit of magic and a minor miracle to me.
Of course, there are haying crews around today, still using much of the same tried-and-true engineering I encountered as a teenager.
But it seems that fewer youngsters really want to sweat out their summers in hay fields. Besides, the majority of hay growers went with round bales some time ago.
Rolling up, moving, and feeding round bales have become one-person chores, what with all the equipment available.
In the end, round bales are less costly to make overall, especially when it comes to labor costs.
Round bales do have one big issue, though. Storage.
You've spent a considerable amount of time, effort and investment producing a solid hay crop.
You prepped the hay fields, fertilized, cut and conditioned the crop at the right time, then rolled up some great-looking, tightly packed bales that cattle will devour.
So how do you keep that great hay great?
For small square bales, the answer is simple. Just stack them in the shed or barn, out of the rain, snow and sun.
And if the crew is good, they leave enough space between stacks of bales for air circulation and continued drying.
Some hay producers do have large sheds where they can stack big rounds. But, if you're like most folks, this approach is not always economically feasible.
Wrap answers
The answer might be in wrapping each round bale with net wrap.
I was introduced to round bale net wrap some years ago by Ron Amos, who was working with John Deere Ottumwa Works at the time. He's now director of market development at Tama USA.
Working with their distributor, Ambraco, Tama USA offers a variety of crop packaging products including baler twine, net wrap, stretchfilm for silage bales and even round module wrap for cotton.
Recently, Amos was featured in a short film on RFD-TV talking about the importance of packing hay into firm bales that will stand up to outdoor storage.
He mentioned proper baler set-up, of course, as well as driving to pack the side sheets of the baler, resulting in a tighter bales.
He noted that setting up the windrows to fill half the width or the full width of the bale chamber at a time is essential.
When it comes to net wrapping, the correct number of wraps depends on the crop.
According to Amos, grass hay is not very springy and packs tight, so you can usually get by with a couple wraps of netting. Springier crops such as straw take at least three wraps. Corn stalks and stover would require four or five wraps.
You want to make sure the netting will cover the bale at least edge to edge and is strong enough to stand up to weather extremes.
It's a B-Wrap
While Tama USA has developed and released a good number of crop packaging product innovations through the years, Amos is particularly excited about their newest addition.
It's called B-Wrap. He says the product offers barn-quality hay without the barn.
The key to the material is that it's breathable. During the natural process of drying, moisture can leave the bale, but rain and snow can't re-enter through the wrap.
Quite an innovation. However, it does come at a cost — many dollars more per bale than net wrap. So, Amos suggests using B-Wrap on the best quality hay.
Currently, B-Wrap is available for most John Deere 7, 8 and 9 Series round balers equipped for net wrap.
Suggestions
Finally, a few suggestions about outdoor storage for round bales:
Make sure the storage site is not shaded by trees or buildings, and that there's good air circulation.
Also, the site must drain well, so water will move away from the bales.
And when you line up bales, put them in a line that runs north and south, so bales will be exposed to the sun and will dry on both the east and west side.
And that will about wrap it up for hay season.