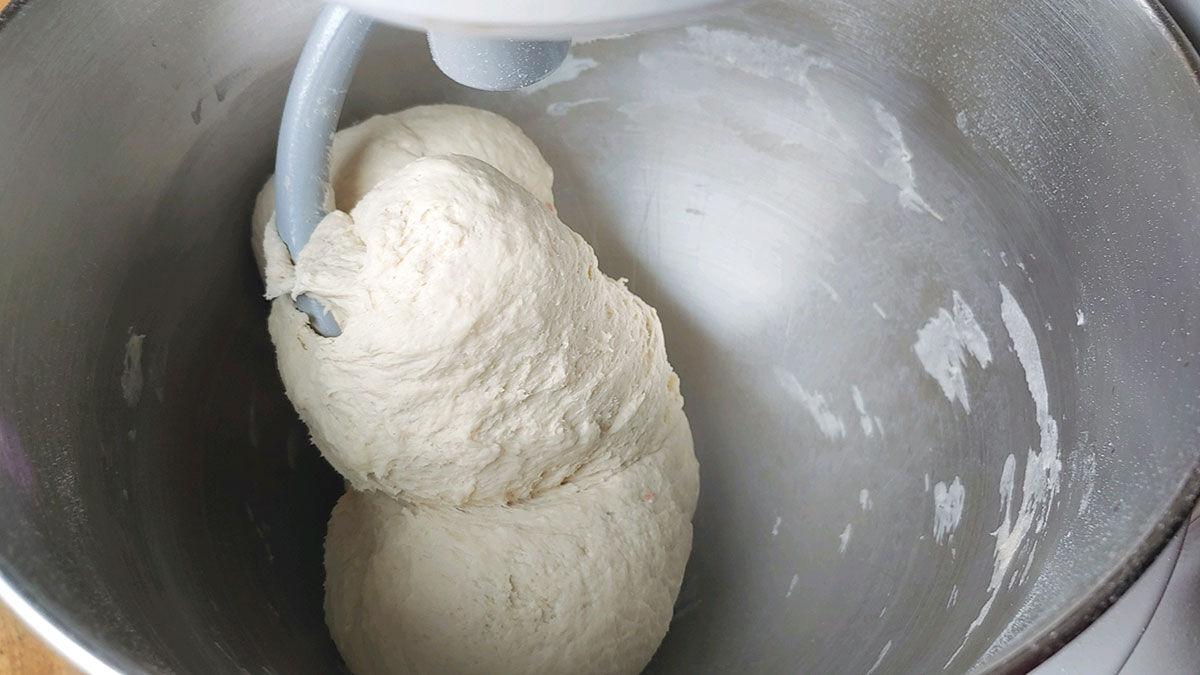 1 T. instant dry yeast
2 C. warm water (105° to 115°)
1 T. granulated sugar (can use honey)
4 to 5 C. all-purpose flour
2 tsp. sea salt (fine grain) or salt of choice
3 T. extra virgin olive oil
Add ingredients to mixing bowl in the order listed, layering each ingredient on top of the previous ingredient. Do not skimp on the salt. Start with 4 C. of flour and reserve the last cup to be used in the final mixing process before the timed kneading begins.
Begin mixing using a dough hook. Set speed to Level 2 if using a Kitchen Aid mixer or the appropriate speed indicated for kneading with your mixer. (Do not go above a speed 2 on a Kitchen Aid.)
The goal is to have a bowl that is clean on the sides and a dough that is not too sticky. Watch the dough come together and you'll determine if a little more flour is to be added based on how it sticks to the bottom and sides of the bowl. If you are not sure, stop the mixer and touch or pinch the dough. If the dough sticks to your fingers, leaving dough on your fingers, then it is too sticky and time to add flour gradually to the mixer. Continue gradually adding flour as needed, one tablespoon or teaspoon at a time. You'll see the dough lift from the sides and the bottom of the bowl.
At this point it is time to knead. If after 5-minutes the dough does not look smooth, you may knead for 1 to 2 minutes longer to obtain the correct consistency. Goal is for it to be a moist dough ball, not dry and crumbly.
Remove dough to a clean, dry surface. Can spread a very small amount of olive oil across your surface to prevent sticking (no more flour). Hand knead this dough 20-25 times, creating a dough ball with each turn. Shape dough ball by tucking around dough ball to create a smooth round shape.
Drizzle a small amount of olive oil, about a tablespoon, in the bowl. Place dough in bowl, cover with plastic wrap and let rise 30 minutes.
---
Rustic Rosemary Loaf
When making dough, add 2 1/2 T. dried rosemary.
Cut dough in half, flatten out to roll into a log shape. Tuck ends underneath to make it neat. Using a sharp knife or a bread lathe, cut slits in the top to create vents for the bread.
Whisk 1 egg, using a basting brush, coat the loaves with the whisked egg to give it a beautiful crust.
Bake at 425° 20-25 minutes. When you take it out of the oven and flick the bottom, it should sound almost hollow on the inside.