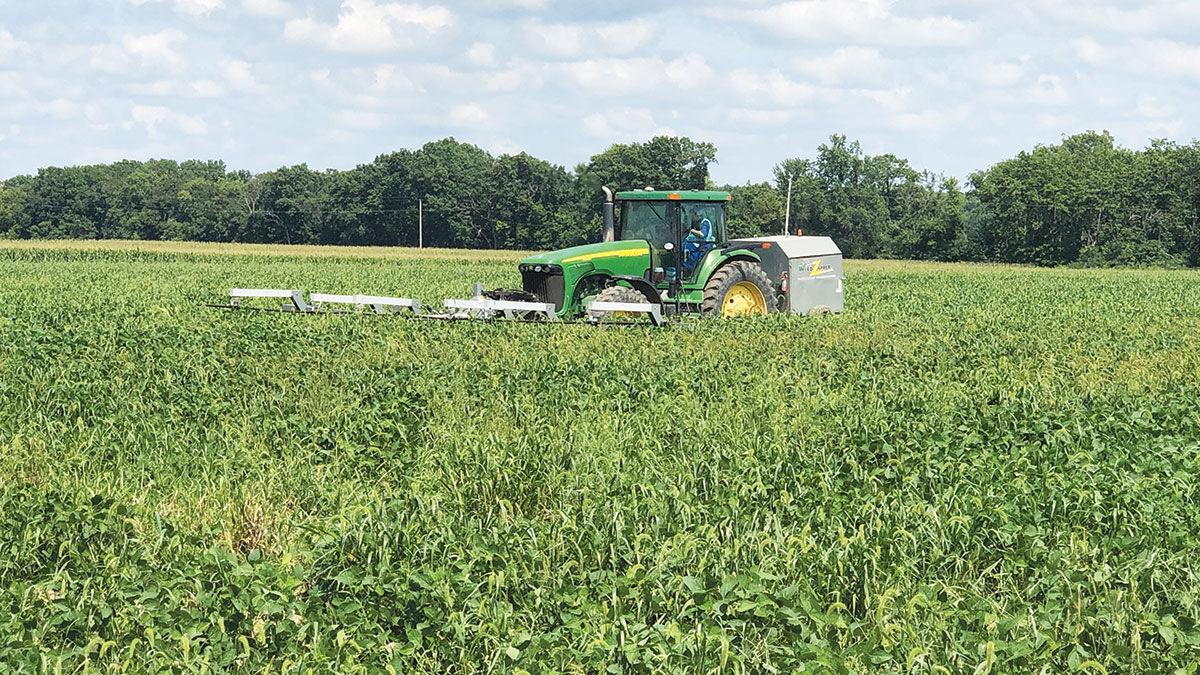 In Missouri, the battle against pigweeds remains the top weed control priority, whether it is the aggressive Palmer amaranth or the more widespread waterhemp.
Kevin Bradley, weed scientist for University of Missouri Extension, says people often think of herbicides as their only real method of weed management. But weed resistance to herbicides is a growing problem.
"I can honestly say waterhemp is worse today than when I started 17 years ago," Bradley says.
While herbicides will remain a key part of weed control for the foreseeable future, Bradley and other researchers have been looking at other methods to help control resistant weeds, including electrocuting weeds and grinding up weed seeds.
These methods are not used much in commercial agriculture in the U.S. now, but Bradley says they have potential.
Electrocuting weeds
Electrocuting weeds involves using a "Weed Zapper," with a copper boom attached to the front of a tractor that electrocutes any plant it contacts, as well as a generator hooked onto the back of the tractor.
"I think right now it's probably more of a potential, future type deal for commercial, big-time agriculture," Bradley says.
He says the practice is more common in organic farming and small-scale, specialty crops. The biggest booms made right now are about 30 feet wide.
But Bradley says this management practice could help answer a pressing question for farmers.
"A call I get a lot, 'what do I do about weeds up above soybeans?'" Bradley says, a problem when there are no longer any herbicide options. "The answer has always been the same, it's nothing, unless you want to go out and pull them."
However, electrocuting weeds would be a way to eliminate them.
"I think there might be something there," he says. "I just don't know. We can definitely do that and knock weeds down."
Bradley says it is more of a rescue tool than a weed management tool.
"It's not a full-season management tool," he says. "You need a height differential (between weeds and crops). I think it's a cleanup tool. If we get weeds above the soybeans, we've already seen yield loss."
The first concern with the Weed Zapper is safety, Bradley says. Up to 15,000 volts can be running through plants, and it can be dangerous, he says. There are safeguards in place, such as the electricity stopping when the boom is lifted, but producers should always be thinking about safety.
"The No. 1 thing that you've got to think about with this weed execution is safety," Bradley says. "…As long as you stay away from it, it's fine."
Also, soybeans contacted by the zapper in later reproductive stages can experience injury and possibly yield loss, he says.
Destroying weed seed
Bradley says the tools to destroy weed seed, such as the Seed Terminator, are closer to widespread commercial use.
"It's starting to be sold in the U.S.," he says.
He says many dealers are working with different companies to provide the equipment for seed harvesting and destruction, which can either be retrofitted to combines or sold as part of some new combines.
Some weed seed can still escape from the header or other parts of the combine, but the seed destructors seem to help.
"It's not 100%, it's not a silver bullet, but they do grind up weed seed," Bradley says. "It is a substantial reduction in the waterhemp seed going into the soil."
The technology has been widely adopted in Australia as a result of herbicide resistance in ryegrass, Bradley says. This spring, he will get the second-year results from using the Seed Terminator at MU research farms.
"I think there will be a pretty substantial reduction in the waterhemp," he says.
Controlling weed seed, and combating the weeds before they have a chance to grow, is increasingly the mindset among researchers and farmers, Bradley says, as opposed to just spraying for them.
2021 weed outlook
As always, the weather will play a key role in what this year's weed challenges look like.
"I don't think we had a lot of fall herbicide applications," Bradley says. "It's fine, we can still live with that. But if we have a wet spring, we could have some weedy fields. It is something that's on my mind a little bit."
Bradley says producers have been grouped into 2,4-D people and dicamba people, but this year should give growers more options. Instead of Xtend soybeans, producers can now plant XtendFlex soybeans, which allow for use of a variety of herbicides.
Last year, if producers wanted to do a post-emergence spraying of these dicamba-tolerant soybeans in June, their only option was dicamba herbicide, which experts say is more susceptible to drift in certain conditions. Now Bradley says producers have options.
"Now if the conditions are not right and you're worried about off-target movement, you don't have to use dicamba, you can use Liberty," he says.