Spring is a time of new beginnings, and many farmers are hoping for a return to agreeable conditions after widespread flooding last year prevented many fields from being planted or flooded out crops.
Kirk Ellis farms in Ray County — including some bottom ground. He says about a third of his acres did not get planted last year due to flooding and water on fields and roads, preventing access to some land.
Ellis has been tracking crop prices on his phone, but he plans to stick with his usual crop rotation this spring then look for marketing opportunities as the year progresses, rather than significantly adjusting his acreage in response to price changes.
"I'd say pretty much I'll stick with the same rotation," he says.
In recent years, corn and soybean prices have not been what Ellis and other farmers would like to see, which can make planting and marketing decisions a challenge.
"It's kind of anybody's guess as to what to do," he says.
Still, he's excited to get another crop in the ground and see what it can do.
Ellis does make some adjustments to his planting rotation plans, trying to get the most of his corn acreage on a given year in fields that don't flood, while planting a smaller percentage in some of his bottom ground fields. Then he plans on more soybeans in fields that could see more flooding, high water or wet conditions, giving him some flexibility with later soybean planting dates.
"Because those fields are prone to flooding, I'll probably plant beans on them," he says.
Generally wet conditions and the ongoing efforts to repair levee systems have concerned Missouri farmers this spring. The National Oceanic and Atmospheric Administration gives Missouri a greater than 50% chance of moderate flooding on mainstream rivers and their tributaries.
Pat Guinan, state climatologist for the University of Missouri, says there is still a lot of uncertainty about what the spring will look like.
"A lot will depend on the weather patterns that set up over the region in the next few weeks," he says.
Missouri heads into the spring with fairly high soil moisture levels overall. Guinan says the state had its third consecutive wet winter, and it was Missouri's 19th wettest winter in 125 years of weather records. It's been a trend of wetter weather.
"Unusually wet conditions have prevailed since the beginning of 2019, with 10 of 14 months recording above-average precipitation," he says.
On the positive side, Guinan says temperatures so far have been ideal for gradual snow melt up the river.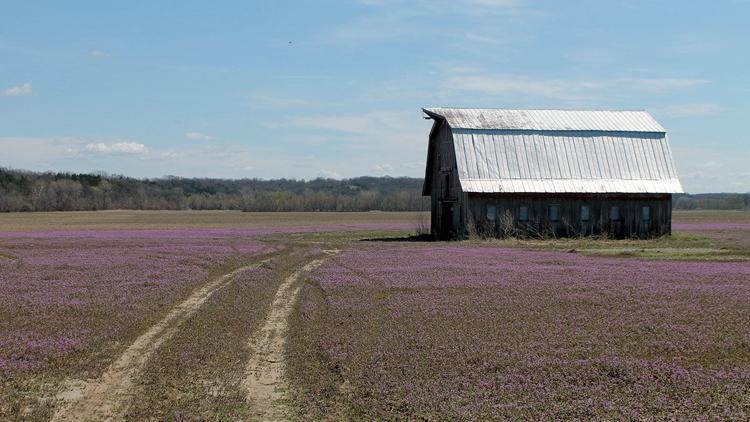 Farmers have big plans for this year's crop. The USDA's annual Prospective Plantings report released March 31 said U.S. farmers plan to plant 97.0 million acres, up 7.29 million acres, or 8%, from last year. For soybeans, the report projects 83.5 million acres nationally, up 10% from last year.
In Missouri, farmers are projected to plant 3.6 million acres of corn, up 13% from the flood-impacted total of 3.2 million corn acres in 2019 and 3.5 million acres in 2018.
The report also estimates Missouri farmers will plant 5.8 million acres of soybeans this year, up 14% from 5.1 million last year and 5.85 million in 2018.
The USDA report shows a decline in wheat acres for Missouri with 480,000 wheat acres this year, down 13% from 550,000 in 2019 and 740,000 in 2018.
Down in southeast Missouri, the state will have an estimated 199,000 rice acres this year, up 6% from 187,000 last year, and down from 224,000 in 2018. Missouri farmers are projected to plant 400,000 acres of cotton, up 5% from 380,000 in 2019 and 325,000 in 2018.
Ronnie Russell, who also farms in Ray County, says he likes to have a balance between corn and soybeans to give some protection against market swings in either crop.
"I try to rotate (corn and soybeans)," he says. "I try to incorporate some wheat into the rotation as well."
Russell's plan help him keep a consistent approach, he says. Loading up too much on any one crop can be risky.
"I stick with a plan," he says. "For me, I pretty much do the same rotation and go with that. Sometimes you don't know what the markets are going to do."