CONCORDIA, Mo. — Farmers can use cover crops for a variety of reasons, whether it's for forage, soil health purposes or erosion control. For Lafayette County farmer Darren Hull, he says he gets a lot of benefits for his cattle from cover crops.
"My primary focus is grazing," he says.
Hull, who has a diversified farm in west central Missouri, says erosion control and soil health are tied for second when it comes to his list of cover crop priorities.
He has his cattle graze cereal rye in the fall and spring, ahead of planting. Last summer, while already feeling the effects of drought and the overall forage shortage, Hull planted summer cover crops of pearl millet and sudangrass to provide additional forage for his cattle.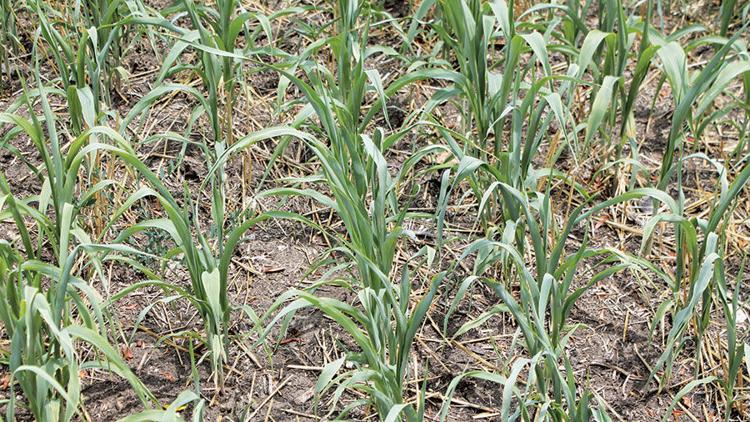 Hull didn't plant any wheat last fall due to wet conditions, but he says the summer cover crops can be a good option and worked well on his operation, improving the forage situation.
"The millet and sudan really did that for us," he says. "It helped extend the grazing season on one farm that we had fenced."
He put up other cover crop fields as hay.
Hull says there needs to be an economic benefit, and he sees that most in grazing them.
"On a down year economically for crops, you're not going to plant (cover crops) if you can't graze it," he says.
Hull sees some yield drag on corn after planting cover crops. One year it was up to 20 bushels of yield loss, but he says the timing of planting that year likely played a role as well.
"I think it's going to depend on the year," he says.
As for other management strategies for grazing cover crops, Hull says it is important to get fields harvested as soon as possible where he is going to plant cereal rye, since this helps maximize fall grazing. He also tries not to graze cover crop fields when it is too muddy, helping him limit field damage.
Rob Myers, plant sciences professor for the University of Missouri Extension, says the wet spring provided some challenges for producers trying to get cover crops killed ahead of planting.
"We had a lot more farmers that were letting their cover crops grow longer in the spring because they couldn't get out there," he says.
This meant more farmers opted to "plant green," meaning they planted crops in the fields before killing off cover crops. Myers says this actually provides some benefits in wet years.
"That cover crop, cereal rye, can keep transpiring to help dry out the soil a little more," he says. "It also creates a better soil structure, a little firmer surface to get out there."
If wet weather persists, farmers who terminate cover crops early can "have a wet mess out there," Myers says of the non-living cover crop residue.
Farmers may also want to consider cover crops on prevented planting fields. Counties in federal disaster declaration areas are eligible for funding to help pay for the cost of planting cover crops on fields that were flooded, Myers says. Producers can check with NRCS to see if they qualify.
"They may want some summer forage, or they may have a prevent plant field that they want to get at least some good out of," he says. "Sorghum sudangrass, forage sorghum, pearl millet, those are all pretty robust forages, if we get them planted in June or July."
Myers says cow peas or legumes also do well in the summer and provide some nitrogen for the soil. But if farmers can't get summer cover crops planted in July, it is best to move on to fall cover crops.
"When we get to August, we kind of change gears," he says.
In addition to the popular cereal rye, other cover crops such as triticale, oats, winter wheat, radishes and turnips are popular for fall grazing.
Myers says the reasons farmers use cover crops start with financial considerations.
"We are finding more and more farmers are reporting economic benefits to using cover crops," he says.
Grazing is the way many producers most directly see the payoff, he says.
"This summer, with the interest of having some forage, that's probably the No. 1 reason for growing cover crops," he says. "Either for summer grazing or haying this fall."
Myers says erosion control and soil health are big cover crop priorities as well. He says they can also help with compaction and herbicide-resistant weeds.
"There's quite a bit of research showing cover crops can help with those herbicide-resistant weeds," he says. "They're not the sole solution, but there can be some cost savings by using the cover crop with the herbicide."