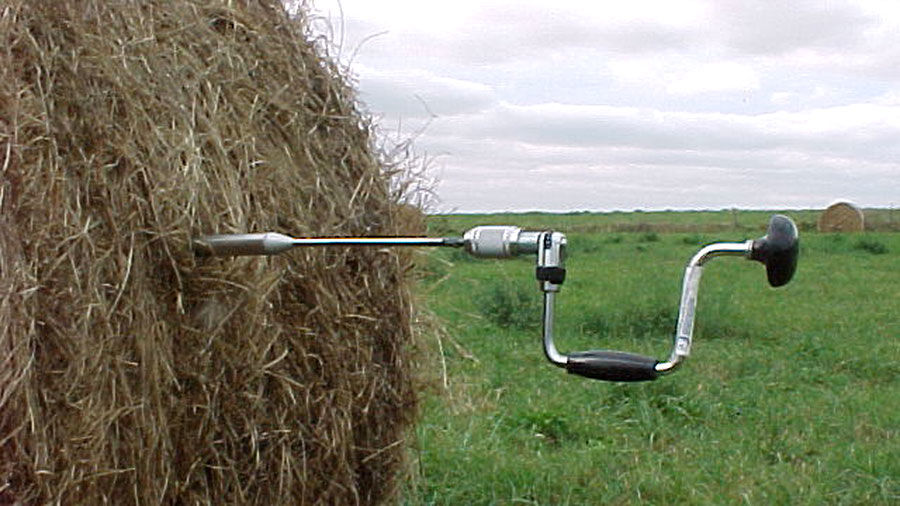 Gene Schmitz, a University of Missouri Extension livestock field specialist, has seen a lot of variety in hay samples this year. He says hay testing can be a good idea for producers.
"I've got hay test samples in my office with pre-protein ranging from 6.5 percent to 17.5 percent," he says. "The TDN, the energy, ranges from 47 to 63.3 percent."
It was an unusual year for trying to put up hay, with some April snow and then drought conditions during the summer, but Schmitz says he usually sees a lot of variety in hay quality, and it's a good reminder to get hay tested.
"There's almost always a very high range between the low and high, and that's why we want producers to test their hay," he says.
It's especially a good idea on "emergency hay" baled from places where producers don't usually put up hay, like road banks or CRP ground, that were cut as people were looking for forage anywhere they could find it.
"There for a while, if it wasn't moving, people were wrapping it up in a bale," Schmitz says.
Valerie Tate, an MU Extension agronomist based in Linn County in north central Missouri, says it was a challenging year for putting up hay, with some lacking in quality. She says a hay test can help producers know what they have, which is important with hay at high prices and in short supply in a lot of places.
"It has been an extremely challenging year for grazing livestock and for harvesting hay," she says. "We are going into winter with a short hay crop. Hay is expensive and sometimes the quality is not very good, either."
The hay test is important to know how to supplement diets during the winter, Tate says. With a dry cow in winter, Schmitz says the diet supplementation could range from a pound of corn a day to 6 or 8 pounds a day.
"That's really the supplemental difference," he says. "How much supplemental feed do the cows need to get ahold of? The less quality hay, the more the need for supplementation."
Getting a test can also save labor costs if producers determine they don't need to supplement their hay with feed every day, Schmitz says.
When collecting samples for a hay test, producers can get them in a variety of ways, although Schmitz says the best way to get a sample is to use a steel hay corer.
"I like to sample 10 bales or so in a cutting of hay," he says. "Put the samples in a plastic bag."
Local Extension offices will know where producers can get hay tested, and they can go to foragetesting.org for a listing of certified labs for forage testing.
Schmitz says the hay tests cost $15 to $30, with the more expensive tests being a little more thorough and testing for more nutrients.
"If producers have something that's an unusual feed, something kind of different that they don't usually have, I would recommend getting a more complete nutrition test," he says.
There were also some people who baled corn stalks, which could also be tested for nutrition content and nitrates. Schmitz says the corn stalk bales are usually consistent in protein, but he sees a lot of variation on energy. He says feeding bales of corn stalks is different from turning cattle out on cornfields. They can be more selective when grazing stalks.
"When they're grazing stalks, they'll select a diet that is higher quality," he says.