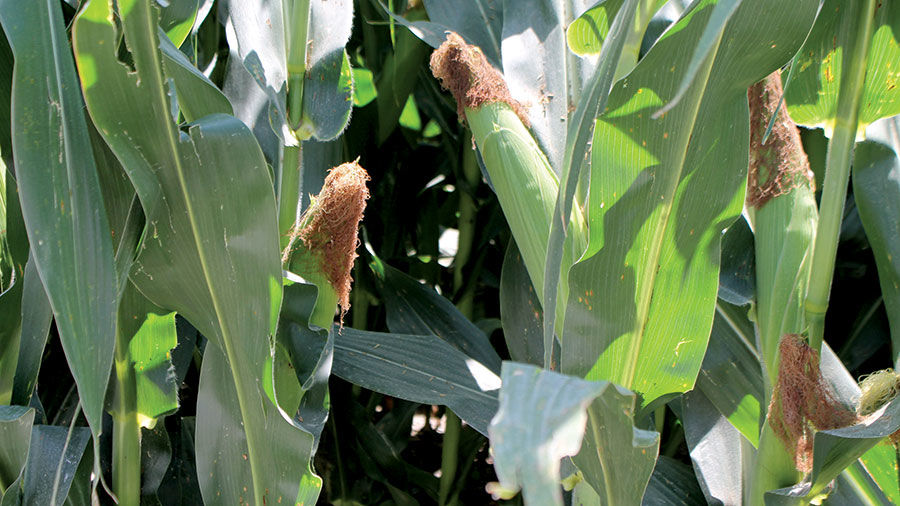 Missouri's crops are showing a good deal of variety this year, with different crop conditions due to planting issues and rainfall received.
Rusty Lee, who farms in Montgomery County and works as a University of Missouri Extension regional agronomist for several counties in east central Missouri, says he has noticed the differences traveling around the state, including on a recent trip to northeast Missouri.
"In my area, Warren, Montgomery, Callaway counties, the majority of corn's tasseled," he says. "I drove up to Novelty Friday (July 26), and once I got past Shelbina, the majority of corn's not tasseled, which was unusual."
Lee says there is some variation when crops got planted, which fields were too wet when the crops were young, and which areas received timely rains so far this summer.
"It's very regionalized," he says. "Once you get past a few counties, you're going to see something different. Some crops were planted on time, some were planted pretty late. I see some young corn. I wonder if it's going to make it."
Many crops are well behind schedule this year, and Lee says he is not sure how some of the those will fare.
"Some of the corn, if it was the first of June, it would look like fantastic stuff," he says. "But it's late July."
Conversely, some corn fields are much further along, Lee says.
He says there were some prevent plant acres in his area, and some fields in eastern Lincoln County, along the Mississippi River, are draining water. Most farmers he knows are wondering what crop numbers will be in the next USDA report.
"Aug. 12 we're going to know what the USDA thinks again," he says.
Soybeans have been catching up after the late planting with favorable growing conditions, except where it's been too dry, but Lee says they are making the shift to the reproductive stage as the amount of daylight slowly shortens.
"Beans are progressing," he says. "But when the days start getting shorter, which they have, beans are going to start reproductive stage. We've got a lot of beans that are R1."
Current weather patterns strongly suggest an early freeze this year, says Al Dutcher, Extension climatologist with the University of Nebraska. This will follow an August he expects to be cooler than normal.
Dutcher says with much of the crop behind schedule, cooler weather in August will slow development and reduce the growing degree days necessary to push the crop more quickly toward maturity.
"It takes three consecutive growing degree days in late September to equal one day in early August," he says. "It will be interesting to see if we start September with cooler or warmer.
In west central Missouri, Lafayette County farmer Josh Payne says crops have been looking very good as they have received sufficient moisture.
"I went on a drive around the country with my 91-year-old grandfather this weekend, and his words summed it up for the week: 'I've never seen the crops look so good at the end of July,'" Payne says. "There are lingering effects of the wet spring, especially holes in the fields or corn that hasn't tasseled yet, but the moderate summer heat and the frequent rainfall has leveled out the crops remarkably."
In northwest Missouri, MU Hundley-Whaley Research Center superintendent Jennifer Miller says dry conditions quickly followed the historically wet spring.
"We had flooding, a tremendous amount of water early, so we have a lot of late planting," she says. "Then it just went to drought, and the ground was like concrete. So we've just had a lot of issues going on this year."
Lee says he has seen some dry fields in eastern Missouri, although nothing too extreme.
"Nothing terrible," he says. "No pineapple fields, but some (dry conditions)."
According to the USDA's Missouri Crop Progress and Condition report dated July 28, the state's corn silking was at 77%, down from 99% at the same point last year and 95% for the five-year average. Missouri's corn was rated 4% excellent, 30% good, 42% fair, 17% poor and 7% very poor.
Soybeans blooming were at 38%, compared with 77% last year and 62% for the five-year average. The state's soybeans were rated 3% excellent, 38% good, 42% fair, 13% poor and 4% very poor.
Additional reporting by Jeff DeYoung, Missouri Farmer Today.