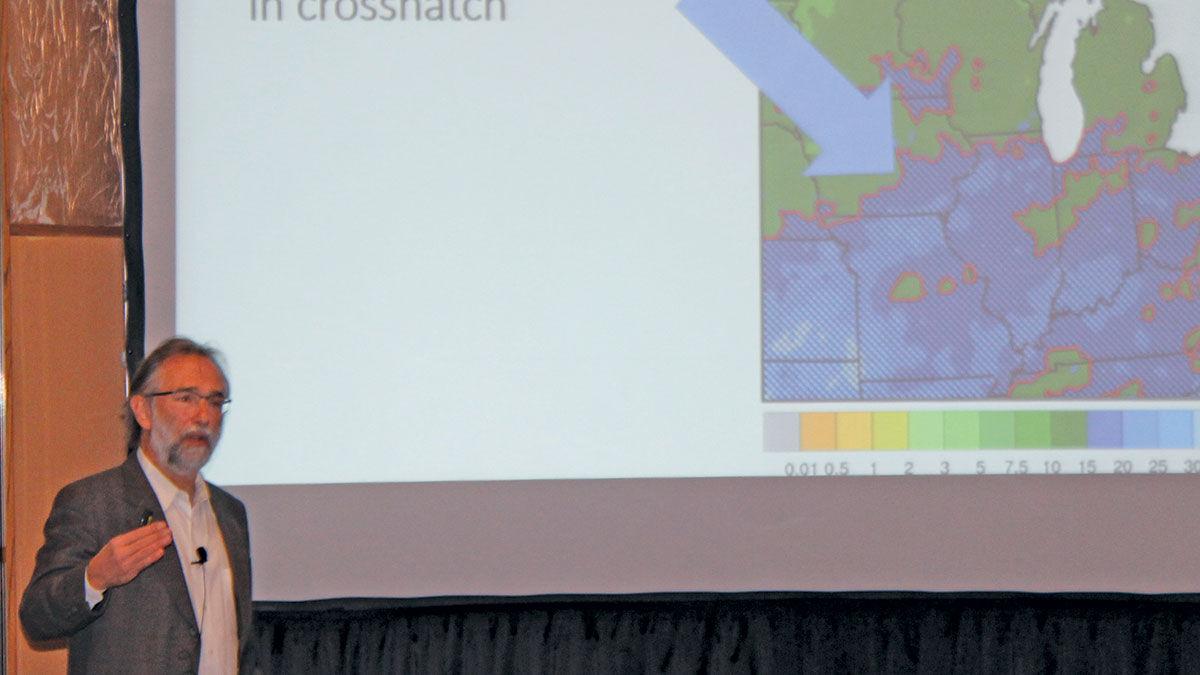 This year's University of Missouri Crop Management Conference had a different look due to the coronavirus pandemic. Instead of the annual get together in Columbia, the conference was held online, but virtual conference attendees still got to hear about key topics in agriculture.
MU agronomist Peter Scharf talked about his decades of nitrogen research, taking a look at the importance of nitrogen application timing and rates.
He started by talking about nitrogen timing. Scharf said his research indicates fall nitrogen applications for corn do not have a significant impact. They don't provide a payback for the extra trip.
"Early nitrogen is not a big deal," he said. "This is controversial. A lot of people don't agree with that."
Yield trials with and without fall nitrogen applications are virtually the same, Scharf said.
He said people are concerned about early nitrogen stress in corn, although it is a myth that stress can reduce rows.
"Genetics determines row numbers," Scharf said.
He referenced a test site with 11 years of continuous corn without nitrogen — a situation with greater nitrogen deficiency than farmers' fields would ever have. By year 11 the corn was 135 bushels behind the best treatment methods for crops, but only 0.3 rows behind.
As for wheat, Scharf said the crop needs nitrogen in the fall, but it often doesn't need much beyond what is in the soil.
"It's already there," he said. "The fall (application) is not important; what that means is what's there is usually enough."
Scharf said producers could utilize a fall nitrogen application on wheat, but it is not crucial.
"My message is it's not critical to put it on," he said. "If you have something else important to do, you can do it."
In the spring, Scharf said a little later nitrogen application on wheat showed higher yields, with the ideal timing being just before jointing, as opposed to at greenup.
He said a concern with the later nitrogen application on corn and wheat, and not applying in the fall, is that if conditions get very wet it might be difficult to get nitrogen on fields as planned.
"What's the downside to a 100% sidedress plan, you risk that you don't get it on if there are weather delays," he said.
Scharf said it is a good idea to have a backup plan, such as talking with an aerial applicator for the occasional year when fields are too wet to get nitrogen on when planned.
"The yield benefit can pay for the plane when needed," he said.
In wet years, later nitrogen applications give higher yields.
"The later we put it on, the better," Scharf said.
Soil type plays a role as well.
"Even with sidedress, you can lose a lot of it if it's wet, especially on a poorly drained soil," Scharf said.
Farmers can still put on nitrogen in July and save corn that is showing nitrogen deficiency.
"It's all about did the corn have stress, and if it did, you can fix it," he said. "We're not sure how long, but up until tasseling."
Wet conditions can cause nitrogen loss, and Scharf said data shows springs have been wetter lately. Since 1980, the area of the Midwest that received 16 inches of rain or more from April through June has doubled.
"Wet-weather nitrogen loss in Midwestern corn, this is the biggest fertility story for the past 35 years," he said. "We're doing better than we used to, but we can still do a lot better."
When it comes to nitrogen application rates, it can be hard to get it right. Scharf said the data shows even within one field, there can be areas where less than 80 pounds of nitrogen is the most profitable rate, and other areas in the same field where more than 200 pounds is the rate that makes the most money.
"Crop color is the most accurate way I've found to predict how much nitrogen is needed," he said.
The university has been using a system of sensors to check plant color and adjust nitrogen applications as the applicator goes across the field.
Despite what his research shows, Scharf said producers could apply nitrogen on about a quarter of fields in the fall, just to give a jumpstart for the spring and help make sure all fields get covered. But farmers don't need to feel like they have to, he said.
"Early nitrogen is not crucial for corn or wheat," he said. "It's fine to do it, but don't feel it's a necessary thing. And if you lose it, you've got to come back and put it on."