Missouri's crops have seen acreage shifts driven by a variety of factors, including economics, land availability and weather conditions from year to year.
Ray Massey, ag economist with the University of Missouri, says deciding whether to buy land and how they use it starts with what profits farmers can pencil out for it.
"They are looking at objectives," he says. "Most farmers don't have a whole lot of available cash to add without a clear objective."
Massey says a few years ago, when row crop prices were high, there was a lot of competition for land, and some marginal ground was being shifted from pasture to crop production.
"Prices were going up, farmers were looking to add land, farmers had excess cash," he says. "Right now we're estimating there's not much profit in crop production."
Massey says urban growth also cuts into farm acreage, which could help support land prices.
Overall in 2018, Missouri had 5.85 million soybean acres planted, with 5.8 million acres harvested, according to the USDA. In 2017, the Show-Me State had 5.95 million soybean acres planted, with 5.91 million acres harvested.
According to the University of Missouri crop resource guide, soybeans were originally grown in the state as a forage crop, but they began to be a popular row crop in the 1940s and increased in acreage until the 1980s.
The state routinely harvested over 5 million acres of soybeans in the late 1970s and 1980s, before seeing a soybean acreage decline in the 1990s. Soybean acres in Missouri then rose back to around 5 million for most years in the 2000s and 2010s, pushing close to 6 million soybean acres harvested the last two years.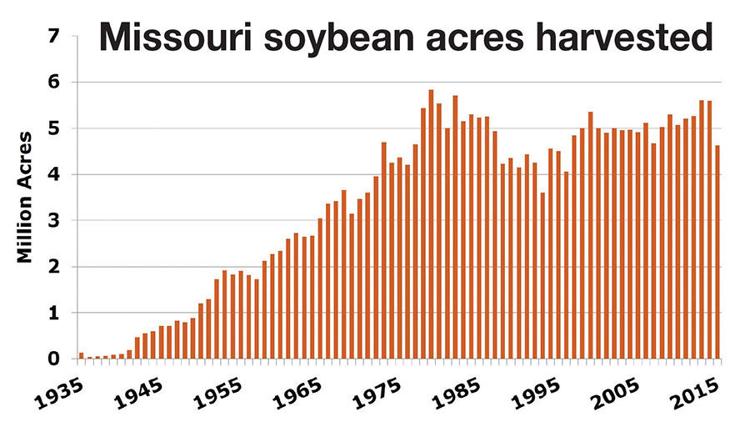 For corn in 2018, Missouri had 3.5 million acres planted and 3.33 million acres harvested, compared with 3.4 million acres planted and 3.25 million acres harvested in 2017.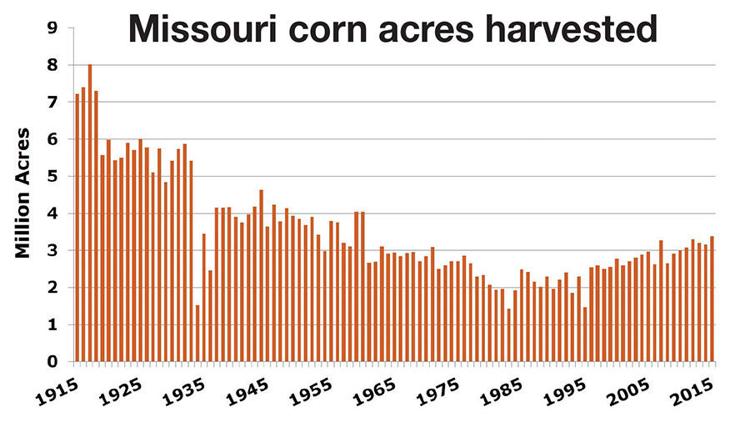 Missouri set its record for corn acres harvested in 1917, with 8.02 million acres. The state's corn acreages were over 7 million each year in the late 1910s, but then began a gradual decline up until the 1980s, when Missouri set its modern-era record for fewest corn acres harvested with 1.4 million acres in 1983. The state's corn acres then gradually rose again and have consistently topped 3 million acres harvested for the last decade.
The USDA estimates Missouri has 700,000 wheat acres planted for harvest in 2019, compared with 740,000 in 2018 and 640,000 in 2017.
Farmers may make some adjustments based on the prices of individual crops, and regular crop rotation plans can get off track based on weather and field conditions, St. Louis County farmer Warren Stemme says. Last fall brought a disrupting stretch of weather.
"We have a very late harvest from last year's crop," he says. "We actually didn't finish up until the end of January, and I think a lot of people were like that."
The wet weather and delay didn't allow for normal fall tillage, Stemme says. There has also been some flooding. All this might affect his corn acreage for 2019, as well as his usual fieldwork plans.
"We're going to have to do things a little bit different this year," he says.
The wet weather also kept Stemme from planting as much wheat as he wanted, which he usually plants as a double crop followed by soybeans.
"It kind of messed up some of our rotations," he says.