After some tough years, the Missouri dairy industry is starting to see good news.
"I think we're beginning to see the light at the end of the tunnel," said Joe Horner, University of Missouri Extension dairy and beef specialist. "Missouri dairy has been through a pretty dark tunnel the last few years."
Scott Brown, an ag economist with MU, said the state's dairy industry is at least leveling off after some down years.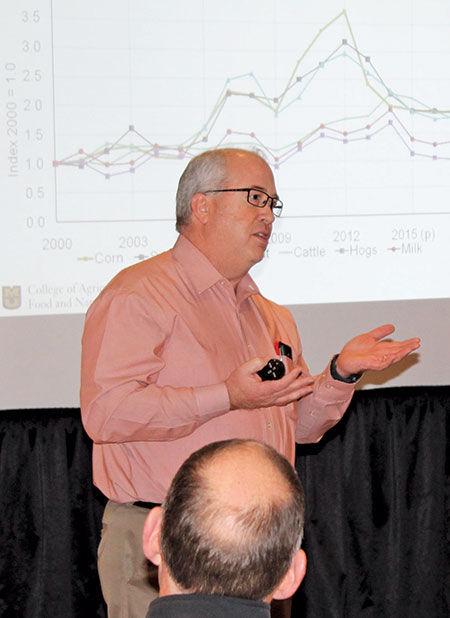 "Right now I'd say we've flattened out what's been a pretty tough period," he said.
According to the USDA, Missouri's milk production for the first three months of 2019 was down 7.7% from the first three months of 2018. The USDA estimates Missouri has about 590 Grade A dairy operations and about 80,000 dairy cows. Horner said consolidation trends are continuing in the state, with the number of dairy farms declining.
"Our cow numbers don't drop nearly as quickly," he said.
Brown said the economics of scale help drive these trends, even if some small dairies are very efficient.
"We are seeing a lot of consolidation," he said. "There appear to be some fairly significant economics of scale for some of the larger dairies in the state."
After the tough years from 2015 through 2018, Horner said Missouri's dairy producers are seeing signs of hope from the new Dairy Margin Coverage program and improving prices as the year goes on. He said the new program is an improvement over its predecessor, the Margin Protection Program, which disappointed many producers.
"It has a much lower cost and a higher insurance level," Horner said.
The signup for the Dairy Margin Coverage program begins June 17. For producers with less than 5 million pounds of milk, Horner said buying the $9.50 level of insurance makes the most sense, and the payouts from January to March alone will make it worthwhile.
"Just that alone, you're going to make your money back and then some," he said.
Horner said his main concern is making sure producers know the program is an improvement.
"My concern is that a lot of people got turned off on the Margin Protection Program because it didn't pay," he said.
Brown is also concerned producers might not take advantage of the new program, but he said they should because they already know it will pay for itself.
"That's going to give them some risk management protection," he said. "… It's already clear signing up for $9.50 is the clear choice for 2019."
Market factors also indicate dairy producers will see price improvement, Horner said, citing dairy production being up only slightly and the economy doing well.
"The supply and demand has come back into balance around the world," Horner said. "We've got a relatively tight supply and decent demand."
Mexico lifting a 25% tariff on U.S. cheese also helped.
"That's our biggest customer," Horner said.
Still, the expansion in production that is happening could keep prices from going too high, Brown said.
"We continue to see expansion in the U.S. milk production," he said.
On the demand side, Brown said there is some variation.
"On domestic demand in particular, it's a mixed bag," he said. "Demand for cheese has been strong. If you look at the fluid milk side of the equation, that's where we see some weakness."
Last year's poor spring forage growth and summer drought were another challenge for dairy producers.
"Last year was, from a weather standpoint, not very good," Brown said.
The trade issues have been a challenge for producers.
"It's been detrimental," Horner said. "We've basically gone through a long fight with our NAFTA partners to get back to where we were before."
U.S. agriculture is in a strong position to compete, so trade wars hurt agriculture the most, Horner said.
"It's hard as an ag economist to evaluate this trade war in a positive light," he said. "… We can produce affordable food better than anyone else."
Brown is hopeful the new trade deal among the U.S. and its neighbors, the U.S.-Mexico-Canada Agreement, should allow U.S. producers to put global advantages to use and provide products for those markets.
"I think at the end of the day, it's going to be helpful, what we'd see out of a successful USMCA agreement," he said.
Horner said the new trade deal with Canada and Mexico did allow dairy producers to "pick up some incremental access" to the Canadian market, although he said staying in the Trans-Pacific Partnership could have achieved the same thing.
Now, Horner said Missouri's dairy farm families are having to decide whether to stay in the industry as new generations reach farming age.
Still, he said there are opportunities in the dairy industry, including the surrounding input industries and working at larger dairies.
"We've got young people getting started in the dairy industry," Horner said. "… There are opportunities for young people in this industry."
Despite the challenges, Horner said there are advantages to having a dairy operation in Missouri.
"We've got access to a lot of feed products and co-products, available inexpensively," he said. "We've got relatively cheap land compared to other states. We've got water, which is crucial for agriculture."
Horner also said the state legislature's move this spring to eliminate county health ordinances that are more restrictive than state Department of Natural Resources codes also helps dairy operations in the state.