PARIS, Mo. — Fall is a busy time for Owen Totton, a sophomore at Paris High School.
Totton grows food plots and pumpkins for his supervised agricultural experience in FFA, is involved in chapter activities and plays for the Paris Coyotes football team, all while keeping up with schoolwork.
Throughout the school year, he also plays basketball, baseball and participates in track and field.
There is a lot to manage, but Totton enjoys all the things he has to do, focusing on the task at hand.
"I just try my best to get it all in," he says.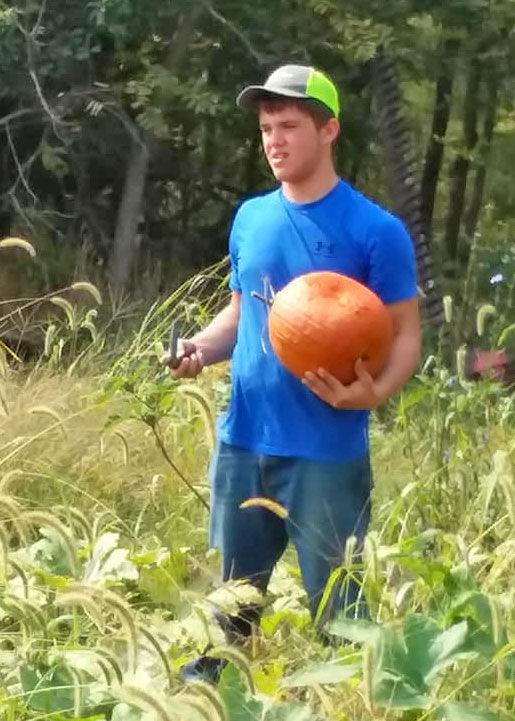 On a typical day, Totton has school, then heads to practice and weightlifting, and then, depending on the day, visits the pumpkin patch to check on his pumpkins and water them if needed, as well as FFA activities. He also likes to hunt on mornings and weekends during hunting seasons.
Josh Bondy, the Paris FFA advisor, says Totton's commitment and work ethic help him get it all done.
"Owen is the kid that is always looking for work," Bondy says,
"whether it is for himself on his farm, working for neighbors putting up hay all summer long, or helping any time his ag teacher texts and says, 'Hey what ya got going on today?'"
On a sunny day in late September, Totton had an ag class the last hour of the day. He and his fellow students were making plans for FFA fruit sale fundraising. Totton was interested in FFA from the start of his high school years.
"I remember just coming to the first meeting and it was fun," he says. "I wanted to be a part of it."
When class and the school day ended, Totton got ready for football practice and walked down to the football field nestled amongst some trees in a low spot behind the school buildings.
It was a helmets-only practice with no pads, making final preparations for the football game the next day. Totton plays both sides of the ball, linebacker on defense and fullback on offense. He enjoys getting to be involved in hits and playing the game.
"I love it," he says.
Totton also enjoys FFA and raising pumpkins to sell help to him learn about business and record keeping.
"On the SAE (supervised agricultural experience), I believe we just learn a lot on how to manage money," he says.
After planting in May and caring for the pumpkins all growing season, the fall brings a lot of pumpkins ready for Totton to sell, one of the many payoffs from investing in school, activities and agriculture.