BUTLER, Mo. — Cooper Black's connection to agriculture goes back to his earliest years.
"Agriculture, and the cattle industry, is in my blood," he says.
Black's grandparents met at the state fair. Black started showing calves at a young age.
"I kind of got my start through 4-H," he says. "I started showing in Clover Kids through 4-H when I was 5."
His grandpa gave him a heifer as a gift when Black was 8, and now, at 26, Black has his own cattle operation in west central Missouri.
He says he focuses on genetics to gradually build his herd — it's a balance between getting quality and being affordable.
"My philosophy is a small herd that is built off of genetics that I believe in and that I can afford," he says.
Black purchased his first purebred Simmental heifer in 2007. He calls her Susie, and she turns 13 in March.
"She's been the rock solid matriarch of the herd," he says.
Susie remains a productive cow after all these years.
"She just dropped a bull calf Jan. 10, so she's still plugging along," Black says. "She's just been a classic cow. She's been consistent."
He has a herd of registered Simmental and SimAngus cattle.
After several years of raising cattle, he recently started raising bulls and selling them through New Day Genetics. Last spring, at his first sale with New Day Genetics, he had the high-selling SimAngus bull.
"For being the first time through the ring I was pretty elated," he says.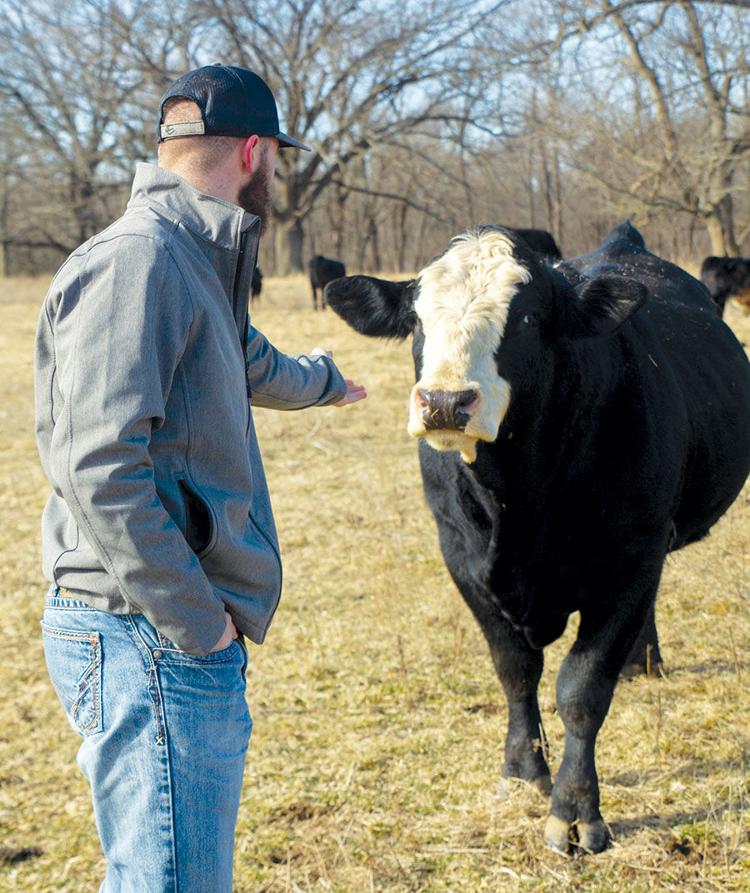 Black tries to be as efficient as possible. He operates on his parents' farm with low overhead and focuses on improving genetics to get the most out of his herd. He got started after graduating from College of the Ozarks in 2014.
"I started working on how to make the best production herd that I could," he says.
Black also works at Community First Bank in nearby Butler to supplement his farm income. He works as a credit analyst and enjoys his face-to-face interactions with producers on their farms to talk about their plans and the industry.
Having previous generations can be a big boost for young producers, Black says.
"I definitely need to give credit where credit is due," he says. "My parents were very supportive in helping us financially and (sharing) the ground they have."
With each generation, Black can see the results of the quality genetics and finding the right sires.
"I've just chosen to invest in the work others have done to build their herds, and hopefully build on that with my own work," he says.
Black says making the right genetic selections for your operation can help build confidence, which he says is important for him as he builds his herd.
"Raise the kind you like, and you'll like the kind you raise," he says.
He registers with the American Simmental Association and sends in tissue samples to develop expected progeny differences (EPDs) so he can make more informed decisions.
Beyond the EPDs and data, Black enjoys looking at cattle and making evaluations. His senior year of high school, his livestock judging team placed third in the state competition, and they were able to go to the American Royal and judge the livestock there.
"The phenotypical evaluation of cattle, I really enjoy that part," he says.
Developing a cattle herd takes time, but Black enjoys the process and the pursuit of gradual improvement.
"Each animal and each decision plays a part," he says. "It definitely is an investment."