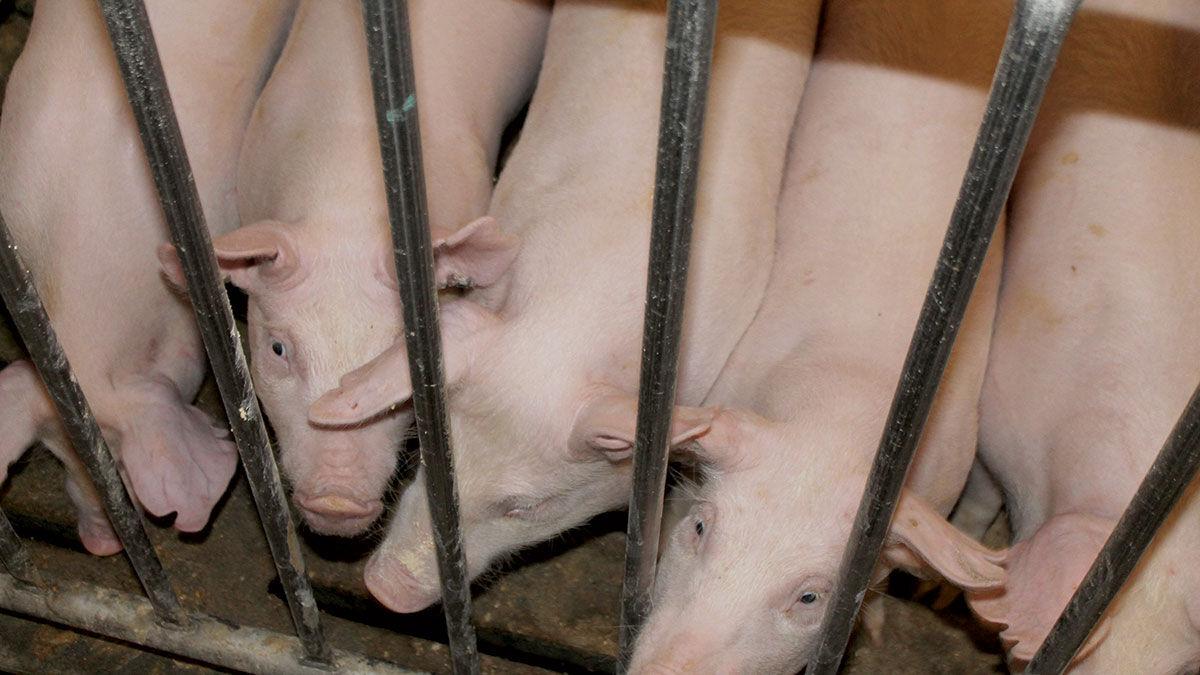 Livestock respiratory diseases are a common concern for producers and can have significant impacts on performance.
"If the animal is spending more energy mounting an immune response, it's going to spend less energy putting on weight," says Corinne Bromfield, veterinarian and University of Missouri assistant Extension professor in swine production medicine.
Fortunately, producers can combat the challenges of respiratory diseases with management practices, planning and good engineering in livestock buildings.
"Prevention is the mindset to be in," Bromfield says.
Bovine respiratory diseases
Craig Payne, veterinarian and MU Extension associate professor, says bovine respiratory disease (BRD) covers a variety of respiratory ailments in cattle. He says cattle in certain situations are more vulnerable to disease.
"Weaned calves, or calves that are being weaned (are more at risk)," he says. "We can see it in purchased cattle that are brought in to be fed. The BRD complex, most often we associate them with some stressful event or change in management."
To watch for respiratory disease in cattle, Payne says the "DART" acronym can be helpful. The acronym stands for depression, appetite, respiration and temperature. Watch to see if cattle are slower moving, possibly with ears dropped, going off feed, have elevated respiration or an elevated temperature.
Payne says cattle may try to look healthier when someone approaches the pen, rooted in their instinct to avoid looking like easy prey. But experience can help producers identify which cattle are feeling off.
"There's a bit of experience involved in being able to detect respiratory disease early," he says. "… People who are good at detecting respiratory disease, they have a lot of experience doing it. They pick up on a lot of subtle things."
Early diagnosis and treatment can be beneficial.
Payne says management can also help reduce disease transmission, including thinking about where to place cattle and limiting co-mingling with new cattle brought to the farm.
"We need to manage our system to avoid putting cattle who are high risk for BRD with cattle who may be in the midst of a BRD event," he says.
Producers can also look at pen concentration, avoid overfilling and in cases if there are BRD issues in the herd they can reduce the number of animals per pen. Also, Payne suggests new cattle that are brought in should not mix with other cattle for at least 30 days, and ideally 45 days.
Meeting nutritional needs is also a key issue.
"Diet is important for growth and immune system performance," Payne says.
Swine respiratory diseases
For swine, Bromfield says the main respiratory disease challenges are influenza, porcine reproductive and respiratory syndrome (PRRS) and mycoplasmal pneumonia.
PRRS can make animals immunocompromised, making it easier for other diseases to get a foothold.
Bromfield says if there are only one or two animals that seem off, it may just be an opportunistic pathogen that has infected a few. But if more begin to get sick, it's a good idea to call the vet.
"Our big players in respiratory disease, they all have vaccines that are available," she says.
It can also be helpful to prepare before an actual outbreak. Bromfield says producers might want to have a vet come out to see their operation, how it is set up, and where vaccines might provide the most "bang for your buck" if needed.
Also, Bromfield says producers can participate in area regional controls to keep these respiratory diseases out of their area. She says the Missouri Pork Association has information on this for producers who are interested.
Producers also have options to combat disease spread in buildings.
A lot of this involves making sure the ventilation in buildings is working properly. That can help animals recover and limit new sickness, as well as secondary diseases.
"If we can get our ventilation right, if we can make sure our animals are not exposed to secondary pathogens, that's going to go a long way to herd health," Bromfield says.
The value of engineering
She says proper building engineering and air flow play a key role in herd health.
Shawn Shouse, Extension ag engineer with Iowa State University, says ventilation and humidity control are key in disease prevention.
"From an ag engineering point of view, we usually think respiratory issues can be related to ventilation issues, inadequate ventilation or issues like higher humidity," he says.
Management is an ongoing responsibility, even in a well-designed building.
"It's something that a good design and construction is a big part of that, but it's something that requires constant attention," Shouse says.
Modern ag buildings have excellent control technology, although it is good to monitor the air flow and temperature situation.
"The controllers used to control that process are light years ahead of where they used to be," Shouse says. "But sensors might not be in the right location or might be damaged or dirty."
The ideal sensor location is as close to the animals as possible, he says.
Modern building equipment is set up to control humidity well, Shouse says, but there can still be a failure of part of the ventilation system, so it does require attention.
"It has made a huge difference in the ease of managing the buildings, operating the buildings," he says.