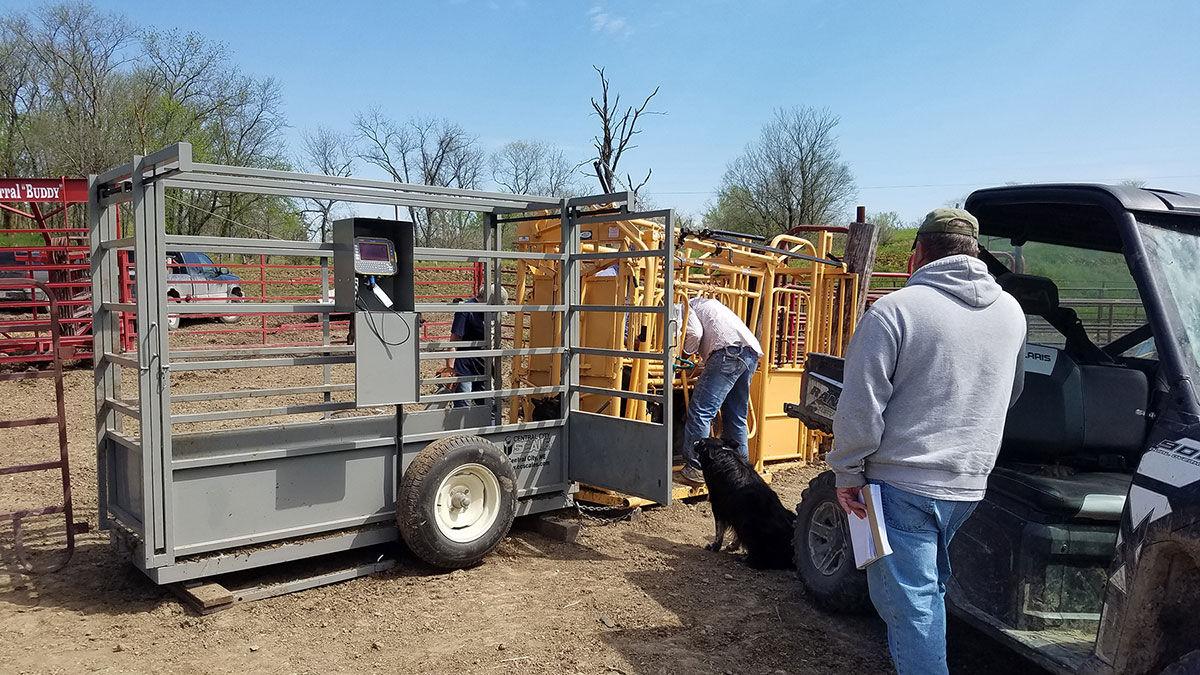 A pilot program aimed to improve whole-herd record keeping demonstrates how collecting information can help producers make good decisions, organizers say.
The record keeping project, started by the University of Missouri and which focused on producers in northwest Missouri, measures a variety of things, including cow weight, body condition scoring, weaning weight, health treatments and other factors. Researchers say they can collect the data without slowing producers down.
Jim Humphrey, MU Extension livestock field specialist, says the goal of the project, and good record keeping in general, is to help producers make good decisions.
"If producers are wanting to make some changes, it gives them the information to make those decisions," he says.
Kelvin Leibold, farm management specialist with Iowa State University Extension, says record keeping is a key to good management.
"You can't manage what you don't measure," he says. "You need to be able to track the important things."
Leibold says producers keep records for tax purposes, but they should look into more than that.
"One needs to keep two sets of books — one to manage for taxes, and one to manage for profitability," he says.
These can be different due to things like pre-pays and other adjustments to limit tax liability, he says. Farmers can also keep separate books for personal, off-farm expenses.
"I like to have my clients keep a business set of books and a personal set of books," Leibold says.
'Not much to look at'
Shawn Deering, field specialist in livestock for MU Extension, also helped get the MU record keeping project started, and he says data has value for producers.
"We want to just focus on the value of the production data and using it to make decisions," he says.
The study has already showed there can be more variation in cow weights than producers expect. Deering says the study recorded weights on nearly 500 cows in the spring, with weights ranging from 662 pounds to 1,730 pounds.
"That is a 1,068-pound difference between the lightest cow weighed and the heaviest cow," he says. "The lightest animal was a first-calf heifer and the heaviest was a 7-year-old, mature cow. Obviously, the age gap does explain part of the difference between the lightest cow weighted and the heaviest cow."
Deering says the record- keeping study is looking to help determine the ideal cow weight for the area.
The cattle weights are a key part of the record-keeping project, Humphrey says. Using the example of 100 1,200-pound cows or 75 1,600-pound cows, Humphrey says their nutritional requirements are essentially the same, but the key is the difference in pounds of calf weaned.
"The 75 1,600-pound cows, they're probably going to wean bigger calves," he says. "But are you going to wean more pounds of calf with 100 1,200-pound cows? The data would indicate yes."
Humphrey says the data from the MU project is still being collected, but the most efficient approach should be producers' goal.
"It doesn't appear that those bigger cows are weaning the biggest calves," Deering says.
For the project, Humphrey says researchers communicate with producers and veterinarians to see what types of information they want tracked and what would be most useful. It's also good to make decisions based on multiple years of data.
"We are not advocating producers make any major changes with one year of data," he says.
He says producers can start thinking about changes after a year of gathering information, but then after two or three years of data they can look to make changes based on it.
Deering says many diversified producers know all the costs and details of growing corn or soybeans, but when it comes to the cost to raise a calf or average weaning weight, they might not know. He says record keeping can help them know these numbers and improve decision making.
"I think the data has value to them," he says.
Deering recalls weighing some calves on a young producer's farm, and the excitement that came from seeing good results from a cow that didn't look like the most impressive one in the herd.
"He said, 'That's so and so's calf,'" Deering says. "'That cow, I actually had her on the list to cull. She's not much to look at, but look at the calf she raised.' I guess that's why we're doing this."
Processing data
Leibold says producers can look at a variety of record- keeping software, based on what they need for their operation. He says with advances in technology and precision ag, it's not just collecting data, but processing and understanding it that can be a challenge.
"Farmers have a whole plethora of production data," Leibold says. "The question is, can we get software that integrates that production data with our financial data?"
He says ag tech companies are working on tools to make these kinds of comparisons and context more accessible for farmers, allowing them to calculate profit for individual parts of fields.
Also, Leibold says record keeping should help producers look forward, not just reflect on what happened.