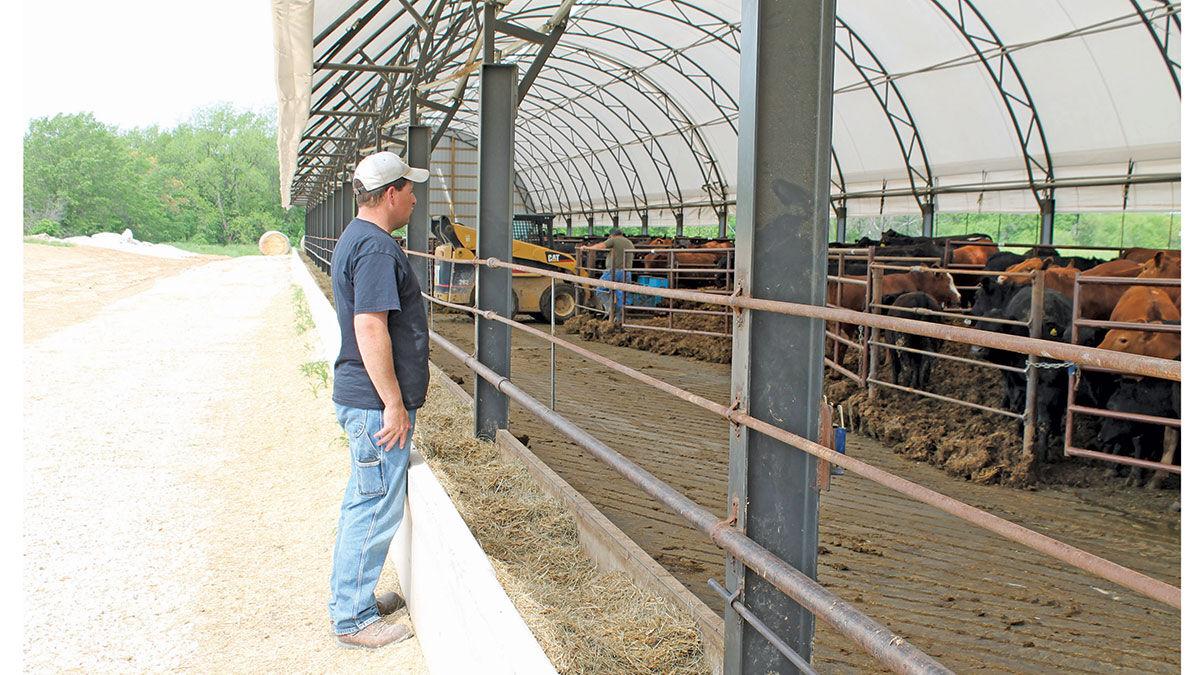 Hoop buildings have been used for a variety of purposes by farmers in recent years, from livestock production to storage.
Brent Bryant, owner and managing director for Hoop Beef System based in Aurelia, Iowa, says producers are using the hoop buildings in different ways.
"We've got producers in Missouri that are backgrounding," he says. "We've got producers in Missouri that are running cow-calf operations in the buildings. We've got producers in Missouri that are finishing cattle."
The cow-calf producers also have some variety, with some moving the cattle into the buildings for the winter months and others taking a more year-round approach.
"It is fairly flexible on what you can do," Bryant says.
Shawn Shouse, ag engineer with Iowa State University Extension, says the buildings have provided a variety of storage options from the start.
"Since the hoop buildings became popular, we've seen a lot of people use them for storage, hay storage in particular and machinery storage as well," he says.
Shouse says the hoop buildings, especially in their early days when they were smaller, were used as cold housing for hog production, including sow gestation, occasionally finishing pigs and on a few occasions farrowing.
They've also become popular for a variety of beef production stages. A big part of this involves finishing and backgrounding cattle, but cow-calf producers are also utilizing them.
"We have seen a considerable expansion of using those facilities for a calving barn and cow housing out of the elements," Shouse says.
When it comes to putting up a hoop building, Shouse says they share some aspects with other buildings.
"The foundation and the walls for a hoop building are not tremendously different from the foundation and walls of another building," he says. "The key difference is the roof."
This can help with the cost, Shouse says.
"If you just need the roof, then the hoop buildings can be quite a bit cheaper," he says.
The options to add certain features, such as fully enclosing the building, installing big side wall doors or guttering, can mean there is a wide variety in how much a hoop building will cost, Shouse says.
"There might be a cost advantage, but it depends on the other bells and whistles you're adding to the project," he says.
Shouse says some of the benefits of hoop buildings include the flexibility in size and the tall, arched roof that provides better airflow. He also says the fabric for the roof is more durable than years ago, and it provides more natural lighting in the building.
"For things like observing livestock during the day, having that natural light can be a benefit," Shouse says.
Despite letting light in, it still provides shade benefits.
"Even though a lot of natural light comes through with a light-colored tarp, the shade protection is still there for the animals," Shouse says.
Bryant says the good lighting and air flow are key factors for a lot of producers in why they like the buildings, along with the ease of checking on cattle. He says many producers enjoy having their cattle calve in the barns.
Also, Bryant says producers are able to use the hoop buildings to expand operations more easily, referencing one farmer he worked with who was unable to buy a neighboring farm but used a hoop building to grow his herd.
"It effectively doubled his operation without having to add any ground," Bryant says.
The buildings also capture manure to be used on fields.
For producers considering a hoop building, Shouse says it helps to work with a reliable dealer.
"Like any farm building, you want to make sure you've got a dealer you're working with you can trust, and who will be around to help with service to it," he says.
Shouse says producers should also think about what appearance they prefer, whether they want the arched roof or a flatter roof. They can also talk with insurance providers to see what coverage options they have.
"When we see damage to fabric roof buildings, it's usually wind damage," he says. "The fabrics seem to be much more durable than they were early on when these buildings became available."
Bryant says the cover and steel for the buildings he sells have a 15-year warranty, and he says with good care they can last 20 to 25 years or longer.
He says he has interested producers tour a hoop building in their area and talk about what they want out of their building. It's also important to select a good location and determine where expansions would go.
"That's another thing we always plan, where's the next one going to go?" building Bryant says.
Shouse says studies show cattle kept in bedded-floor hoop buildings perform as well as those with a steel building covering a feed bunk and lot access, and both do better than cattle without protection from the elements.
"We found no difference in performance of the cattle in the two systems over a three-year period," Shouse says.
He says that there were some variations from month to month, such as cattle with access to outdoor lots doing better in more ideal weather, and cattle kept in the hoop buildings faring better when the weather was worse.