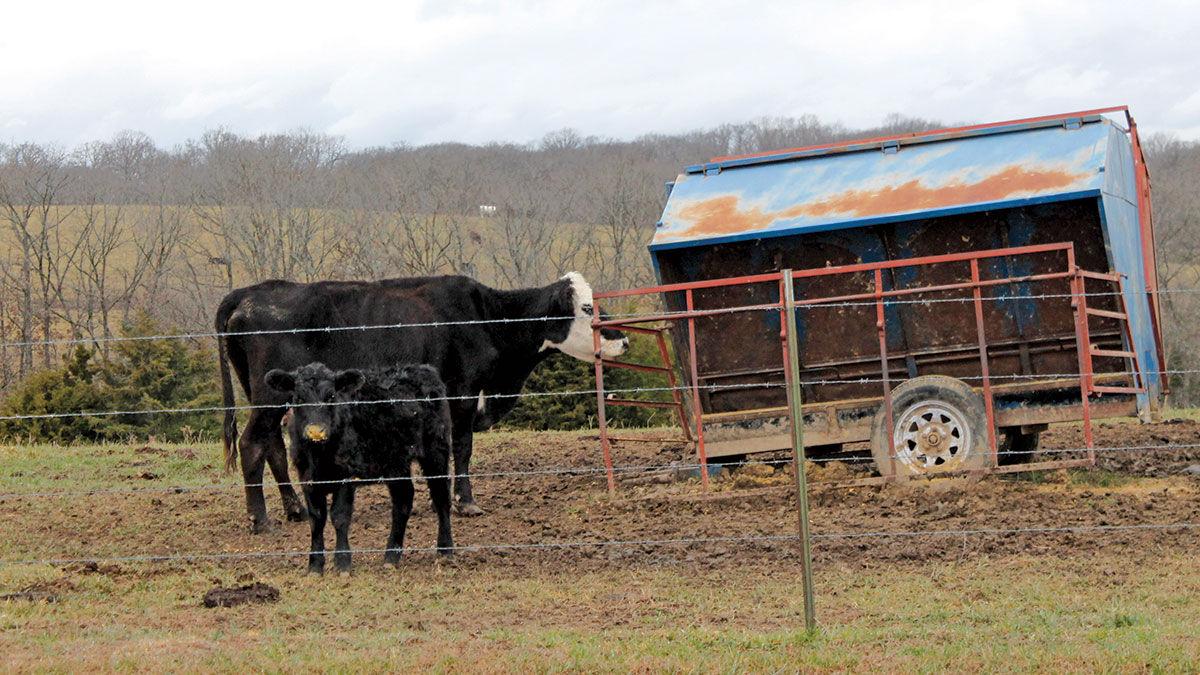 As spring calving draws closer, producers will be looking to make sure their cows are as healthy as possible and ready to go.
Kacie McCarthy, University of Nebraska Extension beef specialist, says the last 60 to 70 days before calving put a lot of demands on cows.
"We see a great amount of fetal growth," she says.
Extension beef specialists say the period before and after calving is a good time to focus on the fundamentals of caring for cattle.
Travis Meteer, University of Illinois beef Extension educator, says this comes up in his visits with beef producers.
"In my recent conversations with producers, I've really tried to focus on going back to the basics," he says.
This includes looking at body condition score, and making sure cattle diets are meeting nutritional needs.
McCarthy says evaluating body condition score helps producers see which cattle need the most help. She recommends "really evaluating body condition score, and getting a good idea who your more higher risk females are."
Often, these are the younger or thinner cows who need extra attention.
"Identify those different age groups," McCarthy says. "We can sort those females to make sure we're targeting those specific groups."
Meteer says while the ideal body condition score is a 6, "we can get away with some lower numbers." However, when body condition scores get lower than 4, it significantly increases the postpartum intervals and reduces breed-back. Producers should also be mindful of going too far the other way.
"If we get cows that are really fat, we may see some problems in other situations," Meteer says.
Fat cows can have increased calving difficulty and a poorer response to hormones for synchronization or breeding.
Eric Bailey, University of Missouri Extension state beef specialist, says it is a good time to be watching body condition scores, because in addition to cows getting ready to calve, most operations have worked through any stockpiled forage.
"We're really in that time of year where most people are through any stockpiled forage and are on to hay," he says. "If hay quality is poor and they're not supplementing, they could see that body condition score decline."
Bailey says energy is a key concern in cattle diets this time of year. When looking at total digestible nutrients (TDN), producers should aim to be in the mid-to-high 50s.
When looking at cattle diets, Meteer says producers have had to factor in the recent price changes.
"We've had some uptick in feed prices," he says.
This has led to some producers adjusting what they feed, and they may need to check again to make sure cattle are getting what they need and if alternative diets need different mineral supplementation.
Testing can help farmers know what they are working with, and what they might need to add. Hay quality can vary widely.
"Test your forages," Meteer says. "If we don't know what's going on with your forages, it's going to be hard to know how to balance your ration.
He says forage tests are not very expensive.
"It can be a great return on your investment to know what we're feeding," Meteer says.
Bailey says finding the right feed mix is a combination of making sure cattle needs are met, while considering the bottom line.
"The biggest and most important concept is trying to identify the most reasonable feedstuff price-wise," he says.
In addition to recommending testing of feed sources, McCarthy says it is a good idea to keep an inventory of what feed options are available.
"It's nice to have a good inventory of your rations," she says.
These extra nutritional needs continue after calving, in the early days of nursing.
"Lactation demand is going to be a massive driver for those nutritional needs," McCarthy says.
The Extension experts say producers can talk with their veterinarian or local Extension personnel to help formulate feed rations and see what they might need to add.
"If you've got questions, reach out," McCarthy says.
Bailey says how producers prepare for calving season can depend on their operation and what they can do logistically. But the key is to focus on the basics of caring for cattle.
"Don't over-complicate it," he says. "Just focus on the fundamentals. Try to keep an eye on body condition score. Try to keep an eye on hay quality."