MIDWAY, Mo. — On a crisp but sunny February morning, veterinarian Sonja Perry was headed to Boonville to work with the dairy herd of a family farming operation. Perry had her Chevy pickup loaded up, and her dog, Harry, was riding along in the back seat.
For Perry, who graduated from the University of Missouri College of Veterinary Medicine in May 2019, this was another day fulfilling a long-time dream.
"For me, it probably began when I was about 9. I decided I wanted to be a large animal vet, and I stuck with it," she says.
She works as a veterinarian for the Franklin County Animal Medical Center, located in eastern Missouri, but she travels "all over" for calls to treat animals on farms and at homes, including the trip to Boonville in central Missouri.
"I work with everything from tiny little kittens up to cows and horses," Perry says.
Her job allows her to be based relatively close to her hometown of Bowling Green, and it fits what she was looking for coming out of school.
"I knew I wanted to be in a rural area," she says.
Perry knows it can be a challenge for some rural areas to draw in veterinarians who want to work there, particularly young veterinarians.
"I think living in rural areas can present its own challenges, especially for young people," she says.
There are other challenges to being a veterinarian, including working with animals that can be difficult to handle, and the long hours.
"It's definitely not a 40-hour-a-week job, or a 9-to-5 job," Perry says. "That's definitely a challenge."
Perry says it can be helpful to have a mentor in the veterinarian community, someone to call with questions.
Meeting the rural need
Carol Ryan, with the Troy and Wentzville Veterinary Clinics, says the University of Missouri College of Veterinary Medicine is producing large animal veterinarians to join the industry.
"We're getting some very excellent-quality large animal veterinarians coming out of school," she says.
Carolyn Henry, dean of the college, says the school's "2 plus 2" program gives students two years of classroom learning followed by two years working at clinics or the animal hospital on campus.
"I think that gives our students a real leg up in being prepared day one," she says.
Henry says food animal veterinary learning remains a key part of their experience "in keeping with our land-grant institution background."
Part of the challenge can be getting large animal or mixed animal veterinarians to work in rural areas, which may lack the population base and capital needed to support a practice.
"Some of these areas don't have enough resources to support a full-time vet," Ryan says.
Corinne Bromfield, swine Extension veterinarian for MU, says food animals often have a set value determined by the market.
"There's a limit for what somebody's going to be able to pay because they know the value of that animal," she says. "Our ability to do the work for a price that is functional for us as a business, and also works for the owner of the animal, it's really important that those match up well."
There are some programs to encourage students to work in rural areas and to help with the cost of vet school. Henry, the vet school dean, says the Missouri Large Animal Loan Repayment Program provides vet school graduates with $20,000 annually if they work in designated shortage areas up to four years. The program can fund six students each year.
Challenges and rewards
Bromfield says there are also physical challenges to working with larger animals, which can mean greater physical demands and often having to work outdoors in tough conditions. But she still loves being a vet.
"What makes me happy is working with pigs, and I really enjoy the medical side of it," Bromfield says. "It's a great profession."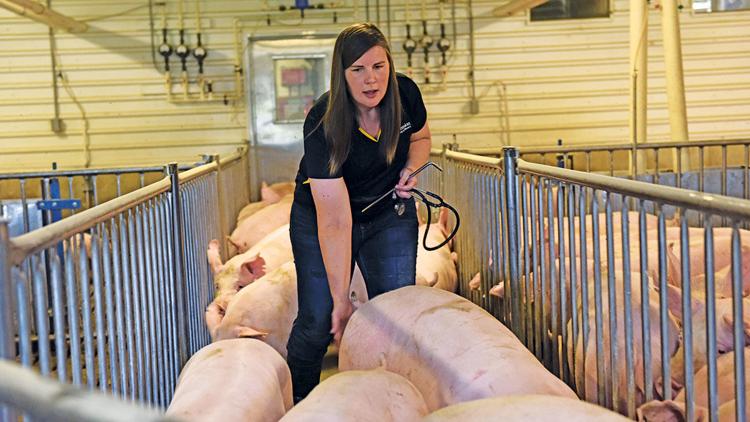 Despite the challenges, Ryan says the job is worth it for her.
"It's a great job," she says. "It's always something different every day. It's great to see new calves or foals being born."
Cliff Miller, a past president and spokesperson for the Missouri Veterinary Medical Association, says the overall job market is strong.
"In the veterinarian world, if you look at the help wanted ads, you can kind of take your pick as to what part of the country or state and what type of practice you want," he says.
Miller says a lot of new graduates are drawn to urban areas, with more entertainment options and sometimes more balanced hours.
But Perry has found her place in rural Missouri. Despite the hard work, Perry says being a veterinarian can be rewarding — she thinks about farm families trusting her with their herds and working with families when their pets face illnesses.
"There's a lot of rewards," she says. "There's nothing better than when you can get a live calf out."