BUTLER, Mo. — BF Beef started as an outlet to capture more value for cull heifers. More than 10 years later, Brett and Libby Foster are focused on becoming the leading freezer beef supplier in west central Missouri.
Brett Foster started raising Gelbvieh and Balancer cattle around 2014. His goal was to produce high-quality maternal genetics that would still perform in the feedlot.
Looking to maximize the return on every animal, Foster kept back heifers that didn't breed for freezer beef.
"We got to where we had around 100 heifers each year, and would have six to eight that didn't breed," he said.
It only took one classified ad in the paper, and Foster was selling beef to neighbors and friends.
His customers loved the beef and kept coming back. Some bought a whole cow every year, giving it to family and friends.
"Our customers have always raved about our product," he said.
But the challenge was having enough beef ready at the right time. Customers wanted beef throughout the year, but Foster would not have heifers ready until a certain time.
To address the issue, Foster made a move earlier this year and decided to scale up the slaughter production. He added cull bulls to supply more hamburger and started finishing cattle on-site.
But that was not all. As BF Beef became an official brand of the operation, Foster built a walk-in freezer and created an online store to sell retail cuts nationwide. This gave him an outlet to meet growing consumer demand while retaining more value in his genetics.
"I feel we're truly putting a better product out there than they can buy at the grocery store," he said.
Customers have the option of buying a half or whole beef, which they can pick up at the locker, or buying packaged retail cuts to ship to their house.
"We converted to selling packaged products because people wanted certain cuts," Foster said. "I think that should be easier to grow because people don't have to come up with thousands of dollars at a time. And I can get the cattle killed on my time frame."
Over the last decade, Foster had witnessed his genetics improve from a maternal and carcass perspective.
"I feed a couple hundred calves each year and I trace the data back to the sire and dam," he said. "I don't know what that particular eating experience was, but I can decide how it compares to the national industry."
Combining the carcass data with DNA testing, Foster has identified the genetics in his herd that excel maternally without sacrificing feedlot performance. And by raising his own bulls, he has bred those traits into a majority of his cow herd.
"I'm pretty confident in my genetics and I'm giving people a better product at a better price," he said.
Foster wants cattle to produce a high Choice carcass with adequate tenderness.
"I feel our steaks have enough marbling and we have enough tenderness. Even though it's a leaner product everyone still raves about our steaks," he said.
As Foster builds his supply of calves, he is testing bulls with various marbling and tenderness scores on his commercial cows.
"I'd like to produce a Choice carcass with a 13- to 14-inch ribeye," he said.
And as demand grows, the market outlet helps him adjust management to be more profitable. Bulls that do not qualify for his sale are slaughtered for hamburger, which adds to their salvage value.
"The bulls make awesome hamburger," he said.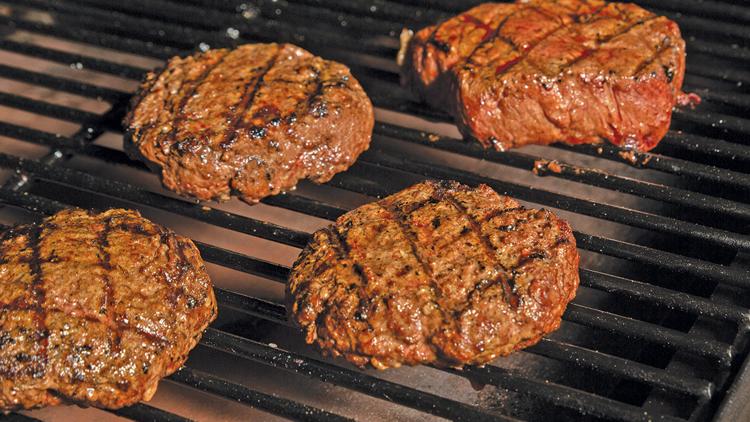 And Foster is able to use former recipient cows to raise commercial calves for the beef business.
"It makes me look at the amount of cows I don't like and reconsider trying to use every one to put embryos in," he said.
This reduces labor and time for his embryo transfer program and helps produce more terminal-focused calves.
All in all, it is a venture with a bright future. But Foster is quick to note it comes with a cost and list of struggles.
"Walk-in freezers aren't cheap," he said. And with the cost of marketing a new business, Foster said the up-front investment is substantial.
But the bigger challenges include logistics and inventory management. The closest USDA-inspected plant Foster could find was 90 miles away. To make it worth the drive, he has to take a full trailer, which means the plant has to reserve a harvest day just for him. Then Foster has to decide how to process each cut.
"I've always been a T-bone guy, but they're big enough they're hard to market," he said. "I'm trying to think about our customers and what they want to feed their families."
That mindset pushes him to think bigger and better every day.
"I'm proud of the fact that we've come far enough with our genetics to be confident in the consistency of our product," he said.