EL DORADO SPRINGS, Mo. — Despite the name, Beefmaster cattle aren't the first choice most producers make for carcass quality and terminal traits.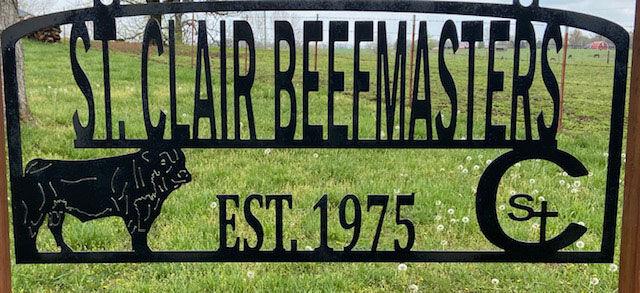 Cedar County, Missouri, producer Craig Johnson, started raising Beefmasters in 2004, but his family's history with the cattle stem much further back. In 1975, Johnson's dad traded a truck for some Beefmaster heifers and St. Clair Beefmasters was born. A former Hereford breeder, he liked that influence in Beefmasters, combined with the added growth and calm disposition.
Johnson's dad started to build the herd with foundation females from the Lasater Ranch in Colorado. To this day, Johnson has never bought cows anywhere else. He likes the low maintenance, functional cattle and has benefited from using the purest genetics in the breed, he said.
Success in the Midwest hasn't come easy for St. Clair Beefmasters, though. With a large Brahman influence, the breed has only recently gained popularity in Missouri. In 2012, the drought opened up doors for heat-resistant cattle to excel.
"You really saw the cows that could thrive and the ones that would be in the ponds," Johnson said. 
With largely Angus genetics in the pasture, many producers started looking for Brahman influence cattle.
"A lot of guys that had Angus saw the need for Brahman influence in the herd to control insects and pinkeye. That really opened people's eyes," he said.
Today, St. Clair Beefmasters sells 100-150 open heifers and around 60 bulls each year. The demand for Beefmaster females has gained so much steam that Johnson can sell a heifer for the same price as a mature cow. Beefmaster bulls continue to be popular, too.
"The bull market is hotter than ever. This spring alone, we sold a lot to the four-state area," he said.
Johnson said 98% of his customers around southwest Missouri are commercial producers. The composite breed allows them to get maximum hybrid vigor in Angus-based herds to achieve growth, milk production and heat resistance. The growth alone has been enough to convert most buyers lately. 
In recent years, Beefmaster EPDs have helped identify stronger carcass traits. With more cattle in the feedlot, Beefmaster calves now receive recognition for feed efficiency too. In fact, Johnson said a recent feed test in Nebraska ranked Beefmaster as the only breed to place in the top five for feed efficiency for steers and heifers both. 
The data now backs what Johnson has known all along about his cattle.
"When I first bought Beefmasters, numerous people with commercial cattle laughed at me," he said. "Then you start comparing calf checks and have 150 pounds more at weaning and it's a no-brainer."
Today, St. Clair Beefmasters puts a strong emphasis on low maintenance cattle.
"What helps me sell cattle is taking people out and showing them an average-looking cow with a whopping good calf on the side," he said.
Johnson has seen a lot of changes in beef production since he started 17 years ago. 
"Most of the time people asked if you had a bull for sale," he said. "Now they want to see numbers, birth weight, ribeye and marbling. You start seeing more people ask more questions about retaining ownership and the impact of their herd down the road."
As more genetic information becomes available, Johnson has tightened selection on his herd sires.
"At the end of the day you have to keep it simple and keep up with the demand. But on the other side you have to keep it easy. If you start chasing numbers, you still need a low-maintenance, functional cow. You still have to balance that out and know what you're striving to get to," he said.