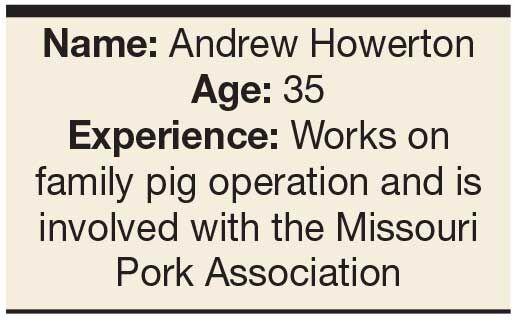 For Andrew Howerton, growing up on a farm helped him develop a love for the family business — raising pigs.
"I grew up in it," he says. "I would describe it as it gets in your blood a little bit."
Howerton, 35, is production manager for Reliance Pork, his family's pork operation based in Henry County. He works with the farrow-to-wean part of the business.
The lessons learned working on the farm became life skills — a willingness to take on any job and a determination to get things done even when it is difficult. After working in sales for a few years after graduating school, Howerton returned to work on the farm full-time in 2017. He is part of the seventh generation on the family farm, and he wanted his four sons to have the same opportunities and way of life he had.
"I really appreciate the way I grew up," he says. "… I wanted my boys to have the same grit."
Howerton says he is thankful for the high hog prices right now.
"If you just isolate the prices, it's a great time to be raising hogs," he says. "The hurdle is higher with corn prices. It absorbs some of the profit."
Despite the challenges, Howerton says there is plenty to be grateful for, including high enough hog prices to offset the higher feed costs and a crew who takes biosecurity measures seriously, which reduces their chances for contracting catastrophic diseases. He says they do what they can to guard against these.
"We've got biosecurity protocols," Howerton says.
Workers on the farm also have weekly staff meetings to talk about biosecurity, and in particular why it is important and why workers are taking the safety measures they do.
"We're big on the 'why' here," he says.
Howerton says getting to work with people on the farm and see them develop career and life skills is one of the things he enjoys most about what he does.
"It's the people, and when you get to see people who went from never having led people to leading people and doing it effectively and successfully, that's a pretty satisfying feeling," he says. "Seeing people learn that skillset and be successful."
Howerton says he wants to give his kids a solid foundation of faith, family and farming life skills to give them an opportunity to succeed. He says it is special to be part of a long line of farmers and be able to pass that on.
"To know that you are where you are because of the history and legacy that came before you, and to be able to take that and give back to your kiddos, that's a special thing that not a lot of people get to experience," Howerton says.