When it comes to what people want from their cattle, Charles Henke says there are a lot of viewpoints. He sells registered Angus he raises on his Chariton County farm in Missouri.
"There's no shortage of opinions," he says, "and really that's a good thing."
Some producers want bigger cows in the pursuit of performance and bigger calves, although Henke says he prefers a smaller size for efficiency purposes.
"I think 1,800-pound cows are too big, but that's my opinion," he says. "For me, I like 1,300-pound cows, maybe up to 1,400. That seems to be an excellent size for us with feed efficiency. I like a cow that kind of does it on her own."
Jim Humphrey, a University of Missouri Extension livestock specialist based in Atchison County, says the top priority is a cow that reliably produces a calf.
"What most people want is they want to get their females bred and get a live calf on the ground," he says. "That's always No. 1."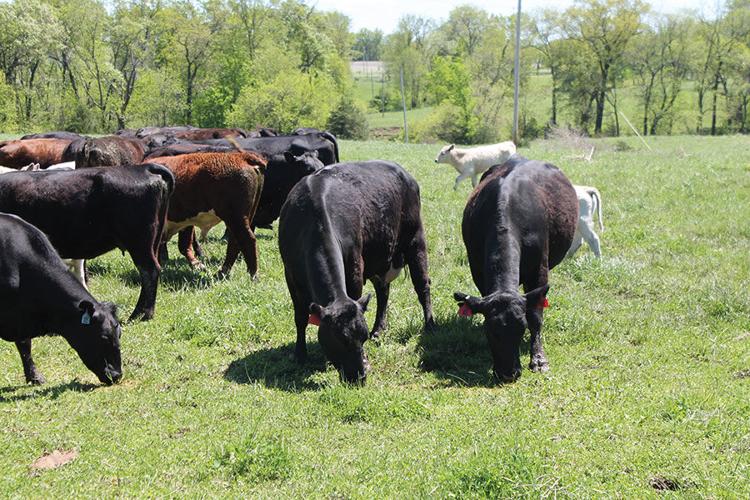 Beyond that, the goal is efficiency. Humphrey cites a measurement idea from former North Dakota State beef specialist Kris Ringwall.
"The most accurate way of determining the efficiency of cows is pounds of calf weaned per female exposed at breeding time," Humphrey says.
Of course, he says this is all relative, and whether a producer weans at five or six or seven months will adjust the pounds of calves produced.
Another measure is what percentage of the mother's weight the calf is at weaning. Humphrey says for calves weaned at six or seven months, 50% is a good goal. Calves weaned around five months will be a lower percentage.
Humphrey says artificial insemination has helped producers with genetics and herd improvement.
"Artificial insemination has been a really, really good tool for people to be able to improve their genetics and target the things they want," he says.
Producers can select for a wide variety of traits, such as feet and legs, amount of muscle, bone structure and many others, Humphrey says.
"We have so much data that it can be overwhelming, but there is a lot of information out there to help producers make decisions and improve their herd," he says.
Henke says calving ease is a widely desired trait among producers, although he says it is not usually an issue after a first calf.
"Once that cow gets that first calf on the ground, from her second calf on you almost never see an issue, unless you get a presentation problem," he says.
Henke says culling lower-performing cows can help get the herd and genetics producers want by getting rid of recurring issues. It can also help with efficiency.
"I cull extremely hard," he says. "We want a cow that holds her weight. … We keep a lot of heifers and sell a lot of cows. The way to get a good herd is cull, cull, cull."
Breed associations are working to develop feed efficiency expected progeny differences (EPDs). Henke says he can use "the good old-fashioned eyeball" to help see which cows are the most efficient, but he says the dry matter intake and rate of gain EPDs help tell the story. He expects this area of information to continue to develop.
"We are kind of on the brink of it," he says.
David Hobbs, director of activities for the American-International Charolais Association, says many producers want low birth weights and high weaning weights.
"A lot of emphasis is being put on calving weight EPDs and low birth weights," he says. "They want that big weaning weight EPD."
Hobbs says bigger cows often come as a result of trying to get high performance.
"If you're breeding for performance, you're going to see some size," he says.
Still, Hobbs says he sees variety in preferred cow sizes.
"I've got breeders who have got very moderate-sized cows, and I've got some with 1,500- to 1,600-pound cows," he says.
Hobbs says efficiency is a high priority, regardless of cow size. He says his organization is part of group efforts to generate feed efficiency EPDs through work in a feedlot project.
"I do see people that are starting to collect feed efficiency information," he says. "They're looking at cost of gain, what it costs to get that gain."
Matt Woolfork, director of performance programs for the American Shorthorn Association, says his association is also working to develop EPDs and mature cow weights. He says bigger cows can cost more.
"She's going to cost you more to keep around," he says. "If she doesn't perform well enough, you need to find a cow that gets that performance with less feed intake."
Woolfork says producers also want traits that make their job easier.
"I think what I hear the most from our breeders, and what their customers are wanting, is a lot of calving ease," he says. "Nobody wants to pull a calf. Docility is increasingly important. We all get older, and nobody wants to get chased out of the pen."
There are a variety of factors to value, but Woolfork says the end goal is the same.
"All cattlemen want to make money," he says.