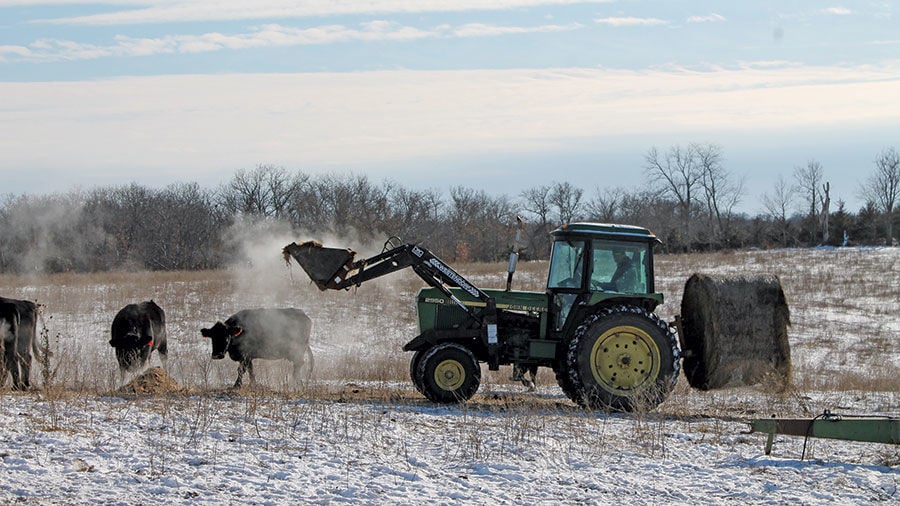 As winter officially arrives, livestock producers are looking at a number of strategies to make hay supplies last. Eric Bailey, University of Missouri Extension beef nutritionist, says there is a lot of variability in available hay.
"It's really still all over the board, both price and quality," he says.
Bailey says hay prices have come down a little, but it can still be costly.
"I hear prices that are coming back to earth," he says. "$35 to $50 a round bale."
Feeding hay should be just one part of the winter feeding plan, Bailey says.
"When they're feeding hay in the winter time, what they're trying to do is make up for a shortage in calories," he says.
Bailey says producers can combat hay shortages — and save on expensive hay — by feeding more corn. This could cut hay feeding from 30 or 40 pounds to 10 pounds.
But he says hay should not be eliminated, because producers don't want to overfeed starch and disturb rumen microbes. He suggests limiting the corn portion of the diet to 6 pounds per head per day.
"About 6 pounds of corn is the most you want to feed a mature cow," he says. "You could go a lot higher, but then you're going from a forage diet to more of a feedlot diet, and that takes a different management approach."
Bailey says corn is "tremendously effective" at helping meet the energy requirements in cattle feed, and then producers need to make sure the protein needs are met.
"Ten pounds of hay, 6 pounds of corn and a protein supplement is a great alternative for a least-cost diet," he says.
If producers have silage, that can be a good feed option.
"Silage is about as close as we can get to an all-in-one feed," Bailey says.
Silage grown under normal conditions has fewer nitrate concerns than drought silage. Adding some hay to the silage from dry areas this year will help dilute the nitrates. Bailey says non-drought silage doesn't need to be fed with dry matter.
Distillers grains are another good option for making a feed plan work.
"Distillers grains has an interesting place in this whole discussion," Bailey says. "The digestible fiber, protein and the fat left over make it, in a lot of ways, an ideal cattle feed."
His 6 pounds of corn limit is designed to prevent cattle from consuming too much starch, but Bailey says distillers grains are a byproduct after the starch is taken out during the ethanol-making process. The cost is fairly manageable, he says.
"About $150 a ton in most places," he says. "It's in the ballpark. It's a little more expensive than corn."
Bailey says producers can also consider gluten as an option for convenience since it normally comes in pellets.
Fall rains did help the forage situation somewhat in parts of the Midwest that experienced drought, even if the year overall was very challenging for growing grass.
"What bit us in '18 was we had no fall growth in '17, and then we went straight from winter to summer," Bailey says. "… I don't think we're in bad shape, but we're not far away from it."
Bailey says in a normal year, two-thirds of the forage growth is in the spring and one-third is in the fall. But this year, at MU research farms, those numbers were reversed.
Craig Roberts, MU Extension forage specialist, says for the forage producers do have, managed grazing will make the most of it. Any grass that has been saved for winter grazing can benefit from management intensive grazing, which cuts waste and extends grazing.
Roberts says if tall fescue pastures have toxicity, producers should delay turning cattle out to graze until later in the winter to let toxin levels lower. They can feed hay and grain and save the pastures for later grazing.
There is a lot of variety in fall growth depending on how rains fell.
"Calling the rains 'spotty' may be overstated," Roberts says. "We had speckled rain."