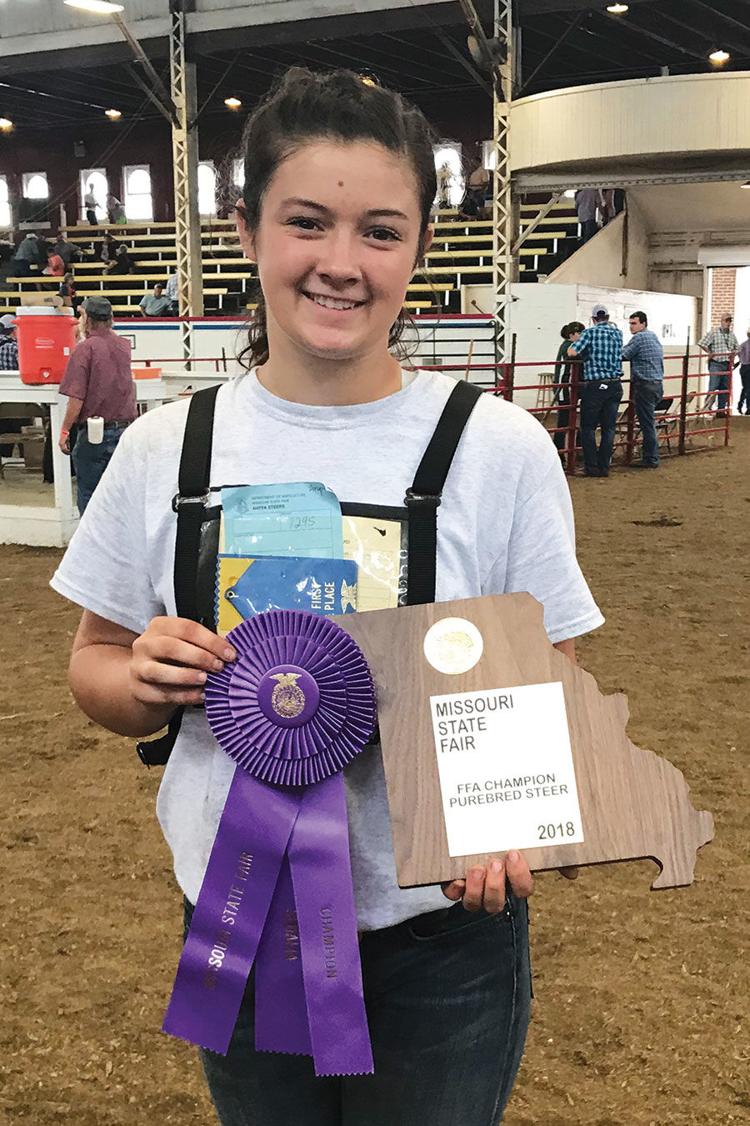 Competing at the Missouri State Fair is a tradition Grace Busch has come to love. It's an opportunity for her to compete and spend time with friends who share the same passion for Angus cattle.
"Just like you have friends in school, you have friends in this breed and you don't get to see them every day. It's fun to spend the hours together," she said.
Busch, who lives near St. James in south central Missouri, started competing when she was 5 years old.
"My mom showed hogs as a kid, and my dad was getting into the Angus business, so we wanted to show our bulls and replacement heifers," she said.
Her first project was a bucket calf she showed at the county fair. Now, the senior at Belle High School has years of memories, accolades and lessons learned from her time in the ring.
While still focusing their breeding on production traits, Busch and her parents, Drew and Tasha, have a few cows they like to breed for show stock. Once calves hit the ground, they make note of which ones they think will stand out. After weaning, they go through the herd again to pick their favorites.
"I look for style in our herd. I want to see if they have that show appeal," Busch said. She looks for calves with a thick body and deep rib.
"[Then] I know they'll carry the width and definition they'll need," she said.
Once the show string is selected, the work begins. Busch starts with hand feeding the calves to get them acclimated to her presence.
"Then we'll start using the showstick to calm them down and show them it's not going to hurt them," she said.
Once the calves are accustomed to the interaction, Busch ties them up with a halter. "Then the calves are gentle enough to lead and wash," she said.
Preparing them for the fair is not a quick or easy process.
"The early mornings are tough. It's a lot of hard work, but that's what I love about it," Busch said.
Working to win
Over the years, Busch has shown several bulls, heifers and steers her family has raised. This year her show string includes a yearling heifer and a steer.
"This is the sixth Angus steer I've had," she said.
She is proud to raise and show Angus because of the carcass traits the breed represents.
"What they put on the rail definitely has an impact. I want to do as much as I can with a calf to put pounds on it," she said.
Busch put a strong focus on raising her steers to perform well on the rail. Last year, she won 4th place in the state fair carcass contest.
"I'm fine with that, but this year I've tried to add a little bit to get a higher score on that rail," she said. "I look for a high marbling sire and make sure they have the weaning weight and yearling weight I need. And I make sure they eat as much as possible."
Right now, Busch feeds her steer 10 gallons of feed every day.
"I have to see what they need and give it to them. It gets very pricey," she said.
The carcass contest isn't Busch's only goal, though. Last year, she exhibited the champion purebred steer — a title not awarded to an Angus steer in over 20 years. This summer, both calves have shown well and she is eager to see how they place at the fair.
"Obviously I would like the grand champion, but it doesn't happen all the time. As long as I can place high in the class, that's what I work for," she said.
Fun at the fair
Busch competed for the first time at the state fair when she was 12 years old. After doing well in preview shows throughout the summer, she wanted to compete at the next level.
"I wanted to see what we could do up there and what the judge would have to say," she said.
She is open to hearing their critique and make changes in her management accordingly.
"A judge has said in the past that my heifer is a little greener. I took that in and added more feed and cotton hulls to get her to grow," she said.
But she also knows the fair isn't just about competing. A lot of her friends compete at the fair, and Busch enjoys hanging out and seeing the different exhibits.
"It's like a vacation for us," she said. "I go up there for the overall fun and to see what the judge has to say about my cattle."
It's a tradition that has taught her about hard work and determination.
"My family has always taught me that you have to work for what you want. Hard work will help you do anything. I will always live by that," she said.