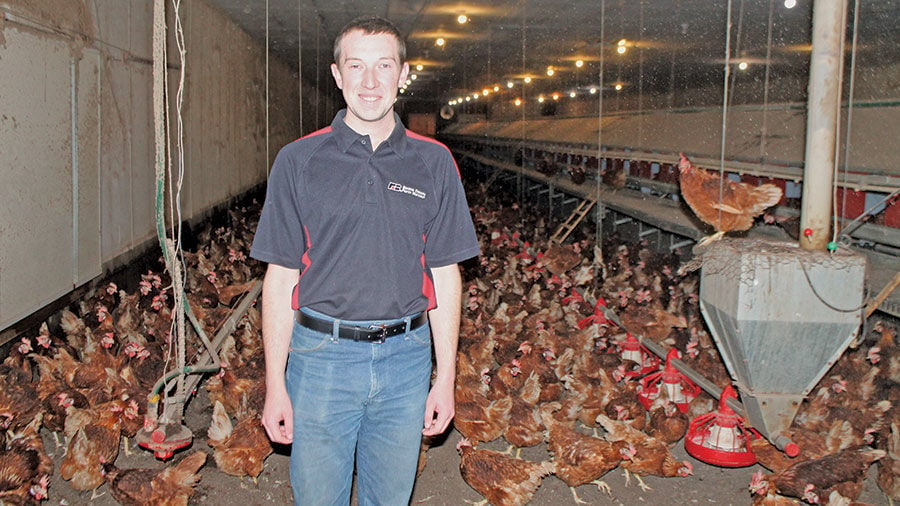 CENTRALIA, Mo. — For Boone County farmer Dustin Stanton, what started as a desire to keep the class pet grew into a thriving egg business, and an on-farm visit from Facebook founder and CEO Mark Zuckerberg.
"It's work, but I really enjoy it," he says.
When Stanton, 26, was in the first grade, the class had an incubation project hatching chicks. At the end of the project, one student got to take them home. Stanton hoped all along he could take them and raise them. He and a girl in his class both wanted the chicks, so they flipped a coin. Stanton didn't win, but a family member heard the story and bought some chickens for him to take care of.
Those were meat birds, and when taking care of them had run its course, Stanton's parents, Andrew and Judy, bought him layers. Throughout childhood, he and his younger brother, Dustin, took care of the chickens and sold the eggs to make spending money.
"Rather than give us an allowance, we could just sell eggs," Stanton says.
In 2007, Stanton started in FFA at Centralia, and he bought 500 chickens to be his supervised agricultural experience (SAE), with the idea to sell eggs at the nearby Columbia, Missouri, farmers market.
It was a slow start. The first Saturday, they got up early, loaded everything up, went to Columbia and sold a half dozen eggs.
"The second week I doubled sales and sold a dozen," Stanton said.
The fourth week was the breakthrough, when they sold 40 dozen eggs.
His dad, Andrew, was impressed at the brothers' commitment.
"You had to get up at 5 o'clock on a Saturday morning," Andrew says. "They stuck with it. They had determination."
Stanton still sells at the Columbia farmers market. He says the market is a good way to connect with consumers and build rapport, although now it is only a small percentage of his sales, due to the growth in his business. He made a deal with a grocery store Clover's to sell his eggs, and also contracted to provide eggs for a nursing home.
From there, the business grew and grew, and now he sells his eggs to grocery stores all over Columbia, to the University of Missouri, Columbia College, and several area public schools.
Stanton and his brother, Austin, view their business as three phases, egg production, the processing room where they wash and box the eggs, and the sales and marketing side. Stanton, who graduated from MU with an ag business degree, specializes in the marketing side, and his brother, Austin, is a current student at MU who focuses on the production side.
"He produces eggs, and I sell them," Stanton says.
The success of the operation, including opening a new chicken building in 2014, has led to some recognition along the way. Stanton is the president of the Boone County Farm Bureau, and he won the FFA's national American Star in Agribusiness Award. His brother won the FFA's American Star Farmer award. Stanton says through FFA he developed skills that have helped him succeed, like communication and thinking on his feet.
His success also caught the eye of Zuckerberg, who as part of a campaign to visit and learn about all 50 states in 2017 decided to visit the Stanton farm. Zuckerberg especially wanted to meet entrepreneurs and millennials, and learn about agriculture and "flyover states," Stanton says.
"It was his first time coming to Missouri," Stanton says.
Assistants and a security team came to the farm ahead of the visit, but when Zuckerberg made the trip, it was just a regular conversation between the entrepreneur and the farm family.
"He wants Facebook to be more community oriented, and he saw we have a good sense of community here," Stanton says.
Zuckerberg was intrigued by the field of milo next to the chicken building, and willing to talk and learn about ag issues, he says. Stanton is a natural advocate for agriculture, and he's excited to keep growing his business. His favorite part of farming is the people.
"The first thing is family," he says. "That's why we wanted to stay on the farm. That's why we got started in farming. Really it's the people. We work with amazing people. Our customers that we meet are amazing."