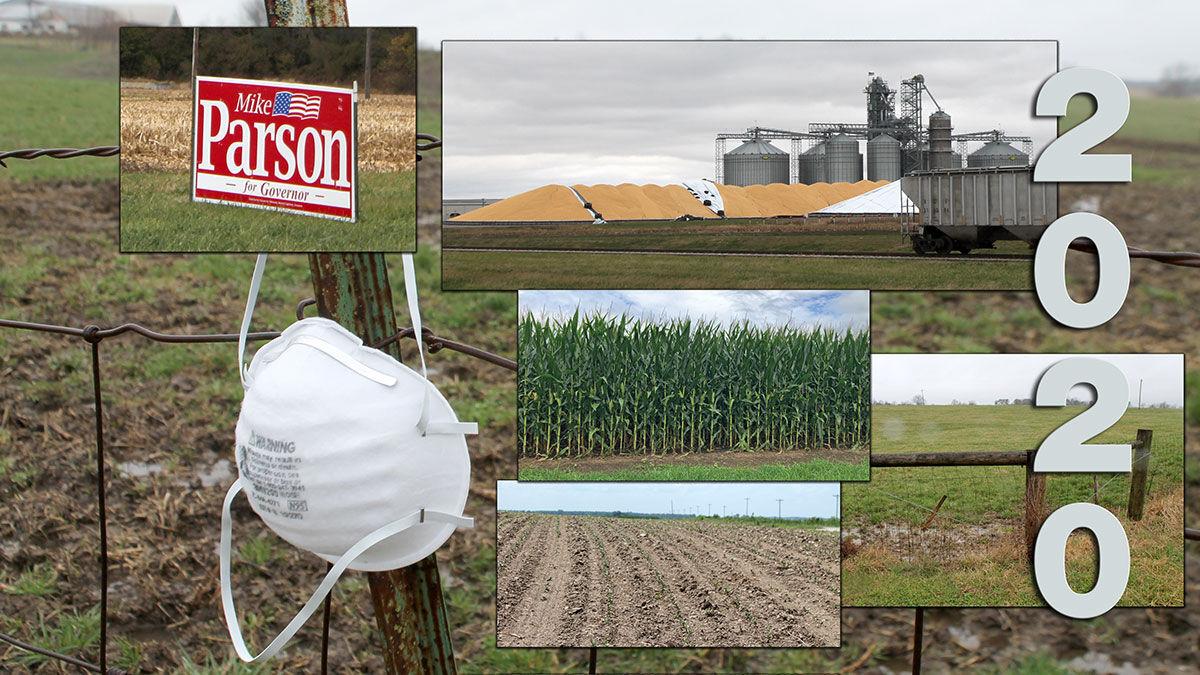 It was an eventful and unusual year for farmers and rural communities in Missouri, with the coronavirus pandemic altering several aspects of daily life, a variety of weather conditions, a fall surge in crop prices and a busy November election.
In a year where unpredictability was a theme, farmers took comfort in the familiar things — raising a crop, taking care of livestock, looking out for neighbors in need. It was a memorable year, and here is a look at some of the top stories in 2020 for Missouri agriculture.
COVID-19
The coronavirus, and the spread of COVID-19, the disease caused by the virus, had major
impacts on markets, the ag supply chain and day-to-day life in rural communities.
Virus concerns in the spring led to many meat processing facilities shutting down or slowing production, although the industry bounced back and total beef production levels for 2020 will be right about on par with 2019. Still, producers felt the impacts along the way with price volatility and uncertainty about marketing their animals.
"The impact has been broad and far-reaching," says Lance Albin, president of UMB Bank's agribusiness division.
The virus and related measures to control it also caused stress for many small businesses in rural communities, and some rural schools had to use virtual learning this fall as coronavirus positive cases rose in many of Missouri's rural counties.
Bob Hughes, with the Hamilton Chamber of Commerce, says his northern Missouri town has been creative to keep business going during the pandemic, but the community has felt the effects.
"It's had a profound impact on the community," he says.
Fall price improvements
As 2020 comes to a close, a good export year and surging crop prices have given farmers a boost. Corn and soybean prices climbed during harvest months.
"It's been a phenomenal ride these last few months," University of Missouri ag economist Scott Brown says.
Increasing exports and USDA revisions to the crop size and year-ending stocks helped support prices.
Brown says soybean exports for this marketing year, 2020-21, were estimated at 2.2 billion bushels, up from 1.68 billion last year and 1.75 billion the year before. Year-end stocks are estimated at 190 million for this year, down from 523 million last year and 909 million just two years ago.
"What a different situation we have between two years ago and now," Brown said.
As for how things will look going forward, Brown says it depends on a number of factors, including export trends, how the crops fare in South America, and whether Congress will pass any more stimulus funding.
But overall, he says the price improvement was a welcome bonus for farmers.
"We want to take advantage of opportunities when we can," Brown says.
Election year
This year brought a busy election, as Missouri voted on president, governor, several statewide offices, U.S. representatives, most of the state legislature and some ballot measures.
Incumbent Republican Gov. Mike Parson defeated Democrat challenger Nicole Galloway in the gubernatorial race. Republicans won all the statewide office races on the ballot in 2020, and kept their two-thirds majorities in the state House and Senate.
In the presidential race, Missouri's 10 electoral college votes went to President Donald Trump, with former Vice President Joe Biden winning the national election. Missourians cast nearly three million votes in the presidential election.
Missouri voters also approved a constitutional amendment that amended the state's redistricting process from a "nonpartisan demographer" to a "bipartisan commission" appointed by the governor. Missouri Farm Bureau was one of the groups supporting the measure, saying it would help make sure rural people are well represented.
Weather variety
Missourians are familiar with the state's fluctuations in weather, and 2020 provided a variety of conditions.
The year began with conditions ripe for more spring flooding, even as some levees were still being repaired from the 2019 flooding. But dry conditions up the Missouri River watershed largely spared Missouri farmers from more flooding.
The summer brought regular rains and good yields for many Missouri farmers, although other areas, including southwest Missouri, saw drought conditions this year.
The fall was dry for most of the state, allowing for good harvest progress but limiting fall forage growth.
"I've never seen it this dry this time of year," Cooper County farmer Robert Alpers said in October. "It does make the harvest go fast though."
Joe Meadows, who farms in southwest Missouri, says the hot, dry summer stressed corn and soybeans, although late summer rains helped salvage the soybeans. He says it was an eventful year and he is looking forward to the next one.
"There is always next year and we look forward to new challenges while remaining thankful for the blessings we have," he says.