Editor's note: A story in last week's paper looked at national trends found in the 2017 Census of Agriculture. This article dives deeper into Missouri's numbers.
---
JEFFERSON CITY, Mo. — The USDA released its 2017 Census of Agriculture earlier this year, which provided an updated look at Missouri agriculture. Missouri remains second nationally in the number of farms with 95,320, covering 27.8 million acres.
Missouri Director of Agriculture Chris Chinn says the census shows the progress and diversity of Missouri agriculture and that technology will help the industry continue to grow.
"It's important that we continue that progress by connecting every last mile to high-speed Internet," she says. "I truly believe that's the key to bringing home the next generation, creating greater on-farm efficiency and implementing the latest cutting-edge technology."
The latest census provides information from 2017. The USDA conducts a Census of Agriculture every five years.
In the latest census, the average age of a Missouri farmer increased by one year to 59.4 years. Some farms, particularly those that focus on hogs, dairy or poultry, showed a younger average age. Missouri's hog farms are made up of 25% young farmers — defined as 35 or younger. Dairy, poultry, sheep and goat producers have between 16-20% young farmers.
Missouri's soybean, corn, cattle, poultry and hog production account for 88% of the state's agricultural sales. A variety of special crops help make up the remaining 12%, including some growing sectors like elderberries, honey, mushrooms, sheep and goats.
Bob Garino, Missouri state statistician for the USDA's National Agriculture Statistics Service, says the state has continued to increase production despite fewer farms.
"If you look back 20 years ago, it's clear that we are more productive than we've ever been in Missouri," he says. "Today, there is more corn, soybeans and rice acres harvested and beef cattle raised annually throughout Missouri on fewer operations."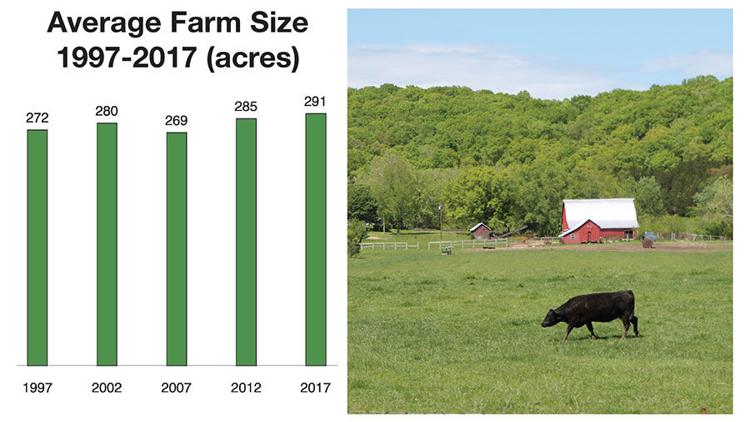 Following the broader national trends of fewer farms and fewer acres in farming, Missouri's 95,320 farms spanning 27.8 million acres in the 2017 census is down from 99,171 farms and 28.3 million acres in farming in 2012. The 2007 Census showed Missouri had 107,825 farms and 29.0 million acres in farming.
In the new census, Missouri's beef cow inventory for 2017 was 2.16 million. It's an increase from 1.68 million in the 2012 census, although that was an extreme drought year. The 2017 total is more in line with recent trends, as Missouri had 2.09 million in the 2007 census and 2.11 million in 2002.
Missouri had 3.37 million corn acres harvested for grain, 5.87 million soybean acres harvested, 553,000 wheat acres harvested, and 11,303 oats acres harvested. Missouri had 168,000 acres of rice harvested and 304,000 acres of cotton.