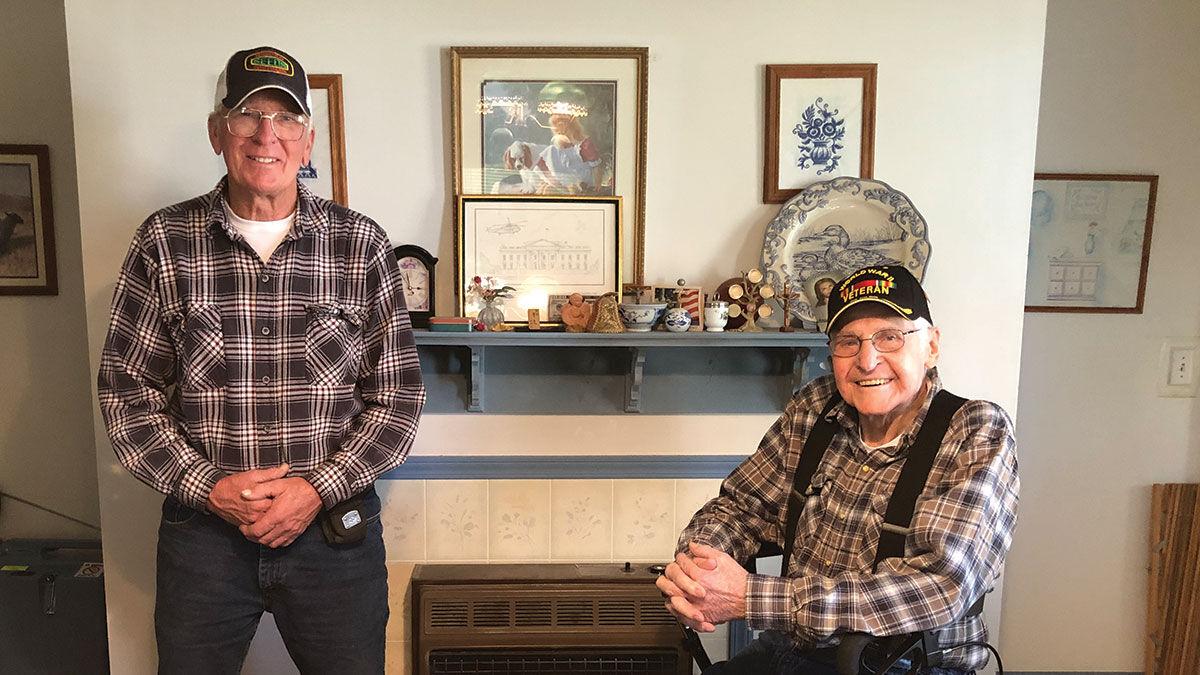 BELLE, Mo. — Year by year, decade by decade, the Bethmann family history piles up, from long-ago trips across oceans to serve their country to yearly memories of crops and cattle and farm life.
Father and son Fred and Ted Bethmann share a love of farming as well as a history of serving in the U.S. Army. Fred, 95, served in the Pacific Theater of World War II, and Ted, 71, served in the early 1970s and was stationed in Germany for a while.
They farm in a rare part of Osage County that is fairly flat, near the small town of Belle, Missouri. Fred grew up farming in the river bottom near St. Louis, but after getting flooded out a few times he decided to relocate. He looked at a number of farms, but that swath of Osage County caught his eye.
"It's the prettiest one we found," Fred says.
Ted knew from a young age he wanted to go into the family business.
"I knew what I wanted to be when I was 7 years old," he says.
The family has row crops and cattle as well as a seed business. They also put up hay, and Fred remembers putting up hay for August Busch as a kid. The family farm was a key consideration for Fred when he turned 18 on June 10, 1944, as World War II raged on. He could have gotten an exemption from military service and the draft, but Fred decided he wanted to go serve.
"I could have stayed out," he says. "My dad's operation was large enough. I was the youngest of four sons. I said, 'No, Dad, one of us has to go.'"
Fred signed up for the Army, but timed it so he could help with harvest and then be around for Christmas. The day after Christmas in 1944, he was inducted into the Army. He completed his basic training at a base near Little Rock, Arkansas, and eventually was sent to the Philippines with the U.S. Eighth Army to help liberate that country from Japanese occupation. Fred recalls what a change it was from his 18th birthday to his 19th.
"By my next birthday, I was in the middle of the hottest place on earth, the Philippine jungle," he says. "It got pretty warm there during the day and rained almost every night."
Fred was attached to an artillery unit and scouted to help get them in the right position and to know where to shoot. He says his next task would've been participating in the invasion of Japan, which likely would have been a campaign with enormous casualties. He believes the use of atomic bombs, which led to the surrender of Japan and made the invasion of Japan unnecessary, saved his life, even if they were a devastating thing to have to do.
"Fortunately we had the A-bombs," he says, "otherwise I would not be here."
Fred saw plenty of the devastation of war, especially the suffering of the Filipino people.
"That's why I'm still a farmer," he says. "I saw Filipino kids starving to death."
He says beyond just the dangers of warfare, the sights and suffering soldiers see adds to the challenge.
"It's what you see, what you have to tolerate," Fred says.
Letters from home were a "morale builder," he says, and he remembers a steady stream of them, even if one year his mom sent a fruit cake for Christmas and it didn't arrive till April.
Fred says the formal surrender ceremony in Tokyo was a memorable day, and he and the Eighth Army were part of the post-war occupation of Japan.
Eventually he received his discharge and returned to farm life in Missouri. He is proud to have served his country, and it was especially a point of pride to earn the trust of his captain. He still remembers when his captain would have something he needed done and say, "Hey, Bethmann, I need you."
Ted's Army service began two and a half decades later, when he was drafted in 1970. He was about to turn 20 years old. He remembers his draft number was 133.
"They said it wouldn't get that high, and then in August 1970, it did," he says.
Ted went to nearby Ft. Leonard Wood for basic training. The Vietnam War was going on at the time, but he scored well on his entry tests and was assigned to work as a mechanic, stationed at Ft. Riley in Kansas. The Cold War was going on at the time, and Ted was part of efforts to make sure the military could mobilize quickly in case war broke out in Europe. He remembers one exercise in particular.
"Our mission was to see how fast we could fly troops from the central part of Kansas to over there (in Germany)," Ted says.
He recalls a multi-legged journey that due to a variety of factors, including bad weather, ended up including stops in New Jersey and the Azores Islands.
In the fall of 1971, Ted was stationed in Germany as part of the post-war U.S. presence there. He remembers different reactions from the people there.
"The young people over there were really friendly," he says. "They gave us apples and beer. But the old women were not friendly. They remembered the war."
Ted says he developed skills that would later help him in his farming and seed business career.
"I learned a lot of mechanical working, for (later use) on the farm," he says. "I learned a lot about people."
Fred still has a connection to Japan, as one of his grandkids went there to work and eventually had a family there.
"I've got great-grandchildren in Japan," Fred says. "I never dreamed of that when I was there in the Eighth Army."
But for the Bethmanns, returning to farm life after their military service was always the plan
When it was time for Fred's discharge, the colonel who had to sign his discharge papers talked with Fred and offered him a promotion to officer if he was willing to stay. Fred told the colonel he appreciated it, but he knew where he needed to go, referencing his dad and the family farm back home.
"I said there's a white-haired old man back in Missouri who needs me to help feed the world," Fred says. "We've still got a white-haired old man in the middle of Missouri trying to feed the world."