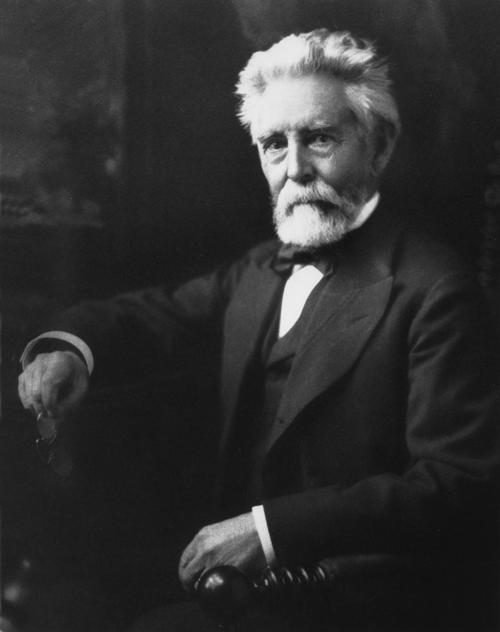 Editor's note: This is the first in a series on U.S. Secretaries of Agriculture from the Midwest.
When President Abraham Lincoln established the U.S. Department of Agriculture in 1862, the head of the department was known as the Commissioner of Agriculture, and the position was not a member of the president's Cabinet. That changed in 1889, when the office became a Cabinet-level post.
On Feb. 15, 1889, Norman Jay Colman became the first U.S. Secretary of Agriculture. Colman was a Missourian, and the position was part of a long career in agriculture and politics. He was a longtime advocate of research farms, or "ag experiment stations," and also ran farm newspapers.
"Colman is a very important Missouri historical figure," says Gary Kremer, executive director of the State Historical Society of Missouri.
Colman served as the Commissioner of Agriculture under President Grover Cleveland from 1885 to early in 1889, when the office was elevated and he became Secretary of Agriculture. He also served as secretary for two days under President Benjamin Harrison until Harrison's nominee for Secretary of Agriculture took over on March 6, 1889. At the time new presidents were inaugurated in March, instead of January.
When Cleveland was re-elected president four years later — the only person to ever serve two non-consecutive terms as president — Cleveland selected Nebraska newspaper editor and Arbor Day founder J. Sterling Morton as his Secretary of Agriculture that time around.
According to the Dictionary of Missouri Biography, edited by four historians including Kremer, Colman was focused on moving agriculture forward.
"Norman Jay Colman is best known as the country's first secretary of agriculture, but this is only one of the many honors that came to a man who was committed to the progressive improvement of American agriculture," the book says.
Colman was born May 16, 1827, on his parents' farm in Richfield Springs, New York, where he grew up. He initially chose to become a lawyer, moving to Indiana to practice law, before moving to Missouri to pursue agriculture. He lived in St. Louis and served on the city's board of aldermen.
At age 31, he purchased the Valley Farmer, a monthly agriculture magazine, starting in the ag journalism business.
But as it did for many people, the Civil War put his plans on hold. Colman served in the pro-Union 85th Missouri Militia. After the war he went back into ag publishing and started a new ag journal, called Colman's Rural World.
"During its 50-year run Colman continually hammered home the necessity of cooperation between government, academic researchers and farmers to improve American crop production," the Dictionary of Missouri Biography says. "Through his effort the magazine eventually became the nation's most influential proponent of the application of scientific ideas and management to agriculture."
Colman was a popular figure in the state and a prominent member of the Missouri Democratic Party. In 1865, he was elected to the Missouri State Board of Agriculture, a position he held until his death. He served in the state legislature and eventually as Missouri's lieutenant governor, winning the office in 1874 after an earlier unsuccessful campaign.
As lieutenant governor, Colman continued to work to secure funds for agriculture and research.
"President Grover Cleveland was so impressed by Colman's agricultural efforts in Missouri that in 1885 he appointed Colman as the U.S. Commissioner of Agriculture," the Dictionary of Missouri Biography says. "Colman was now able to fully develop and implement his ideas on a national basis, positively affecting agricultural production and methods in ways he could not have realized before. His progressive agricultural ideas were debated and implemented during a time when the nation was undergoing a period of dramatic change from a largely agrarian to an urban nation."
Colman remained focused on the value of experimental farms, maintaining one near St. Louis. He argued that new ag ideas could best be implemented through experimental farms in cooperation with land-grant universities. In 1887, while Colman was Commissioner of Agriculture, Congress passed the Hatch Act, providing funding for ag experiment stations across the country.
After his time in D.C., Colman returned to St. Louis and focused on his farm and his duties with the Missouri State Board of Agriculture. He would also later serve as president of the National Editorial Association and the Missouri Press Association.
Colman died on Nov. 3, 1911, on a train while returning to St. Louis after a trip to Kansas City to look at horses to add to his stock. He is buried in St. Louis' historic Bellefontaine Cemetery.
"Today, many of Colman's agricultural ideas have become institutionalized," the Dictionary of Missouri Biography says.