WAVERLY, Mo. — Down came the floodwaters into Missouri, starting as early as March and worsening. Down from up north in the massive Missouri and Mississippi river basins, from the melting of heavy snowfalls, and down from the sky in the form of excess rainfall and the wettest May on record in Missouri.
All that water accumulated in river bottoms, seeped through the ground into fields, and in some cases poured over and through levees, pushing water to places not seen in a generation or more.
The wet conditions and flooding have made for a challenging planting season for farmers, and thousands of acres remain under water and likely won't get planted at all. The flooding has also devastated many communities in the floodplains.
In response, Gov. Mike Parson requested and received a federal disaster declaration from President Donald Trump in April, and then in June requested another disaster declaration, greatly increasing the number of counties in the affected area.
Danny Kuenzel farms in Franklin and Gasconade counties in east central Missouri, with much of his ground in the Missouri River bottom. Even where levees have held, there has been damage.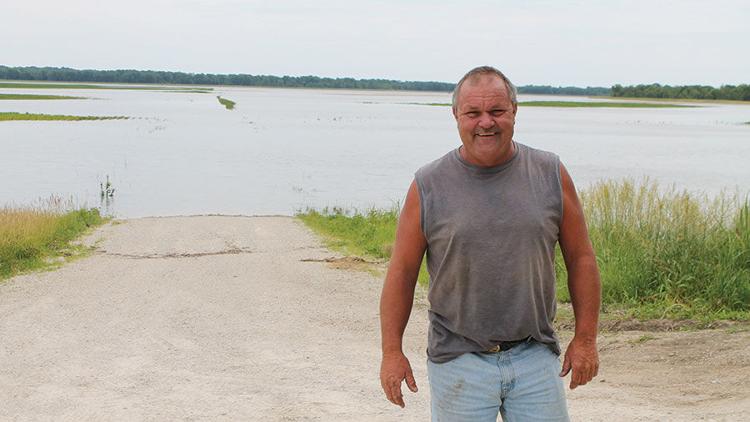 "We've been lucky," he says. "None of our levees have broken."
Still, heavy rainfall and seep water from the high river have led to many fields covered with water or too wet to plant. Kuenzel says he has acres that likely won't get planted this year, but as of mid-June he was still working to get soybeans planted in fields that were not under water.
He says it is the most challenging planting season he can recall.
"I don't remember anything this bad," he says. "Usually we get one stretch of good running. … In '93, we actually had everything planted before it flooded."
Kuenzel has seen major floods through the years, including the Great Flood of 1993, still the benchmark against which Missouri floods are measured, and he knows the impact major flooding and levee failures can have for river bottom farmers.
"It takes a long time to recover from a flood, especially a bad flood," he says. "It takes a while to get over."
In addition to wiping out crops, major floods can leave deep sand deposits in fields and levees and fields in need of repair.
Community impact
People forced to deal with disaster may never completely recover, says Paul Lasley, Extension sociologist with Iowa State University.
"Many disasters, like a tornado, are intense at first but then you start cleaning up," Lasley says. "This disaster has been dragging out over weeks and months. It affects people differently, not to mention the major expense involved in rebuilding, repairing and preparing the farm for next year."
Kuenzel says the effects of major floods go beyond farmers. For many farming communities, the supporting ag businesses are a major part of the local economy, and when farmers have to take prevent plant on acres, that's fertilizer and chemical and other inputs they don't purchase.
"It hurts the local community," he says.
Adam Casner farms in Carroll County, including in the Missouri River bottom in the broad expanse between Carrollton and Waverly, an expanse that was covered by flood waters this spring. He's a seventh-generation farmer.
"We've had the first-, second- and sixth-highest river crest in history in 2019, and it's not even June yet," Casner said on May 24. "Our days are filled with patrolling levees and sandbagging."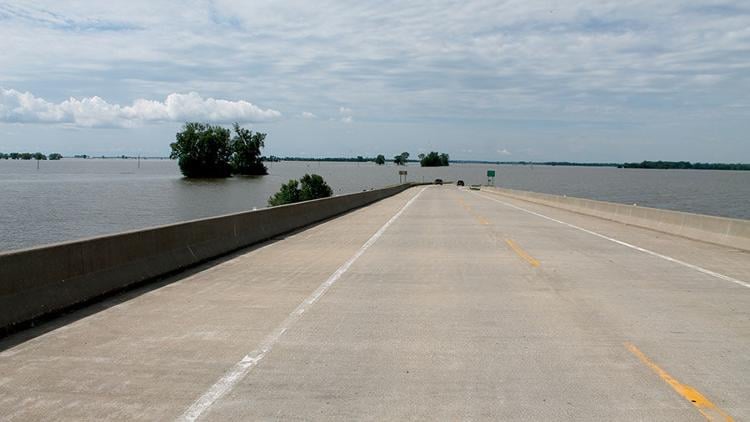 As May turned to June, the area saw major levee failures as the flood control structures yielded to the relentless pressure and high water, which poured out over section after section of fertile land and into buildings and homes.
"We've suffered two major levee breaks between Hardin and Norborne," Casner said on June 3. "Water is already 6 feet deep in our shop and parents' basement. This will knock out over 30,000 acres in this river bottom."
Highway 65 disappeared beneath the waters at the Waverly bridge. An American flag in the Waverly city park was separated from the bank by floodwaters, just a flag pole and Old Glory rising up from the river several yards from the new shore.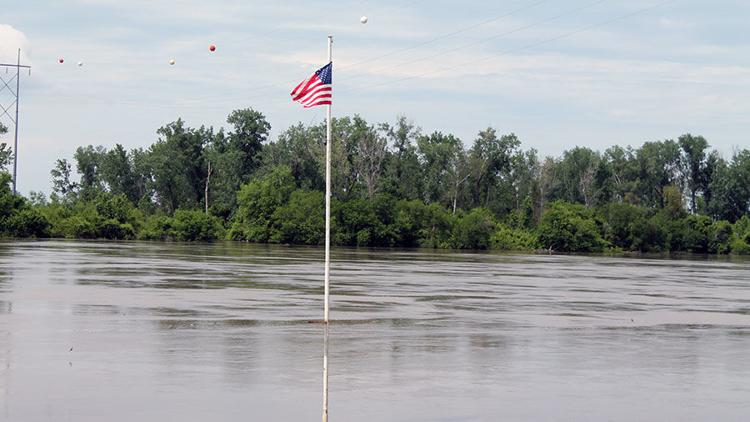 Setting records
Pat Guinan, University of Missouri state climatologist, says this was Missouri's wettest May based on statewide average precipitation, and the third wettest month in the state's recorded history, going back to 1895.
"Persistent flooding and rising waters were too much for already stressed levees this spring, and numerous systems were overtopped or breached in May," Guinan says. "Hundreds of road closures were reported in Missouri, and thousands of bottomland acres were flooded, including farmland, businesses and residences. Many residents were forced out of their homes as rivers remained above floods stage for much of the month and levees continued to fail."
Guinan says the flooding was historic.
"It was the state's worst flooding in a generation where watermarks approached levels in some Missouri locations along the Missouri and Mississippi rivers not seen since the major flood events of 1993 and 1995," he says.
Rusty Lee, an MU Extension agronomist and farmer based in Montgomery County, says flooding disrupted crops and closed roads in his area.
"There's some acreage that's under water," he says. "We've got fields that were planted and then went under. Even if it didn't top a levee, seep water can be a bear."
Lee covers several counties in east central Missouri, and he heard from one farmer in Lincoln County, along the Mississippi River, who had flood waters deep enough that the current or waves were able to tip over a submerged center pivot.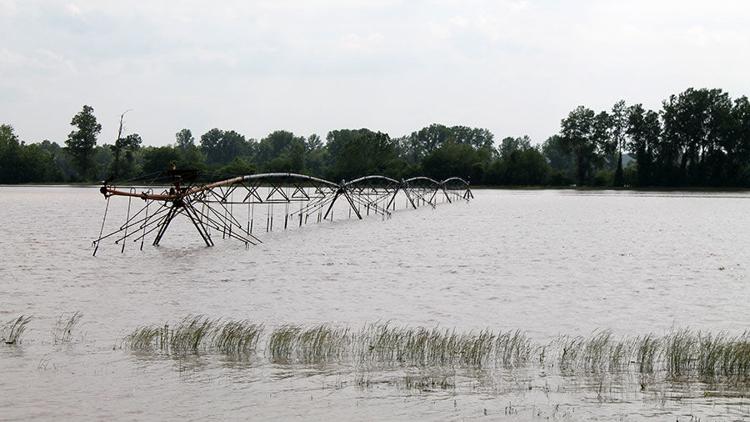 Producers are still hoping for the best from what crops are left. The late-planted crops, or crops stressed by too much water, are playing catch-up.
Wyatt Miller, an MU Extension agronomist based in Marion County, says there is a lot of "ugly corn" in his area, but it could bounce back.
"The corn could still be decent, but the top-end is probably knocked off on yield," he says.
Kuenzel says some of the corn he planted in April is looking good, but a lot of his corn is not. He is hopeful for the late-planted beans, saying if the trend of occasional summer showers continues, they could be a good crop. He remembers another year when late beans did well.
"Back in '93 we double-cropped soybeans after wheat, and it was fantastic," he says.
It takes optimism to be a farmer, and even after a year of planting challenges and devastating flooding — a year in which many acres won't be planted and buildings went under water — Kuenzel jokes that he and other river bottom farmers are "stupid enough to go back in again."
"You always recover," he says, "but sometimes it just takes a while."