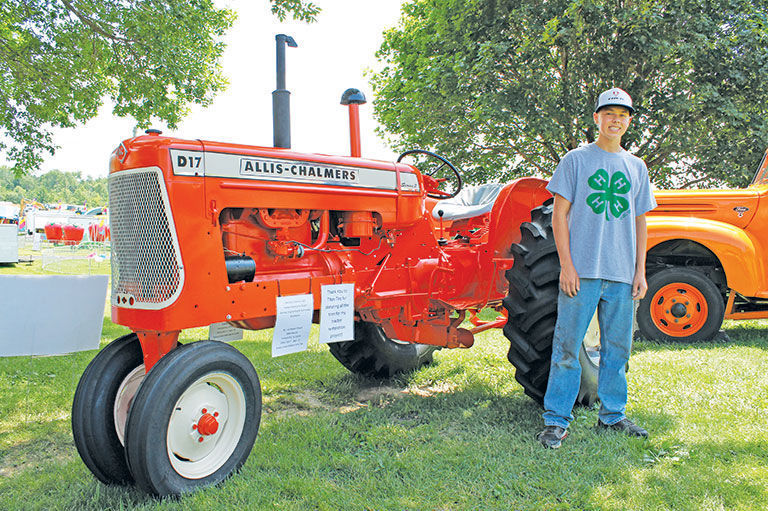 One thing everyone from 4-H'ers at the fair to dealers in the shop knows is that good farm equipment will last practically forever if well maintained.
According to Jared Sharr, after-market manager at Van Wall Equipment, the best way to assure longevity and, ultimately, resale value in ag equipment is to stay on top of maintenance.
"We always recommend taking care of the basic maintenance requirements listed in the operator's manual on their own," Sharr said. "The manual will walk them step-by-step through replacing filters, checking belt tension, making sure the radiator and condenser are clean, checking fluid levels, etc.
"It's not that we don't do that for customers — we sure do — but it's easily
done by them. Most customers have the facilities and ability to take care of it themselves."
Learning by doing
For Jay Flitsch, 15, of Central City, Iowa, his grandpa's old Allis-Chalmers D17 tractor was a gateway into the world of mechanics and equipment maintenance.
"Grandpa bought it in 1979," Jay said. "He used it for many years for plowing, pushing snow, stuff like that."
Jay's grandpa, Fritz Marugg, passed the tractor around the family. Jay's dad used it on his farm until the clutch went out.
"It sat in our corn crib for 18 years until dad put up a new shop, then he didn't have anywhere to put it. … I thought it would be a real fun project to learn more about mechanics, so we decided I could take it," Jay said.
With his father's blessing, Jay had the tractor transported to a shop owned by Dennis Hogan in Coggon.
"Dennis taught me lots of stuff on how to take it all down and put it back together," Jay said. "I had a fun time out there."
The repair process was a long one on the D17. Jay and Dennis started by diagnosing what was and wasn't working on the machine, filling it up with gas and replacing the spark plugs.
"It started right up, but something didn't sound right," Jay said.
The tractor required a lot of cleaning, Jay said. But it was all worth it. With a new clutch installed, Jay and Dennis reassembled the D17. Jay received a donated pair of tires from Titan Tires for the project as well.
He repainted the tractor, installed new decals, and delivered it to the Linn County Fair where it was chosen to represent the county in the mechanics portion of the Iowa State Fair in August.
Value of cleanliness
Jim Deardorff, based in Chillicothe, Mo., said keeping equipment clean is a big part of maintenance.
"You can see (problems) a lot better when it's clean," he said.
Deardorff said the best equipment coating is the one that comes on it from the factory. But things such as diesel fumes and herbicide residue can get into paint. He offers abrasive cleaning to make the surfaces of machinery less susceptible to this.
"It makes (the surface) slick and smooth," he said. "It reduces adhesion of contaminated materials to that surface."
Sharr also sees value in having regular inspections done on farm equipment.
"We do an annual inspection on all equipment we sell," he said. "With that annual inspection, farmers can have a record to show that they have it in the shop every season and it's up snuff."
And, according to Sharr, proof the machines are in good working order will help if, or when, the owner goes to sell that equipment.
Estimating costs
Iowa State University has done extensive research into the long-term anticipated costs of farm equipment ownership. Instructions on how to estimate your own investments can be found at http://bit.ly/2tgXCv7.
"Larger machines, new technology, higher prices for parts and new machinery and higher energy prices have all caused machinery and power costs to rise in recent years," said Extension study author William Edwards.
"However, good machinery managers can control machinery and power costs per acre.
"The true value of these costs cannot be known until the machine is sold or worn out. But the costs can be estimated by making a few assumptions about machine life, annual use and fuel and labor prices."
---
IFT's Benjamin Herrold contributed to this story.