JEFFERSON CITY, Mo. — For centuries, farmers have had a complex relationship with the Missouri and Mississippi rivers. The rivers have long provided ready access to markets for crops, but they also cause devastating flooding.
Sean Rost, oral historian with the State Historical Society of Missouri, says newspaper accounts from nearly 200 years ago often reflect the same topics on farmers' minds today, particularly market access.
"Farmers who lived along the river in the 1820s and 1830s, there's newspaper clippings showing their acute awareness of what markets were doing for their crops in New Orleans," he says.
Of course, the major rivers that provided access to markets like Memphis, New Orleans and more remote places could also flood fields and communities, prompting a century of control efforts and debates about how to manage the rivers. Major rivers flow through Missouri, Iowa and Illinois, deeply connected to agriculture in these states.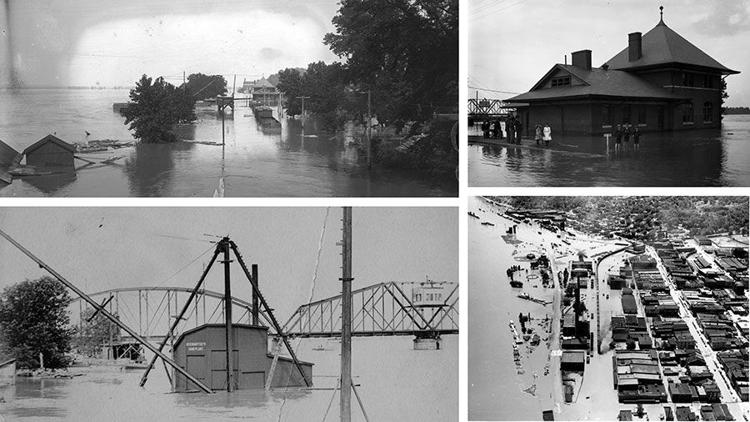 The Midwest has seen historic flooding, like the enormous Flood of 1844 that set water discharge records at Kansas City and St. Louis, or the Flood of 1851, which largely destroyed Des Moines, Iowa. But Rost says the floods of the 20th and 21st centuries provide the best modern context.
"A lot of our understanding of flooding really comes from the 20th Century," he says. "Before then, there hadn't really been any substantial attempts to keep the Missouri River in place."
Rost says a large flood in 1903 started to push governments to do more to control the major rivers, or "make the river like a straightjacket," he says.
There were competing interests, including navigation, irrigation and recreation, Rost says. This led to something of a compromise.
"Sioux City, Iowa, becomes this important marker on the river," he says. "They dammed the upper half of the river, and they deepened the channel on the lower half."
1993 benchmark
The flood control structures received their strongest test with the Great Flood of 1993, the flood against which all other Midwestern floods are measured.
Antonio Arenas Amado, with the Iowa Flood Center, says 1993 was the biggest flood to hit the region.
"It was very widespread, not only in Iowa, but also to the Midwest as a whole," he says. "It is often times used as a benchmark when talking about other floods."
After a wet fall in 1992, heavy, widespread rains during the spring and summer of 1993 produced one of the biggest and longest floods in Midwestern history. Many towns along the Missouri River were over flood stage for nearly 100 days, and towns along the Mississippi River were over flood stage for nearly 200 days.
According to the National Weather Service, "On the Missouri River it was estimated that nearly all of the 700 privately built agricultural levees were overtopped or destroyed." Navigation on the Missouri and Mississippi Rivers closed in early July, costing $2 million a day in lost commerce. The Mississippi River at St. Louis crested at 49.6 feet, nearly 20 feet above flood stage, and within two feet of topping the city's flood wall designed to protect downtown.
Danny Kuenzel farms in Franklin and Gasconade counties in east central Missouri, including ground in the Missouri River bottom. He has seen a lot of flood years, including a three-year run from 1993 to 1995.
"(The flood in ) '93 was by far the worst," he says.
The floodwaters deposited sand across the fertile bottom ground fields, 18 inches in most places but as deep as 8 to 10 feet in spots, Kuenzel says. Mounds of sand are still visible.
"Some of that land was abandoned," he says. Some became publicly owned, used for wildlife preservation and other purposes. As for the land that stayed in row crop use, he says it took time for it to return to its former levels of productivity.
"That sand will take a long time to go back where it was," Kuenzel says.
He knows a farmer in the area who hired an excavator to dig deep into the sand, find the good soil down below, and bring it to the top.
"That has helped him a lot," Kuenzel says.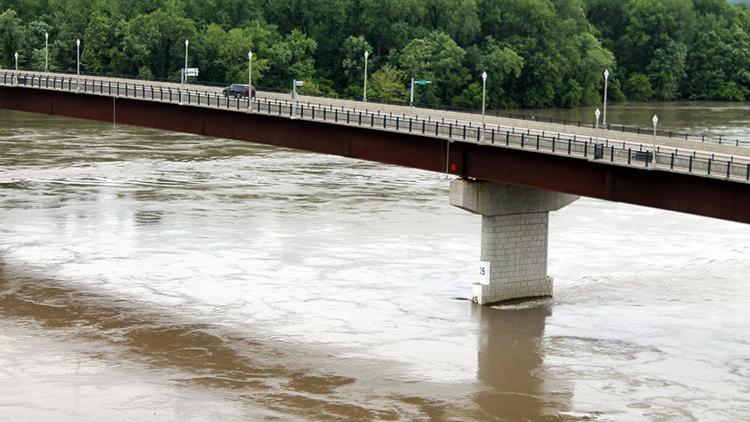 2008 and beyond
Flooding in Iowa in 2008 led to the creation of the Iowa Flood Center by the state legislature.
"It wasn't as widespread as 1993," Amado says. "But certainly for us, for the state of Iowa, it was a very important event."
The 2011 flood also caused a lot of damage in northwestern Missouri and southwestern Iowa, with thousands of acres and many homes destroyed. Heavy sand deposits were left on many fields.
Jim Crawford, ag engineering specialist for University of Missouri Extension based in Atchison County, remembers seeing corn floating like seaweed beneath the surface of inundated fields. Once waters receded, 2 or 3 feet of sand covered some fields, turning the once productive farmland into what looked like a desert landscape.
"Imagine if you were a third- generation farmer," Crawford said after the flood, "and you looked out across your field and saw that."
Most areas in the region stayed flooded for three months — up to five months for some.
The 2011 flooding also affected Missouri and Illinois along the Missouri River. The U.S. Corps of Engineers blew holes in the Birds Point levee to save the town of Cairo, Ill., flooding acres in Missouri. It was part of an agreement dating back to the 1930s that gave the federal government the right to flood the land if needed in an emergency.
The Iowa Flood Center has an online tool, the Iowa Flood Information System, that allows people to take a river level forecast and see where floodwaters would go at that level. Amado says the goal is to help them make decisions accordingly.
Amado says there are memorable floods through the years, but ultimately the impact is felt on a personal level.
"FEMA (Federal Emergency Management Agency) has a system to declare a disaster," he says. "But if you're a family with one inch of water in their basement, that is a disaster."